Diving
Northern Territory (NT) diving is a true adventure in a world where adventures are becoming rarer. Many parts of the NT are relatively remote, rarely dived and hard yakka to get to. It can be very rewarding when a trip works out.
Diving in the western end of the NT is typified by big tides and often pretty murky water, with big inflows from major rivers that tend to dump silt in the shallow embayments. Strong tides will whip up these silts and make diving unsafe and unrewarding during spring tides. Thus, most diving activity around the capital, Darwin, is timed for neap tides.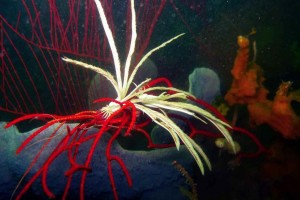 The wet also brings in big rainfalls and very sticky days, punctuated by the occasional destructive cyclone. The crocodiles and sea wasps are also more active. Thus, most diving in the western NT is done in the dry season, basically the southern winter.
The Darwin Sub Aqua Club website has a lot of information on when it is best to try the local diving. It is worth the effort as there are many unique features, such as big war wrecks, that cannot be found elsewhere in Australia. Diving out of Darwin is the easiest way to sample the 'flavour' of NT diving.
The diving becomes a bit more 'civilised' towards the Gulf of Carpentaria where the tidal range is much lower and the water clearer. The winds here tend to favour diving more during the humid wet season. Unfortunately, the further west you travel the more remote it becomes with few facilities apart from isolated mining settlements. There is some real adventure diving to be had on pristine reefs, but it is reserved for the determined and well-organised enthusiast.
Western Coast
Most of this area requires long dive expeditions on capable craft. Charter vessels regularly go to distant locations on fishing cruises, so bring along a few friends and book out a boat for diving. Most areas are very remote from all but a few small Aboriginal settlements.
The coast west of Darwin has some coral reefs with low turbidity and relatively good light levels. In murkier areas inshore, algal and sponge communities dominate.
The fish are relatively novel, with many species found that do not occur in the neighbouring embayment of Darwin Harbour, such as the endangered green sawfish that is found on muddy bottoms in the southern Fog Bay area.
Dundee area depth variable
A little further round the coast from Darwin is Fog Bay with boat launching over the beach by tractor, accommodation, camping grounds, fuel, food, basic provisions and bar facilities at Dundee Beach, which can be accessed by road from Darwin. The public boat ramp at Dundee is a popular launching site for larger-boat operators who fish areas around and offshore from Fog Bay.
A large expanse of shallow reef called Roche Reefs is about 10 km to the north of Dundee and queenfish, mackerel, trevally and other reef fish can be seen. Reefs and islands adjacent to the entrance to Bynoe Harbour are also easily accessed. Areas further offshore tend to be safer from crocs which are an ever-present risk for all water users.
Point Blaze area depth variable
Some 20 km south-west of Dundee is the Point Blaze area and another 30 km onward are the fabulous Peron Islands. Most of the tropical bluewater species can be seen in these areas. They are more easily reached via live-aboard cruises from Darwin.
S.S. Brisbane wreck depth 0-12 Metres
This wrecksite is the largest substantial NT wreck surviving from the colonial period. She lies 30 nautical miles west of Darwin on a reef north of Quail Island. The reef is marked with a simple white post. She rammed onto the reef in October 1881 while on a voyage from Hong Kong to Darwin.
Due to the extreme tidal range the front half of the wreck is exposed at spring low water and consists of a jumble of boilers, ribs and machinery. The stern section is still in water that can be as deep as 12 metres. The stern section near the props is still substantially intact and she is well worth a look if you are in the area and time the tides well. She is more easily reached by a long boat ride from Darwin.
Darwin Reef Dives
Dudley Bommies depth 7 metres
This site is 800 metres offshore from Dudley Point. The area of intermittent reefs is spread over a wide area. It's known for good corals and clown fish. The area is exposed to strong currents and dives need to be well planned.
Bennetts Bottom depth 32 metres
This is a very attractive reef dive for experienced divers. The reef is home to many kinds of fish and corals.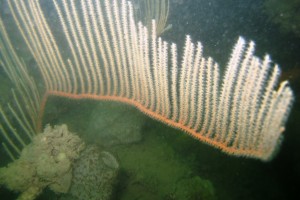 The Ridge depth 40 meters
This dive is deeper and suits experienced divers. The site has a rock wall rising to 33 meters that is packed with marine life. The reef is covered with beautiful soft corals, sponges, huge gorgonian coral and it is home to schools of sweetlip and trevally.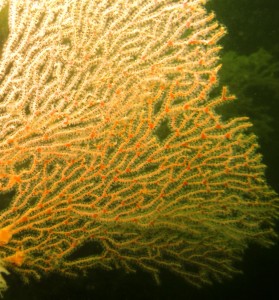 Channel Rock depth 12-16 metres
This reef dive lies beside Darwin's main shipping channel. Exceptional marine life is found on the reef. Divers are likely to find an exceptional assortment of reef fish including stingrays, turtles, barracuda, trevally, batfish, gropers barracuda, stingrays and the occasional sea snake. The reef houses hard and soft corals and sponges. There is also a good chance you will see turtles.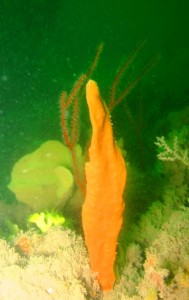 Weed Reef Bommies depth 12-16 metres??
The highlight of this fairly extensive reef is a large bommie with an overhang full of colourful life. Other smaller bommies are also located at the western end of Weed Reef. This site is named after a species of seaweed (sargassum) that grows in shallower water near the dive site and it can be seen during August when it usually drifts around Darwin Harbour.
Platters Rock/The Pinnacle depth 5-15 metres
This pinnacle rises from 15M up to within 5 metres of the surface. Soft corals, sponges and nudibranchs can be seen, besides clouds of smaller fish lingering around the summit. Octopus, turtles, and larger fish congregate around the base. It is well-known for big gorgonians.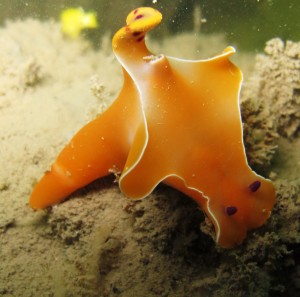 Nightcliff Reef depth 6-10 metres
This small reef close to the shore provides some insights into the smaller marine life to be seen in the area. Coral heads, sponges, nudibranchs, shrimp, crabs, gobies, anemones, lionfish, flatworms and colourful reef fish can be photographed. The visibility can be poor.
Mandorah Point Jetty
On the western side of the harbour, a ferry wharf provides for a relatively easy dive. The pylons of the Mandorah Point Jetty are covered in sponges, soft corals, ascidians, tube worms and anemones. Fish make their home among the tangle of long-forgotten rubbish under the wharf. Many large fish can be seen, including barramundi, trevally, batfish and groper.
East Point Reef depth shallow -8 M
Despite being a reserve this area gets heavily and legally fished. The marine life is generally small and the visibility poor, so she is perfect for the macro-photographer. There is plenty to see with a wide range of sponges, hard and soft corals, sea whips and ascidians.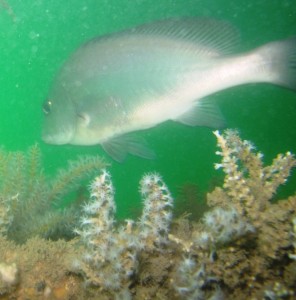 Vernon Islands
Further to the north-east are the Vernon Islands which provide reefs which rise steeply out of deep water. On neap tides, Spanish mackerel often feed in the vicinity of the reefs. Reasonably sheltered snorkelling can be had in the Blue Holes at Gunn Point, inshore from the Vernons. These become landlocked at low tide and are protected from the current. The depths of the holes are sand scoured but there are always a few items of interest. The Vernons are within relatively easy reach of Darwin and there is a concrete launching ramp at Leeder's Creek which is quite close to the islands.
Darwin war wrecks 
In February 1942, the Allies were reeling from a series of defeats at the hands of the Japanese. They had pulled some of their surviving naval escort forces south to protect a convoy assembling in Darwin that was making ready to send reinforcements to Timor. The activity was noticed by Japanese reconnaissance planes. By the 19th February over 45 ships were jamming the harbour. The Japanese struck with nearly 200 aircraft from four fleet carriers. Allied fighter aircraft were quickly destroyed on the ground and most ships were caught at anchor. Within 40 minutes a hail of bombs had badly damaged the town and sunk several large vessels. Most of the convoy was either destroyed or damaged. The Japanese lost only 7 aircraft.
Ironically, it was the Japanese who returned in 1959/60 to salvage the wrecks for scrap, and not all of the old wrecks have substantial remains. The wrecks are in difficult areas with variable visibility and strong tides, but they are evocative wrecks that mark an important point in our history, and they are still popular dives.
The British Motorist
The 145 metre long, 6891 ton steel tanker "British Motorist" was on its way to refuel the USS "Peary" when it was hit by two Japanese bombs and sank on its side. Half of the ship was exposed at low water. This allowed post-war Japanese divers to heavily salvage the vessel and all but her engine room was removed. Due to her massive size, the remaining section is still modestly substantial. She lies a short distance from the Darwin wharf and consists of a jumble of artefacts on a silty bottom. She is occasionally visited by divers. Some snapper and rock cod can be seen.
USS "Peary" depth 26-30 metres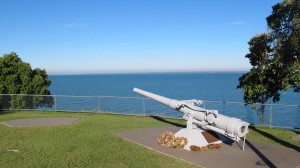 The USS "Peary" was an old American four-stacker destroyer and typifies how the Allies were scraping the bottom of the barrel for ships at this testing time of the war. Elegant she was not, but she fought back fiercely before 5 bombs straddled the anchored ship and set off ammunition in her stern. The blast killed 80 crewmen. One seaman was still firing his gun as she sank beneath the waves. Much of this ship was salvaged by the Japanese in 1959, but there's is still a scatter of relics remaining, including ammunition, which should not be handled. Her deck gun has been raised and can be seen at Darwin's Bicentennial Park.
USS "Meigs" depth 18 meters
The USS "Meigs" was a 140 metre long, 12,000 ton American transport vessel. She was the largest ship in the harbour and drew Japanese planes like bees to honey. She was hit by 20 bombs and then constantly machine-gunned. After a 40 minute battering they finished her off with two torpedoes.  At very low tides the masts and cranes once broke the surface. The wreck is a remnant left behind after extensive salvage in 1960. She was basically cut off at the waterline. The wreck is now a vast jumble of steel on a silty bottom on a north-south orientation. She is still huge and takes about 3 dives to cover. The most recognisable parts are in the bow where a Bren Gun carrier can be found. Several trucks are almost buried. A large pile of railway iron lies in the mid-section. Rifle ammunition dumps are common. It is home to many kinds of fish including cod, barracuda, snapper and angel fish. Gorgonia fans and sponges cover parts of the wreck.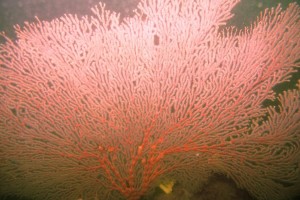 S.S. "Mauna Loa" depth 20 meters
this 5,436 ton American transport ship lies only a kilometre from the "Meigs". She was hit by two bombs that broke her back and set her alight. Five men were killed. She settled on a sand and silt bottom about three kilometres from the Darwin Wharf. She is similar to the "Meigs", a jumble of debris after the ship was heavily salvaged in 1960. There is also plenty of ammunition as well as old motorcycles in the former holds.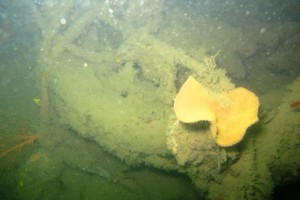 S.S. "Zealandia" depth 18 meters
The "Zealandia" was a rather old steel merchant ship of123 metres length and 6,600 registered tons. She was a well known local ship and was in the harbour to take refugees south. The ship ducked a few bombs, but one hit in the No.3 hold and set her alight. The fires reached ammunition in the No.1 hold and it started to cook off and explode, then the fire hoses failed. Only two were killed as the ship slowly settled on the silty sand bottom with the tops of her masts showing. Although a lot of the ship has been salvaged, there's is the usual jumble of structures and cargo items. The ship is covered in soft corals and is home to good fish life.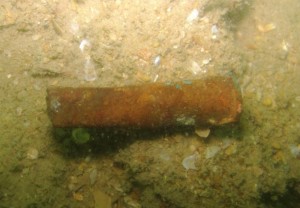 Hulk "Kelat" depth 12 meters
She was built in England in 1881 as a glamourous 1,849 ton iron sailing ship. By 1941 she was an unwanted hulk in Fremantle. The Navy filled her with coal and towed her to Darwin to refuel the convoys. She had not long arrived before the attack. Zero fighters machine-gunned her full of holes. Everyone had more pressing things to do than to try and bail out an old hulk and she took two days to sink. Now she is a jumble of small relics well spread out over a shallow 100m x 20m area. This is a relaxing dive with some smaller marine life to investigate.
Darwin's artificial reefs
In 1988, NT Fisheries Department began developing an artificial reef complex at the Fenton Patches, about 17 nautical miles northwest of Darwin. NT Fisheries keeps depositing more reefs for recreational use by anglers and divers.
Fenton Patches Artificial Reef and "Marchant III" depth 25 to 30M, GPS 120 10.275′S 130 40.635′E
This large artificial reef isn't strictly in Darwin, being located 28 km out at sea to the north. This takes about an hour to get to in good weather. The idea was to get out far enough to get some good visibility (often 10-20m), but she is still affected by strong tides. The reef is made up of tyres, a number of vessels and even some old bus shelters. It was started in 1988 when the 32m long oil exploration vessel "Marchant III" was scuttled in relatively deep water by Darwin standards. The Fenton Patches Artificial Reef has attracted large schools of jewfish, trevally, batfish, trevally, mackerel and golden snapper. Wobbegong sharks, rays and turtles are also seen. Smaller angel fish, coral fish and damsels are also prolific. There are ongoing plans to extend the reef and a number of other small and more recent reefs exist in the area.
Pipeline artificial reef depth 25 meters, GPS 120 11.669′S 130 40.390′E
A reef made of 200 tonnes of large concrete pipes are patrolled by jewfish, saddle-tail snapper, golden snapper, trevally, estuary cod, tuna, mackerel and many other types of marine life.
Galah/Heron artificial reef depth 25 meters, 120 09.701′S 1300 40.750′E
Two 20 metre long discarded vessels are likewise home to jewfish, saddle-tail snapper, golden snapper, trevally, estuary cod, tuna and mackerel.
Cockatoo/Mudlark artificial reef depth 25 meters, GPS 120 10.097′S 1300 39.732′E
Two 20 metre long discarded vessels. Similar marine life.
Antares/Steel Barge artificial reef depth 25 meters, GPS 120 09.937′S 130 41.363′E
One 20 metre steel vessel and a 10m x 10m steel barge make up the reef.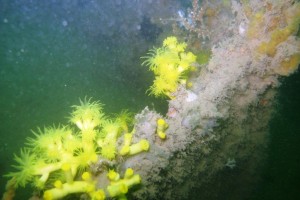 DSAC Barge Reef depth 21-25 metres,
In 1988, the Darwin Sub-Aqua Club scuttled an unwanted 15x20m barge, one kilometre off Dudley Point. They later added a boat, yacht and a variety of other debris. The site has attracted large fish life such as jewfish, snapper and bream. Some of the local fish are tame enough to hand-feed. Soft corals grow on the upturned hull.
"Parmelia"/"D9" depth 10-15 metres
It is an old barge 100m long also known as the "D9″. It is located 1mile offshore in Cockburn sound. GPS co-ords are needed, or some very good land marks. An above average dive during the day, and an exceptional night dive. Many forms of marine life come out, including snapper trevally, sting rays, nudibranchs. The wreck is able to be penetrated using the correct equipment as it is very confined.
John Holland Barge depth 21-25 meters  GPS 120 28.55′S 130 47.88′E
In July 1984, this steel dumb barge was sunk near the two Vietnamese refugee boats to be part of an artificial reef. She is quite big at over 200 feet long. It rests upside down, but still provides a home to lots of fish.  It is home fish like glasseyes, rays, jewfish, wobbegong, angelfish, snapper, bream, cod and trevally. Octopus also frequent the wreck.
Lee Point Complex
A complex of three artificial reefs (the Bottlewasher, Mills Reef and Tipper Reef) was created off Lee Point in Darwin Harbour, near the city's northern suburbs. This has become a home to giant trevally and jewfish as well as moonfish, golden snapper, coral trout and sweetlips. Lots of other structures have been added to the general area since.
1. Rick Mills Artificial Reef depth 15 metres GPS 120 18.451′S 130 48.872′E
Assorted plant equipment, 1500 tonnes of concrete culverts, 5 shipping containers and various vessel hulls.
2.  Truck Tipper Artificial Reef depth 15 metres GPS 120 17.979′S 130 50.370′E
Twenty mining truck side tippers and two decommissioned steel vessels.
3. Bottlewasher Artificial Reef depth 15 metres GPS 120 18.159′S 130 51.765′E
Decommissioned coke bottle washing machine and various plant equipment plus 1500 tonnes of concrete culverts.
4. Culvert reefs depth approx 15 metres
In 2011, about 600 six-metre concrete culverts were sunk in a 3.6 kilometre-long structure of square or diamond patterns between and around Rick Mills and Bottle Washer reefs.
5. "Medkhanun 3" depth 20 metres GPS 120 28.710′S 130 48.145′E
This 30m steel fishing vessel was confiscated for illegally fishing.
6. Bus Stop Reef depth 25 meters GPS 120 11.163′S 1300 41.165′E
This artificial reef was deployed in 1991 and is made up of approximately 200 tonnes of materials. The reef also contains 6 steel shipping pontoons, 45 truck tyres, 3 concrete bus shelters, one 10 m steel boat cut in 2 sections. The huge truck tyres in this site are home to many kinds of fish including large greasy cod (gropers).
Stokes Hill Wharf artificial reef depth10 metres
This has been established beneath the existing fishing platform on the wharf's approach and consists of 3 vessels and several concrete pipes. Pieces of the wartime wreck of the steamer "Neptuna" also lie nearby. She burned and sank by the old wharf and was almost completely removed by salvors.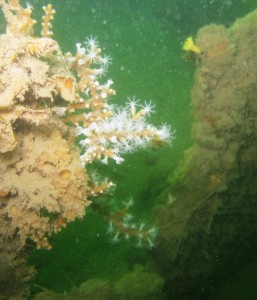 Vietnam War refugee wrecks
After the fall of Saigon in 1975, many Vietnamese people set sail for Australia in flimsy traditional fishing boats. The boats were overcrowded, poorly provisioned and often at the mercy of storms and pirates. The 50 vessels (containing 2000 people) that made it were impounded when they reached Australia. Many were burned, two were beached in dense mangroves at East Arm, one was abandoned at Doctor's Gully, and two were sunk as fish reefs.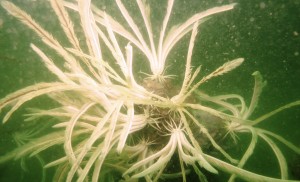 DK 06 "Ham Luong" depth21-25 metres, 120 28.65′S 1300 47.9′E
This boat arrived in Darwin in 1977 and was sunk in 1985 near both the Song Saigon and the John Holland Barge. The three wrecks are sometimes joined by rope and can be visited in one dive, but you probably need to go way slower and do it in a few dives. Gropers, surgeonfish, jewfish, coral trout, batfish, parrotfish, and trevally can be seen. Interior spaces can silt up very quickly.
"Song Saigon" depth21-25 metres
This tanker was steel rather than the usual wooden fishing boat. She brought 34 people to Darwin in 1979. In 1982 she was sunk in the middle of the harbour as a fishing reef. The wreck is relatively intact and upright with good coral growth. Divers need to look out for stonefish. The fish life is very good.
Darwin's cyclone Tracy wrecks
On Christmas Eve 1974 this cyclone hit the town and flattened it with 217km/hr winds. 10,000 houses were destroyed and 1,000 people injured. There were 40 vessels in the harbour, few survived the massive seas and winds. Sixteen seamen lost their lives on ships in the harbour. The largest was the Navy patrol boat "Arrow" which disintegrated against Darwin wharf.
Wreck of the "Bellbird" depth 16 metres
The fishing vessel "Bellbird's" engines were out of action when the cyclone hit and she ended up in Doctor's Gully on her side. She sank 300 metres out from the Atrium Hotel and ended up almost upside down. This trawler is home to Moorish idols, coral trout and rock cod. With care and suitable training, you can swim through much of the interior of the wreck, but silt is easily disturbed causing the visibility to reduce to zero. A torch is needed. Large gorgonia fans can be seen on the upturned hull. Light penetration can be poor at times.
Wreck of the "NR Diemen" depth 12 metres
This 73 foot long steel research trawler was part of the Northern Research company's fleet. It is one of the most intact wrecks in Darwin Harbour. She foundered in the storm 1.2kms from the Mandorah jetty. The trawler is inhabited by a variety of marine life, jewfish, mackerel, groper, barracuda, trevally, wobbegongs, tuna, and rock cod. The east-west orientation provides shelter from the tide once on the bottom and keeps the wreck more clear of silt.
Mandorah Queen depth 18-21 metres
This 22 metre aluminium ferry once took commuters from Darwin to Mandorah on the western end of the harbour. Three crewmen went down with her as she dragged her anchors and foundered. She is now almost buried in sand but attracts big fish including, jewfish, gropers (greasy cod), batfish, angelfish, butterfly fish, rock cod, and coral trout.
Booya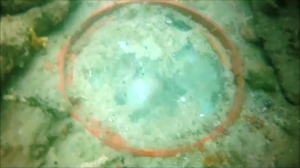 Groote Eylandt
This a large Island in the Gulf of Carpentaria is quite accessible from Darwin. It is the base for BHP's manganese mine so regular flights are available to the island's main centre, the small town of Alyangula. The Groote Eylandt Mining Company does not operate commercial accommodation, nor is any facility available within the township of Alyangula.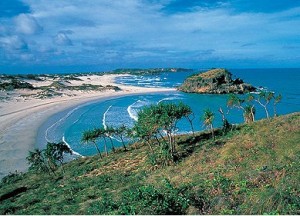 The big tides and river outflows that are a feature of western NT lessen as you enter the Gulf of Carpentaria, so the  visibility improves and the coral reef life is more prolific in shallower depths. Dive depths range from 2M – 30+ metres. Some of the best dives are reputed to be with the dolphins at the wharf, Zodiac Rock and Connection Island.
The island's community has now established the Dugong Beach Resort which is an Aboriginal-owned enterprise. No other tourist facilities exist. Accessing dive gear may be troublesome, best to ask for options at the resort, or organize a liveaboard charter.
Gove
The waters around the Gove Peninsula offer some attractive and clear diving.  The main settlement at Gove is the small bauxite miningtown of Nhulunbuy. A permit is required as many areas are generally closed, except for mining personnel and local Aboriginal people. This town is a short flight from Darwin or Cairns. Road travel to Gove will entail a long journey and getting permits to cross Aboriginal land on the way, which MAY be granted by the Northern Land Council but large visitor flows are not always encouraged.
Dive businesses fluctuate in fortunes in the NT too, but currently Gove Sports Fishing & Divingcan organise trips to offshore islands and reefs. They often camp on Wigram Island where they have a fishing base. The area is well known for a varied array of isolated islands, pristine coral reefs, mantas, and sometimes whale, dolphin and whale shark sightings.
The Gulf tends to be diveable even in the wet, but in inshore areas do suffer from reduced visibility due to run off.
Bremer Island depth5- 40 meters
Bremer Island is fairly close to the main settlement and provides a variety of diving. The shallows have relaxing and colourful fringing coral reefs. In slightly deeper depths caves can be found filled with sponges, sea fans and soft corals. Turtles, rays, gropers, coral trout, moray eels and trevally are commonly seen.
Bonner Rocks depth 7-25 metre
The rocky reef provides a pristine coral reef rich in fish life. There is also the wreck of an old trawler. Angelfish, sweetlips, butterflyfish, wrasse, coralfish, coral trout, rock cod, parrotfish, surgeonfish, damsels and anemonefish are common. The wreck contains plenty of bigger fish including gropers, queenfish, trevally, barracuda, batfish, cobia, and tuna.
Bromby Island depth 7-35 metres
Shelter is available on the leeward side for easy and shallow coral reefs. For the more adventurous the seaward side drops away starkly into deeper water. The wall is covered with soft corals, gorgonians, black corals and sea whips. A cavalcade of pelagic species swim by, turtles, reef sharks, manta rays, eagle rays and sometimes whale sharks.
Veronica Island depth 7-30 metres
The best diving at is on the seawalls which are patrolled by pelagic fish. Smaller reef life like flatworms, sea stars, crabs, molluscs are found amongst a variety of soft corals, gorgonians and sea whips.
Sir Rodericks Rocks depth 40 metres
I long boat ride is needed to access these spectacular granite rocks. The usual prolific marine life is enhanced by caves and swim-throughs and also the deep wreck of an intact trawler.
Town Wharf depth 16 metres
The pylons of the town wharf provide an easy and convenient site for the photographer are covered with flatworms, decorator crabs, nudibranchs, sea stars, feather stars and other invertebrates. Quite large sizes and numbers of fish also pass hang around the pylons.