PORT PHILLIP BAY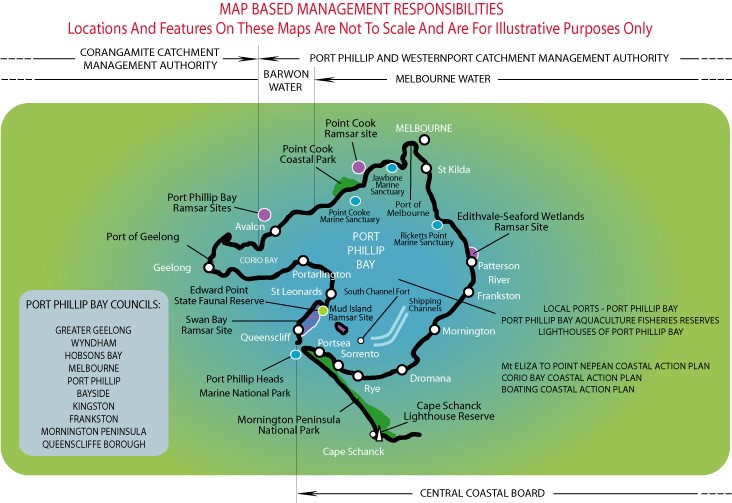 South Channel navigation towers
12 – 21 m
Towers 6 and 10 in the south channel have become home to small groups of fur seals. This gives the opportunity for a seal dive. In addition the structures are heavily overgrown with marine life and patrolled by temperate reef fish.
Chinaman's Hat
4M
38 17 385s 144 43 515e
During WW2 a platform was built on an old channel dolphin to house an anti-submarine indicator loop. After the war it got very dilapidated and was demolished in 2002. A new structure was erected nearby for the seals, at great expense, leading to it being named the "Taj Mahal for seals". It is located about half way between Portsea and Queenscliff. The structure is one of four seal haulouts in the bay. This one is home to batchelor males who can get disagreeable. The will come up to divers underwater which makes for a fascinating natural encounter. The big bulls will charge and veer off at the last second, and although they are considered potentially dangerous, I'm not aware of any divers being injured. The sand around the pylon is sandy and tide affected. Snorkel groups are often taken there by dive charter operators after a trip to the Popes Eye.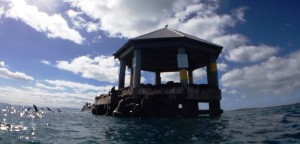 Quarantine Bay
16-25m
WGS 84 – S' 38′ 18.222 E' 144′ 41.030
This site is the second last bay to the heads from Point Nepean and is part of the Harold Holt Marine Reserve. It is on shallow and low weedy reef with a few fish.  It is not a good dive site on a day of strong northerly winds. The area can also be subject to strong currents at times.
Wreck of the S.S. "Wauchope"
3-4M
38 19.7000 S  144 44.680 E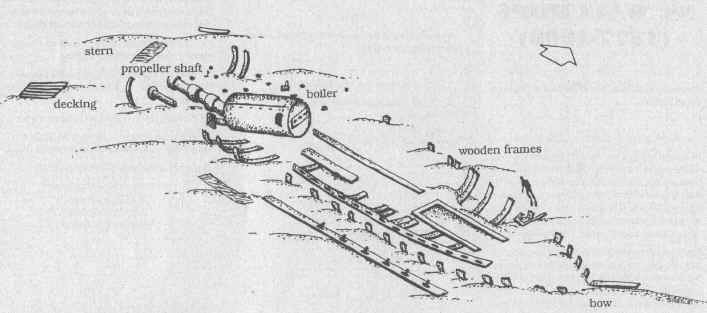 per DEH
The SS Wauchope was a 296 tons, 38.7m long, wooden screw steamer. She was originally built for the NSW coastal trade, but by 1910 it was serving King Island. On 1st August 1919, the SS Wauchope was anchored at Portsea for a compulsory quarantine stop of seven days. The ship was carrying a cargo of 250 tons of food, fuel, machinery and mixed goods that included 28 cylinders of acetylene gas for the lighthouse on King Island. At 7pm, she caught fire and it quickly got out of control. At 11.00pm, the Captain and crew abandoned ship.
The wreck is home to a large population of fish including stingrays. The SS Wauchope's boiler is the main feature of the site and is exposed in most tides. The remains of wooden ribs protrude from the sand. The propeller shaft and blades can still be seen at the stern.
Portsea Drift
5-10m
The offshore parts of the bay are often used as a shallow second dive, often done as a drift dive. The patchy weed and rock bottom is home to Port Jackson sharks and Wobbegongs. Inshore, and safely out of the persistent current, the area is also popular for snorkelling. This area is part of the Harold Holt Marine Reserve.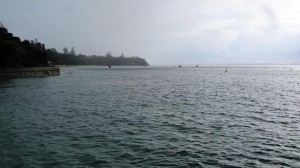 Portsea Pier
6m – 8m
Every State has its all-weather dive training spot and Victoria's is Portsea Pier. It can get very busy, but in quieter moments there are pylons filled with small but interesting marine life. Sometimes more unusual creatures like goblin fish and sea moths can be found on the sediments. To the west of the pier is a shallow rocky reef which is also worthy of investigation. There is heavy boat traffic in the area, so tow a dive flag if you are planning to move away from the pier.
Portsea Hole
13-28 m
WGS 84 S' 38′ 18.684 E' 144′ 42.651
This very popular tide affected area is a depression in the sand that was once an ancient bend in the Yarra River. Around it are water rock walls and ledges. Lots of invertebrate life can be found including sponges, ascidians, nudibranchs, basket stars, zoanthids and bryozoans. Reef fish include wrasse, leatherjackets, perch, Old Wives, blue devils, Boarfish, and morwong, Blue Throated Wrasse and cuttlefish. This site has to be dived at slack water. It is very popular with dive courses, with groups often diving around the shallows. There is an old fishing vessel wreck in 25M located on the eastern side of the hole on the sand towards the pier. It is well away from the usual starting point for dives and can be a tiring swim to get to when tides are running. This part of the dive is more suited to experienced divers.
Point Franklin drift
15M-20M
This long flat reef within the Portsea Bay anchorage is rarely more than 3M high but it extends for several hundred metres offshore. Out towards the channel marker it is exposed to the tidal stream and it is a good place for experienced divers to enjoy a drift dive. The green channel marker is a good place to start. It can also be dived as a slack water dive. Tides slacken 30 minutes behind the times given for the Heads. The tides flood east. There is a good range of resident reef fish like wrasse and leatherjackets as well as rays and octopus. Bring a surface marker buoy and an alert boat lookout.
Sorrento Pier
4-7M
Sorrento Pier lies closer to the main channel and therefore tends to be more tide affected. This also means better filter –feeding life with the pylons covered in sponges. This pier is still used by ferries, especially on the eastern side, so you will need a permit from Ports and Harbours to dive there. A dive around slack water is advised.
South Channel Fort
10-12 metres
South Channel Fort is about 4 Nm from Sorrento. When approaching the fort from the west be careful of shallow water. The reef around the fort is made of large granite boulders full of marine life. Some areas will be tide swept depending on the state of the tide.
The South Channel Fort was built around the 1860′s with a large retractable gun mount. It was supposed to meet a Russian invasion threat. During WW2 the fort was used as a base for a harbour boom net. Below ground there is a maze of dark tunnels that can fill in time between dives.
Wreck of the "Hurricane"
Depth: 12 metres
(WGS84) 38 20.455   144 52.308
The 1198 ton, 70 metres long, three masted iron ship "Hurricane" was built in Scotland in 1853. In 1869, she hit Corsair Rock at the Heads and began taking water. She made it through the South Channel, but foundered off the coast of Rosebud. Although there is not much left of the "Hurricane", her remains have provided an artificial reef for fish life. The stern sits 2.5M off the bottom and there are some recognizable ship's timbers. The capstan is visible among the tangled metal of the bow. The "Hurricane" should be dived on a falling tide. She is a popular spot and needs to be dived at slack water.
Rye Pier & Rosebud Pier
4-5M
These piers are in a sandier stretch of Port Phillip and tend to be relatively shallow. They are still worthwhile, especially as night dives. Seals sometimes visit the piers from a haulout they have on a nearby channel marker. Small marine life like spider crabs and stingrays are often seen. The piers are popular with anglers and beware of line entanglements and crammed car parks in summer. Although 20km away from the Rip it is still affected by a current at times, especially closer to the end of the piers.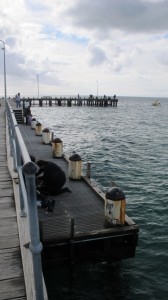 Rosebud Reef
8mtrs
This nice, shallow, reef off Rosebud isn't very large but it is teeming with life. This site has only recently started to be dived, and has a lot of smaller fish and marine invertebrates.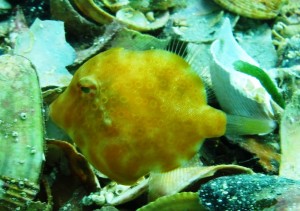 Mt Martha cliffs
3-5M
Near the suburb of Mt Martha the coastline boasts of 8 kilometres of sea cliffs. They are difficult to reach from the shore but a number of creek gullies have worn tracks down to the shore. The foreshore boulders quickly give way to sand. There are still a few boulders and undercuts hugging the shore that are home to small fish life. The area is popular with fishermen. It is exposed to westerly weather and can get choppy and stirred up with little warning.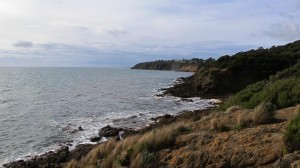 Point Linley
6-10M
This reef heads out from shore to the green channel marker where the best reef is located. Here large slabs and boulders. The crevices protect wrasse, morwong and old wife. Closer inshore the low weedy boulders are home to sponges, sea horses and cuttlefish. This inshore area is an especially easy snorkel or dive in suitable weather. It's also a good night dive on a calm night. There is a lot of small boat traffic especially in summer, from the ramp on the northern side of the point. Tow a dive flag.
Mornington Pier
5-10M
Mornington Pier was first built in the 1850′s, for steamships carrying holiday makers and vessels carrying produce, before rail arrived in the early 1890′s.
This area is now a popular day or night dive, but it is also a busy wharf and care needs to be taken when boats are active. Divers should stay away from the boats sheltering on the eastern side. Bring a knife for fishing line snags as it is also popular with anglers. The pylons are home to sponges and other invertebrate encrustations as well as a good variety of smaller fish such as schools of old wife, puffer fish, squid and gurnards. This area is close to the city and is popular with photographers, especially on days when the ocean sites are blown out. The visibility can be variable.
In October 2011, Parks Victoria completed the replacement of the middle section of the pier, the first stage of a longer term plan to completely rebuild Mornington Pier. The new middle section has been built to withstand storms. The older section has been left in situ, but cannot be accessed on foot as a section of the old pier has been removed.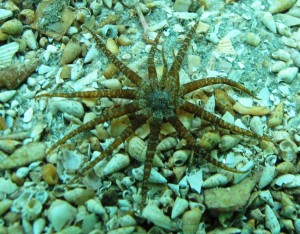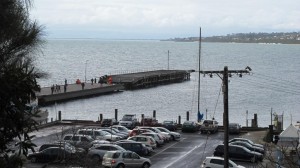 Ranelagh Beach/Cahill's Reef
An easy dive or snorkel can be had along the shallow foreshore rocks where there are a few small fish. Out in deeper water Cahill's Reef is marked with a beacon and can be reached from the shore in suitable weather, or more comfortably by boat. It's popular with fishermen so tow a dive flag.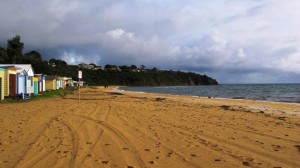 Davey's Bay
5mtrs
This site is located in Mt Eliza at the end of Davey's Bay Road, about 10 minutes down the road from Frankston pier. There are small areas of rocky reef to the left of the beach and around the reef marker a few hundred metres out. A compass is essential for the offshore site. Seahorses can be found. Filter worms can be found out on the sand especially at night. Fish life is generally poor other than seahorses.
Carrum Artificial Reefs/ S.S. "Uralba"
18m
WGS 84 S 38.04'630 E 145.02'342
In 1965, the first documented artificial reefs in Australian waters were constructed in Port Phillip Bay. A reef was sunk 8 km off Carrum and initially consisted of 330 concrete pipes. These pipes were sunk on a fine silt bottom over an area of about 4 hectares. The concrete pipes gradually sank into the soft substrate and were too scattered. A ferro-cement cabin cruiser was added in 1967.
In 1971 the 52 m timber hulk of the S.S. "Uralba" was filled with 40 tonnes of concrete ballast and sunk. The ship was built in 1942 and was the last wooden-hulled coal burning vessel built in Australia. The Uralba was based in Brisbane at first, where it operated as an auxiliary boom defence vessel and minefield tender. In 1944 it was sent to Milne Bay, New Guinea to be used as an armament and stores carrier. She was used to trade with Tasmania for a while, but by 1958 she was derelict. In 1964 the Uralba was re-used as a dumb lighter. In 1971 a decision was made to scuttle her. She was filled with way too much dynamite. The hull was damaged and timbers from the Uralba washed up on Melbourne beaches for weeks.
The Uralba is now home to a large number of fish and is occasionally visited by divers. Visibility is often very poor and the wreck is covered in sediment which is easily stirred up. Avoid periods after rain and dive on the flood tide. The structure is still mostly intact, with a couple of scallop dredges stuck in its side. Beware of fishing line tangles and irate fishermen who seem to believe it is their personal property. It is still considered a good dive and something a bit different for the experienced diver.
Firefly Aircraft Wrecks
20m
38 06 091s 145 00 627e / 38.06.004s 145.00714 / 38.05.980s 145.00.692e
Port Phillip Bay is a fertile area of exploration for the aviation heritage enthusiast. Areas like Pt Cook were centres for military aviation and hundreds of aircraft have been lost or abandoned in the bay. Few have been found, other than a Vultee Vengeance fuselage dumped at Williamstown, and a few wrecks off Carrum.
The wrecks of two Fairey Firefly carrier fighter/trainers are located near the Carrum artificial reef. The two British aircraft crashed into the bay during a training exercise in July, 1947. The aircraft were flying formation manoeuvres over Port Phillip Bay from the visiting carrier H.M.S. "Theseus". The two Fairy Fireflies collided and plummeted into the sea.
Diving on them is not allowed without a permit as they are war graves. Divers found the wrecks in 2007 and they included remains of the crew.
One located Firefly is on a very silty bottom with visibility of a metre or less. It is hard to pick up on the sounder and various marks are given by local fishermen. Like a lot of crashed aircraft they were heavily damaged at the time and are not large sites, consisting of a section of fuselage. The area has been heavily scoured over by scallop trawlers.
Two other Supermarine Seafires were pushed overboard after a landing accident around the same time and have not been located.
Mordialloc Pier
4M
Up in the head of the bay the visibility drops considerably. The major attraction of this site is the closeness to Melbourne, allowing for an interesting night dive, or camera test after work. The pylons are mostly covered in mussels and the bottom sandy, but there is usually something to see. The visibility is reduced after rain due to the nearby creek outflow. Watch out for boats and anglers.
Mordialloc Tyre Reef
10M
S 38 03 088 E 145 04 568
In 1973, three tyre reefs were placed on the sand relatively close to the shore. The reefs consisted of 1,000 tyres tied in bundles of eight, quarry rock, concrete cubes and steel frames. Only the one off Chelsea remains intact. The reef is dominated by red algae, sponges, ascidians, and hydroids. Fish include snapper, ling, boarfish, red mullet, beardie and bearded rock cod, leatherjacket, long-finned pike, as well as a number of smaller species. This area is popular with fishermen so beware of fishing lines. Further artificial reefs are planned for Pt Phillip, catering specifically for fishermen rather than divers. They are to be made from concrete reefballs, but it will be a while before they are covered in growth and worth a look.
Rickett's Point Beaumaris
3-5mtrs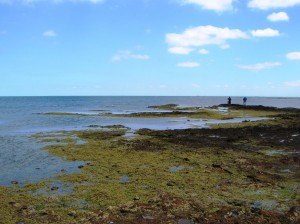 The area has a lot of easy low reef, especially between the offshore white triangular marker and the green pole. There is good fish life on the outer edge of the reef, zebra fish, snapper, leatherjackets, red mullet, dusky morwong, magpie perch, sea sweep, scaly fin, old wives, and stingrays. There is a some temperate stony coral (Plesiastrea versipora), nudibranchs, feather duster worms, cleaner shrimp and sea stars. This area is partly exposed to wind is from the south or west. Wind will stir up the bottom. This area is part of a Marine Park. It is also a great family spot close to the city, with a local association running intertidal walks and snorkel adventures from time to time.
H.M.V.S. "Cerberus"
5 m
In 1926, this old ironclad warship was scuttled at Black Rock to act as a breakwater for the local yacht club. The Cerberus started life as a part of Victoria's colonial navy and was used as a harbour defence ship and later a training vessel. The wreck is unfortunately very fragile and diving inside the wreck or walking on the decks is now prohibited. Around the wreck is a small patch of reef with some seahorses, stingarees, sea stars, nudibranchs, leatherjackets and other reef fish. Generally the fish life in the upper bay is relatively poor and the bottom siltier with variable visibility. This site is a good night dive that is conveniently close to the city. The area is close to a navigation channel used by yachts, so tow a dive flag. Parking can be an issue is busy periods.
Sandringham Sub J-7
This sub was scuttled as a breakwater and now forms part of a marina complex. The hull shows at low water and is half-full of silty sand that is easily stirred up. It is a great training for experienced divers with guidelines, but penetration is not on for beginners. The rock wall of the nearby breakwater is also worth a look and there is the wreck of the 44m long dredge and cable laying ship, the "Francis Henty". This lies near its north western end of the breakwater in 3-4M. She was built in Scotland in 1889 and was scuttled by the harbor authority in 1949. Part of the old hulk, now covered in weed, mussels and sea squirts, is exposed at low water.
South Rd Reef, Brighton
4m
This inner city reef is very close to the Brighton Beach train station. The low reef lies close to the beach and drops to around 4m after a 200m swim. There are a few small fish luderick, snapper, stingrays and nudibranchs. Between the 2 sets of stairs about 300m out in 4m is a yacht wreck with lots of growth on it. It is often used for courses and is a good night dive. The visibility is poor except on a calm day and it is exposed to south west winds.
Wreck of the "Mountain Maid"
5 meters
Lat : 38 14.280 S Long : 144 42.500 E
The "Mountain Maid" was an 84ft (25.59m) long, wooden, snow brig launched in Dundee in March 1841. In 1856, she was returning from Manilla carrying a cargo of rice, sugar and rope. In the shipping channel she collided with the steamer S.S. "Queen". The "Mountain Maid" was severely damaged and sank upright on the sea floor. An attempt was made to drag the "Mountain Maid" into the shallow waters. This was unsuccessful and the wreck was abandoned 200 meters north-northeast of Coles Channel Pile Light near Swan Island. Wreckage is spread over 600 square metres. Iron knees, which support the decking, are visible around a large amount of ship's timber. The Maritime Archaeology Unit has placed an information plinth about 20 meters from the wreck. The wreck is best dived at flood slack. It should be avoided in northerly winds.
Hulks of the "Ozone" and "Dominion"
3m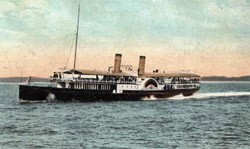 The Indented Head – Bellarine Peninsula Drive takes you to a small beach where the wreck of a paddle steamer can be seen exposed at low water 50m from shore. The "Ozone" was an excursion steamer built in 1885 for the Port Phillip trade. In 1918 she was withdrawn from the run and then sold as a hulk. In 1925 she was sunk as a breakwater. The shallow snorkel and photography site consists of tangled debris with boilers and paddle wheels. Fish tend to be attracted to the wreck. Another small wreck 20m to the North provides further fun exploration. This is the "Dominion" which consists of a substantial section of timber and metal ribs. The Dominion was a wooden barque of 1124 gross built in Quebec Canada in 1879. It was cut down as a lighter. She was also sunk as a breakwater, then later burned to the waterline in a fire.
Portarlington Pier
5m
This pier houses the local fishing fleet and can only be entered with a permit. It can be dived from the shore. The very intricate structure of the pier means a great deal of encrusting growth. There is the hulk of an old fishing boat nearby too. The area is very sheltered and generally safe apart from fishing line entanglement and boat traffic.
St Leonards Pier
4mtrs
This makes an interesting night dive that is sheltered from westerlies. It has octopus, stargazers, stingarees, old wives, seahorses and globe fish. The bottom can be stirred up in windy weather.
Swan Island Submarine J3
Depth: 6 metres
This old submarine was one of six ex-R.A.N. subs scuttled in the area. The J3 didn't end up in the ship's graveyard but was purchased as a breakwater and scuttled in shallow water. She was sunk on top of an old hulk, the sailing vessel "S.F. Hersey". Most of the top deck lies above water and is an interesting snorkel. Underwater, the old timbers of the "S.F. Hersey" lying near the bow and stern of the submarine make for an interesting dive. This site can be subject to strong currents and is dived on slack water only. The hulk does provide some shelter from the tide. Worthwhile if you are a J-Class sub fan.
Queenscliff Pier
5-8m
This area is still used as a ferry berth so stay away from area with boat traffic. It is also popular with fishermen who have a tangle of lines dangling down waiting for an unsuspecting diver. Otherwise the jetty is very safe and shallow and is popular for dive courses and marine biology classes.
Popes Eye Marine Reserve
3-12 m
This odd structure was designed as a fort in the 1860's during a Russian invasion scare, but was never finished. Improvements in gun technology made it cheaper to protect the western shipping channel fromthe Queenscliff Fort instead. Today it's a seabird roost and seal haulout. The rock is ringed by narrow reef about 10 metres wide that quickly gives way to sediment. The area on the sediment is very exposed to big currents, so it should be avoided. There is good diving particularly on the southern side on smaller boulders. Lots of leatherjackets, wrasse, pipefish, globefish, weedfish, boarfish, scorpionfish, scalyfin, old wives, Morwong, blue devilfish, stingarees, boxfish and perch inhabit the rock. It is often visited on training dives. The shallow centre of the rock formation is often used as an anchorage for up to 30 boats at a time, even though it almost dries at low water. This is about the most popular dive site in the bay and is regularly visited by charter boats.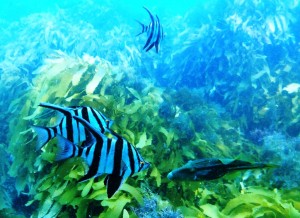 The Wreck of the "Clarence"
4-5 meters
GPS 144″43'16″ east   38″ 12'14″ south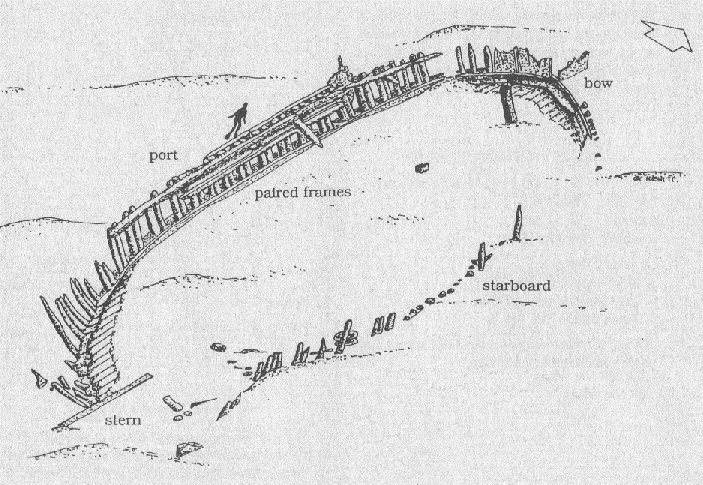 A protected zone has been declared around the Clarence wreck site to stop boats anchoring over the vessel. It may be open to divers in the future, or you may apply for a permit.
The Clarence was a 67-ton, two masted wooden schooner measuring only 50ft. It was built in 1841 on the Williams River in northern NSW. On 2nd September 1850, the Clarence was carrying a cargo of 132 sheep from Melbourne to Hobart when the anchor cable broke and it blew ashore on a sandbar between Coles and West Channels, about two miles south of St. Leonard's.
In 1982 the Maritime Archaeology Association of Victoria (MAAV) discovered the wreck. It is the best-preserved example of an early Australian built schooner found in Australian waters. The basic hull remains and some very fragile pieces of leather and rope have been found at the wreck site. On a good day, the wreck is clearly visible from the surface.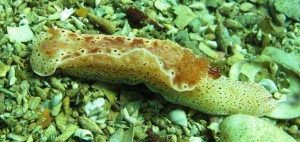 Wreck of the "William Salthouse"
Depth: 12M
(WGS84) 38 16.316   144 42.427
The William Salthouse is within a 250-meter radius protected zone. Access is by permit and only with a licensed charter operator.
This small 28 metre long barque was built in 1824. In 1841, she was on a voyage from Canada to Melbourne, when she struck a reef at the Heads and started to take water. The ship then ran ashore on Pope's Eye sandbar to save her. She the foundered in the West Channel. The wreck of the William Salthouse lay partially buried in a sand dune until divers discovered it in August 1982.The dune has preserved her in very good condition and she is the oldest wreck in Port Phillip Bay.
It was found that the site was being badly eroded by strong tidal currants. Marine archaeologists built six sand bag walls against the hull to support the wreck and in early 1990, artificial sea grass mats were installed to trap sand and stabilise the site.
Broken and intact barrels, which once carried, flour, nails and salted pork and beef are the main feature of the site. Details of the hull structure such as inner and outer planking and frames can be seen at the bow.
Wreck of the "Eliza Ramsden"
Depth: 12-21 metres
WGS84 – 38 17.632 144 40.445
The 45 metre long three masted iron barque "Eliza Ramsden" was a three masted iron barque built in 1874. In July 1875, she struck Corsair Rock at night while leaving the Heads. She was stuck fast and abandoned. The crew returned next morning to find that she had drifted free and was floating down South Channel. She foundered before they could get to her. The wreck was blasted flat as a shipping hazard and forgotten until scuba divers relocated her.
She still presents an excellent dive, with her substantial bow rising up to within 14M of the surface. She rests on a sandy, rock-strewn bottom. Some of the decking along the side of the vessel is virtually intact. An old boiler can be seen near the bow and was used to supply steam for the winches. Marine life is also prolific and colourful including kingfish, blue devils, old wives, boar fish, cuttlefish, leatherjackets and wrasse.
Diving in the channel needs a permit and is only allowed when no shipping is expected. Diving must also be done at slack water. The ship's salvaged anchor is on display at Queenscliff's foreshore reserve.
Ramsden Reef
20-30M
The wreck of the Eliza Ramsden has been a favourite of divers and before GPS units were invented many got lost looking for the wreck and found small areas of reef instead. One reef is about 75m from the wreck, towards Pope's Eye. Blue Devil fish, leatherjackets, sweep, trumpeter, and trevally are found. The reef is only about 60m long. The area must be dived at slack water. Diving in the channel needs a permit and is only allowed when no shipping is expected.
Wreck of H.M.A.S. "Goorangai"
16 metres
GPS 38 17.30 144 41.13
This small vessel was pressed into naval service to act as a harbor defence vessel. In 1940 she was crossing the heads at night on her way to Portsea, when she was rammed and cut in two by the S.S. "Duntroon". All 24 crew were lost and the "Goorangai" is a war grave. The wreck lies in the South Channel on sand and the wreckage is scattered. She still attracts plenty of fish life. A permit to dive is required. The area is affected by strong tides and must be dived at slack water.
Wreck of the S.S. "Gambier"
12-14 metres
WGS84- 38 16.45  144 40.50
The S.S. "Gambier" was a 1550 ton steamer. In 1891 the "Gambier" was in the West Channel, near the Pope's Eye. The S.S. "Easby" was also running up to Melbourne and collided with the "Gambier" amidships, nearly cutting her in two. The wreck of the "Gambier" sank onto a bottom of sand, light weed and small areas of patchy reef. The wreck was blown up to remove her from the West Channel. This dive offers scattered wreckage and is usually sanded over. There isn't a lot left, but it is a worthwhile curiosity for the wreck enthusiast when sand movement after a storm has uncovered interesting sections of the hull. Being in the West Channel special permission is required to dive on the Gambier. Car ferries pass over the site on their regular runs between Queenscliff and Sorrento. The dive site can only be dived at slack water.
Wreck of the "Joanna"
2-7M
38″ 12'35″ south 144″43'34″ east
This small local sailing ship used to transport lime within Port Phillip Bay. The "Joanna" was a 34-ton, wooden schooner built in 1856 at Mount Eliza. In 1857, the "Joanna" was loaded with lime and tea tree from Pt Nepean and was anchored waiting for a favourable wind. A severe storm caused the anchors to drag and the ship was driven onto the western bank of the Western Channel. The "Joanna" filled with water and sank. The "Joanna" lies one and a half kilometres offshore, between Swan Island and St. Leonard's. The wreck stands up to three meters above the sea bed with its cargo of bagged lime now turned to concrete. Divers visiting the wreck often find stingrays living between the lime bags.
The cargo has pinned down the hull and preserved it under the sand. The "Joanna" is the best preserved and the earliest known example of a Victorian built sailing ship. A yellow marker pile was placed on site in 1991. This is a 100-meter radius protected zone, Access is by permit only. Anchoring is prohibited. The site of the Joanna is very exposed to weather from the north and south. It should be dived only in slack water. The Maritime Archaeology Unit has placed an underwater plinth on the site.