WEST COAST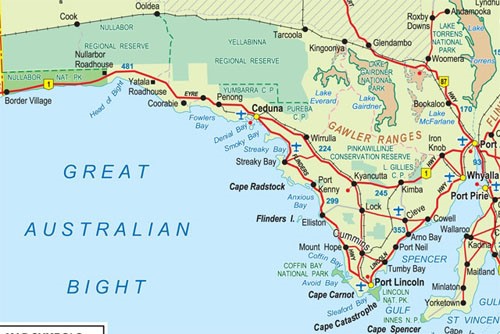 Eastern side Eyre Peninsula
The Eyre Peninsula has 700 km of coastline and 50 offshore islands. The eastern side is very arid and remote but has several major centres. Port Lincoln has 2 dive shops and an all weather ramp. Port Lincoln is also close to the attractions of Lincoln National Park. Launching from there at Taylors Landing also provides access to the islands of Thorny Passage. Thorny Passage Islands offer the best diving near Port Lincoln. The availability of dive services often limits any diving adventures to sites near Pt Augusta, Whyalla and Pt Lincoln. The best visibility is in Winter. There are few shipwrecks on the Eyre Peninsula.
Whyalla Cuttlefish, Point Lowly
4-5M
WGS 84 – S' 32′ 59.34 E' 137′ 45.49
From May to August thousands of cuttlefish gather on the eastern Eyre Peninsula to breed. Cuttlefish usually start appearing at Black Point and Stony Point reefs when the water temperature drops to 17 degrees celsius. One of the more popular and reliable places to find giant cuttlefish aggregations is near Whyalla. The access point is at Point Lowly, next to the Santos petroleum processing plant, 25km north of Whyalla. A boardwalk has been established to allow for easy access for divers. Here the cuttlefish have been found in vast schools, one diver reporting 15 to the square metre. The bottom is otherwise covered in low rocky reef and short algae with only low species diversity. A dive at slack water will bring 20 metres plus visibility and cold but easy diving conditions. It can become murkier and more challenging when the tide is running. The area is also home to squid aggregations later in the year. The site can get stirred up in strong winds which are common at that time of year. In March 2012 a new jetty at Port Bonython and may threaten the habitat of the cuttlefish. The 2011 season showed only 20% of the normal cuttlefish numbers and numbers kept falling. Some blame fishing, others say it is the natural population recovery of cuttlefish predators like seals. As the numbers slowly began to recover, its seems like it was more to do with natural factors.
Pt Lowly Artificial Reefs
approx 18M
Point Lowly is marked by a prominent lighthouse. The water around the point drops into deep water within 200M of shore. Tyre reefs have been established around the point and surrounding areas. They are visited by lots of fish lots of fish but can be silty. The area is renowned for strong tides.
Whyalla iron jetty
10m
Old jetty was originally built in 1901 and has an important place in Whyalla's history. It has now been disused for 40 years, with extensive growth on pylons. Marine life seen includes tommy ruff, garfish, squid, blue swimmer crabs, port Jackson sharks, jellyfish and some species of whiting. The wharf is very popular with fishermen.
Wreck of the "Leeton"
22 M
WGS84 – 33.09.668    137.38.570   
The 45 foot long tug Leeton was scuttled 12 kilometres SSE of Whyalla in the main shipping channel. It is a small but well-known dive occasionally visited by local divers. The superstructure has been torn off and the hull is draped with prawn nets which can be dangerous. The forward hatch is open and filled with silt. The wreck is subject to extremely strong tidal movement and can only be dived on slack tides. Whiting and snapper can be found over the wreck.
Mareks artificial reef
12 metres
WGS84 S 33 05 722  E 137 36 394
The Whyalla area has a large number of artificial reefs, all affected by the strong currents and silt that is a feature of the area. An extensive artificial reef, consisting of car bodies, old boilers, gantries, tyre pyramids, washing machines, stoves and refrigerators, lies immediately south of the "Leeton". Most other reefs consist of the usual series of tyre pyramids. It can have thick growths of sponges, ascidians and soft coral and is a haven for schools of whiting, snapper and many other fish.
Cowell to Arno Bay
2-4 M
This area offers many shallow reefs that offer easy snorkelling. Snorkelers can find Eagle Rays, Port Jackson sharks and many other species on substantial sea grass beds.
Wreck of the "Lady Kinnaird"
6 Metres
In January 1880, the 680 ton iron barque went ashore in a storm on her way down the gulf from Port Pirie laden with grain. The "Lady Kinnaird" broke up on the rocks opposite the present day Port Neill Golf Club. All on board managed to survive but the ship became a total wreck. Salvageable parts of her were used in the district for years in shearing sheds and for the roof of the Kinnaird Tanks. In 1978 the Society for Underwater Historical Research surveyed the wreckage. The wreck now consists of extensive iron plating, chain, masts, winches and an anchor.  The Lady Kinnaird Walking Trail at Port Neill follows the coastline, south from the jetty over headlands and beaches to the edge of the golf course where a seat overlooks the site of the wreck.
Tumby Bay Jetty
2-4M
This easy and shallow shore dive has the usual colourful pile growth with lots of crabs, nudibranchs, leafy sea dragons, sea cucumbers, blue throated ascidians, cow fish, magpie perch and many other species. The bottom is principally seagrass and the visibility can vary from 5-7 metres.
Louth Bay Jetty
4 M
This jetty makes for an easy shallow shore dive with some hard foreshore reef and a good variety of small marine life.
South end Louth Bay
15M
The foreshore offers some moderate depth diving among rocky boulders and crevasses.
Rabbit Island
7m
This site at the northern end of Point Bolingbrooke is a shore dive off the rocks. The boulders and crevices are home to some interesting marine life.
Sir Joseph Banks Group
10-20M approx
This collection of 17 prominent islands at the southern end of the Spencer Gulf is popular with larger charter vessels, often operating from 25 km away at Tumby Bay. Divers can enjoy clear water with good fish life. Some of the islands are settled and accommodation is available on Spilsby Island. Most of the islands offer depths to 20 m.
Spilsby Island
This 468 hectare island is the largest in the group and has been grazed since 1838. Recently many plots of land have been sold into private hands and some building work has been undertaken. This provides diver accommodation and has made Spilsby the major centre for dive charters in the area. The North-Western side offers a reasonably sheltered 1km long beach which is a relatively safe landing point, but often uninspiring and flat for diving. The rocky dive sites on the south-eastern side support large numbers of fish but this is very exposed. Marine life includes silver drummer, trevally, yellowtail, bullseyes, cowfish, blue groper, leatherjackets, wrasse, boarfish, zebrafish, sweep, blue groper and morwong. The island itself is also an interesting spot to explore between dives.
Duffield Island
10 metres
This small 7.9 hectare island is only 9 metres above sea level and lies 750 metres from Spilsby Island. It offers reasonable diving with plenty of fish including large Blue Groper.
Stickney Island
This small 70 hectare island, provides divers with a shallow and bouldery bottom covered in thick seagrass and kelp. This shallow reef offers many caves and crevices with good fish life, morwong, groper, old wife, bullseyes, boarfish and blue devilfish.  Inside the crevices and caves there are colourful sponges, gorgonians, soft corals, nudibranchs, cowries, sea stars, feather stars and spider crabs.
Langton Island
2 m
This island offers an Australian sea lion colony and they will regularly swim with divers.
Dangerous Reef shark encounter
This low reef is only a few metres above sea level and marked by a solar panel. The reef is large enough to support the second largest breeding colony of Australian Fur Seals in Australia along with cormorants and gulls. Landings on the islands are prohibited without a permit and no reef diving occurs on the island. It is a key hunting ground for Great White Sharks which has made it one of the world centres for shark cage diving. Shark visits are intermittent and several may be seen on one trip, and maybe none on other trips. Diving with big sharks is both exhilarating and educational and is not to be missed if you get the opportunity. Charter operators advertise on the web and go to the wreck when weather permits.
Pt Lincoln Town Jetty
4m
This easy shore dive lies in the centre of Port Lincoln. The pylons are covered with colourful marine life and are good for photography either day or night.
Kirton
Pt Jetty, Port Lincoln
12 metres
This deeper reef offers a colourful shore dive with often good visibility. The colourful piles are home to sea cucumbers, crabs, sea stars, tubeworms and nudibranchs.
Wreck of the "Bronzewing"
5-7m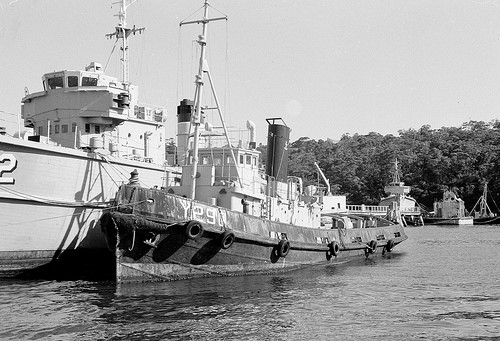 The 17.7m steel tug Bronzewing was built in 1930 for the Royal Australian Navy, but was sold in the 1960s to be refitted for tuna fishing. In the late 1980s the Bronzewing failed its survey and was bought by the Port Lincoln Game Fishing Club for scuttling as an artificial reef. In 1990 it was sunk in Boston Bay, Port Lincoln, six nautical miles west of the No 4 beacon. The site lies about one nautical mile off Port Lincoln near Bass Shoal. The wreck can suffer from poor visibility.
Cape Donnington
2-12 metres
The shores of Thorny Passage are generally sheltered and subject only to short wind waves. It has several sheltered sites with delicate seaweeds but sometimes poorer water quality. The foreshore area of the cape offers an easy very sheltered shore dive on small granite and limestone caves and ledges in 2-4M. The reef is covered in strap weed (ecklonia Radiata) with large beds of bushy brown algae in the more sheltered areas (C. monilifera, C.subfarcinata). For a deeper reef dive, boats can be launched at the Kirton Point Caravan Park. The Donnington Reef is 3m high and lies 550 metres NNW of Cape Donnington. The east side of the reef provides shallow granite reef diving with small ledges, overhangs and crevices.
Wreck of the "Degei"
10-11 metres
This small 28 metre long wreck lies on the western side of Donnington Island, 20 metres from the shore. She was lost on 24 January 1974, along with her crew of 9. This old 205 ton trawler was built in 1940. She is still fairly intact and the wreckage reaches almost to the surface. She lies on her starboard side. Gorgonia and soft corals cover the wreckage and she is patrolled by Long-Snouted Boarfish, Old wife, scorpionfish, Horseshoe Leatherjackets, bullseyes and cuttlefish.
McLaren Point
2-4 M
This is a very sheltered snorkel or scuba dive is over fairly flat granite bedrock with silt and seagrass in patches. It has beds of more fragile seaweeds like Scaberia, C. monilifera, Osmundaria. There are a few fish and some smaller marine life of interest to photograph.
Taylors Island
12 m
The boulder-strewn bottom provides a number of exciting dive sites around many small caves, swim-throughs and gutters. The dive has colourful sponges and gorgonians and the reefs are patrolled by morwong, perch, old wives, boarfish and blue gropers.
Taylors Landing
2-3 M
South of the boat ramp close to shore there are some low limestone outcrops that are worth a snorkel or dive.The area isvery sheltered and covered in delicate seaweeds likeC. moniliformis and Osmundaria
Memory Cove
2-10M
There are sheltered snorkel and scuba spots throughout Memory Cove. Much of the bay is ringed by shallow granite rock with some crevices. There are beds of delicate seaweeds like Cystophora monilifera, C. moniliformis, C. subfarcinata, as well as large areas of the tougher Ecklonia Radiata. The area is an important fish nursery with many juveniles and sub-adult fish including Western Blue Grouper. Out in deeper water 200 –300 m offshore there are larger crevices, good fish life and thick weed beds.
Grindal Island
20 metres
This 81 hectare island is 26 metres high. It is part of Lincoln National Park. A jetty lies on the sheltered western side, while the deeper reefs are on the southern side. It provides similar terrain to other islands in the area, with large boulders, bommies and swim throughs on a rocky bottom covered in seagrass and kelp. The visibility can sometimes be poor. Schools of Sweep and Drummer can be seen along with large Blue Groper.
Lewis Island
10 metres
This is principally a seal colony dive although there are nice bommies off SW tip of the island with very colourful marine life. The visibility can be moderately poor for South Australia and the currents very strong in deeper locations.
Hopkins Island
4m-30 m
The island is a relatively small rock with some smooth slabs of stone along sandy beaches. Seal Cove is a tiny protected bay on Hopkins Island with sea lions. You are not allowed on the island but the seals will soon enter the water and come over when divers arrive. There are other dive sites including a pinnacle off the southwest tip of the island with boulders rising from 30-4 m. Numerous caves are home to a variety of marine life.
Whalers way
This is a coastal drive with lots of shallow shore dives in rare moments of suitable weather. Access is over private property and you will need a permit and key, which can be issued by local service stations.
Cape Wiles Lagoon
6-15 m
This sheltered lagoon lies 30 kms SW of Port Lincoln. It is reached by boat from Fishery Bay which is a four wheel drive beach launch. On one side of the lagoon there is a small island that is home to a colony of NZ fur seals. The water is always clear and calm. Blue groper, gorgonia, crays, ascidians and sponges can be found here. There is some great diving at the mouth of the lagoon where car sized boulders provide shelter for marine life. There is also a small cave about 50 metres long at 15 metres. Torches are needed. Morwong, blue gropers, harlequin fish, drummer, cuttlefish, blue devilfish and perch can be seen.
Theakstones Crevasse
13 metres
This prominent coastal feature is rarely dived due to its exposed position. The crevasse was named after a local pioneer family who settled in the area in 1889. This natural fissure formed over millions of years along a fault line. A path circles the head of the crevasse and can only be accessed with difficulty. The sea walls aren't especially heavily decorated due to the constantly scouring action of the heavy swells. The crevasse extends some 30 metres underground.
Lingunea Island
This 202 hectare island is shallow and generally sheltered on the Eastern side but otherwise offers deeper diving.
Neptune Islands Shark Cage dive
This vast NZ fur seal colony is regularly visited by Great White Sharks. Dolphins, bronze whaler sharks, mako sharks and whales are also seen here from time to time through the year. This very exposed and remote site is 2 hours by fast boat from Port Lincoln. The most popular sites for cage diving tours are in and around the sheltered main bay. The nearby "drop off" bottoms at 22m and a nice reef can be examined while waiting for shark activity. Action Bay is also used as it has better fishlife as a backdrop for great shark photos. From May to October divers are most likely to see large Great White Sharks but the water is colder and the weather more unpredictable. Summer is more pleasant and there are still regular shark sightings at that time of year.
West Coast
Western side Eyre Peninsula
The far West, West of Streaky Bay is mostly a granite shoreline capped by large deposits of a limestone called calcarenite. These weather shores are largely protected as National Parks or Conservation areas. This soft rock limestone rock is in various stages of decomposition and erosion, offering a mixture of bottom types depending on the degree of exposure to the elements. These eroded rocks and islands are very visually spectacular offering beautiful coastal sightseeing on non-diving days. This is a relatively remote area of the state that is not often visited. Recently it has been more accessible due to the regular trips of live-aboard charters.
Redbanks (west)
2-4 M
This area is reached by 4wd along Whalers Way. The foreshore consists of shallow granite occasionally capped by areas of limestone. The reef has numerous crevices that provide limited shelter for marine life from the often rough south westerly storms. In some spots it is possibly to get partial shelter behind rocks and bommies but diving should only be attempted in very calm weather.  Seaweeds include Acrocarpia, Ecklonia, C.siliquosa, C. subfarcinata and C.moniliformis. The area is generally poor in terms of fish with only limited amounts of the more delicate forms of marine life.
Wanna
2-5M
This area of low limestone reef overlying granite has numerous crevices. This area is slightly less exposed to the swell than Redbanks, but still requires a very good day for safety. Seaweeds include Ecklonia, C. subfarcinata,C.moniliformis C. siliquosa. The area is reached by 4WD along Whalers Way.
Pt Avoid- Golden Island Reef
2-5 M
This area lies 45 km west Pt Lincoln and can be accessed by 4wd and done as a shore dive. Golden Island reef lies around the corner from Avoid Point in Coffin Bay national park. The dive spots are very exposed and can be only rarely dived during days of low swells. There is a section of sheltered limestone reef between Pt Avoid and Golden Island. The SE side is partly sheltered from the incessant SW swells. This shallow reef is good for snorkelers in appropriate weather. It has many small crevices and a thick weed covering of bushy brown algae (Cystophora monilifera, C.moniliformis) shading some smaller marine species. This reef is as important nursery site for juvenile and sub-adult fish including Blue grouper. The reef is even rockier and more varied on the exposed side but is carpeted in a thick bed of strapweed (Ecklonia) and Acrocarpia.
Black Rocks Avoid Bay
15-20M
In Coffin Bay National Park a 4wd track leads to Avoid Bay, where small tinnies and inflatibles can be launched by 4wd from the beach. Divers need to head out towards the black reefs in the middle of the bay. The reef is home to lots of sponges, soft corals, zoanthids, ascidians and gorgonia. There are also lots of fish.
Whidbey Isles
This area is rarely visited but is noted as a deep ocean dive with excellent marine life including big Grouper and lots of colourful growths including big gorgonia fans. Expect big currents and challenging conditions
Point Sir Isaac
10M
If you have a 4wd this area can be shore dived. The 4wd trip is a long scenic drive over tidal and sometimes soft beaches and requires some off-road expertise. It is easier done as a boat dive and a boat allows you the opportunity to explore further afield too. The area is renowned for big swells and large fish on limestone reefs of moderate depth. Big blue groper can be seen on every dive.
Coffin Bay
Located 50 km northwest of Port Lincoln are the picturesque waters of Coffin Bay. The area is best accessed by 4WD, and then explored from the shore or by boat. The rocky reefs and nearby islands support a wealth of marine life. It is very shallow and doesn't have the spectacular reef of the open coast, but it is very sheltered and relaxing.
Frenchman
The rocky reef to either side of the beach can be attempted as a snorkel or shore dive in very calm weather, but be warned this is generally considered more of a surf beach than dive site. The reef is also a stiff walk from the access roads in full gear.
Pt Drummond
3-5m
This can be attempted as a shore dive in good conditions. There is good granite reef 100-300 m south of the boat 'ramp', with several offshore reefs visible at low water. This are is moderately sheltered with good fish life and beds of Acrocarpia, C.moniliformis,C. subfarcinata, C. monilifera.
Sheringa Beach
Sheringa Beach is 8km off the Flinders Highway on a corrugated road. It is well-known as a dangerous surf beach so choose a very calm day. There are areas of shallow limestone reef, crayfish and lots of swimthroughs.
Elliston
The town of Elliston, located 150 km northwest of Port Lincoln has good sites but lacks facilities. Those with a boat can visit the reefs and offshore islands but will be required to make a special effort to fill tanks. The sites have great fish life and regular marine mammal encounters. There is a concrete launching ramp at the main swimming beach in the town. Divers at Elliston regularly visit sites like Blackfellows Reef and "The Bar" which is noted for lots of Gorgonia. The town jetty was originally built to service the coastal steamers bringing in supplies to the early settlers. It is a good bad weather dive day or night, with Tommy Ruff, Garfish, Whiting, Snook, Squid. The jetty is lit at night and popular with anglers.
Topgallant Island                                                      
20 metres
The area is noted for walls and gutters, especially on the rarely dived exposed side of the island. Fish include Blue Groper, silver drummer, Horseshoe Leatherjackets, Scalyfin, Magpie Perch and Blue Devils.
Pearsons Island                                                
15-30 metres
One of the Investigator Group, this is a low scrubby island of 213 hectares split into a northern and southern land mass. The smaller south island is connected by a shallow tidal channel. An automatic light has been erected in the centre of the island. The cove on the Eastern side of these islands offers a safe anchorage and landing point. About 50 Australian Fur Seals breed on this sheltered beach and should not be disturbed by visitors. The area is noted for clear water and large granite blocks going out to depths over 30 metres. These boulders shelter gorgonia, soft corals, Zebrafish, Wrasse, Moonlighters, Nannygai, Wobbegong and Harlequin Cod. Seals are regularly seen.
Venus Bay jetty
This often sheltered spot is an easy day or night dive with some small marine life.
Streaky Bay – Pt Labatt
Streaky Bay is located 125 km north-west of Elliston and is famous for its unusual mainland population of Australian sea lions.  The colony can be found at Point Labatt, which involves a demanding and dangerous climb down a cliff face.
Ceduna Old jetty
This old jetty has some debris on the bottom for an easy shallow dive day or night. The fish life includes Garfish, Salmon, Snook and Tommy Ruff.
Wreck of the "Eleni K" Ceduna
11-13 metres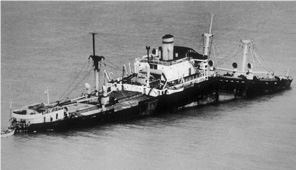 The 134.6 m single-screw steamer, Eleni K (originally the S.S. "Johns Hopkins") was built at Baltimore in March 1943 to a standardised 'liberty ship' design. She was later bought by a Greek company.
The freighter arrived in Thevenard, South Australia, in mid 1966, where it was considered unseaworthy by shipping authorities and taken to Port Adelaide for repairs. She was then returned to Thevenard to load bulk wheat. The Eleni K departed with 7776 tons of wheat. A design fault in Liberty Ships was their tendency to crack amidships, yet this cargo was divided between the forward and after holds, leaving the centre hold empty. Approximately 90 minutes after leaving port, the Eleni K broke its back. The engines were stopped, and the vessel anchored, but sank soon after. In November the Eleni K was refloated and towed to its present position between Goat Island and St Peter Island, where it was grounded. Today the extensive remains are one of the best shipwreck dives in South Australia. The relatively intact vessel is sitting upright, with the top of the bridge about two metres under the surface. The area is very scenic and teeming with marine life. Nearby Goat Island has a Shearwater population of 94,000 birds.
Hall Bay
This area is reputedly a good shore dive in calm weather.
Nullarbor Caves
Only Warbla Cave is actually located in South Australia. The more famous Nullabor caves like Cocklebiddy are located a short distance away in Western Australia.