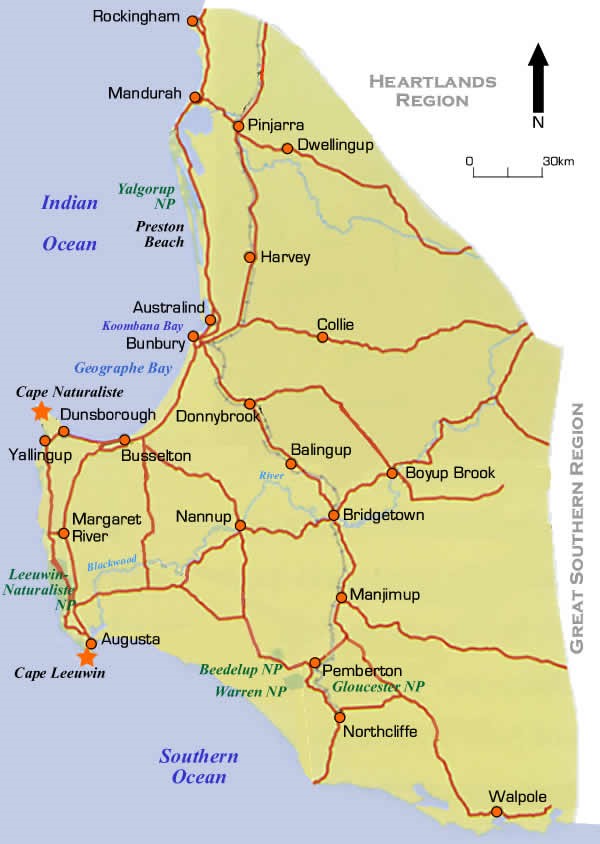 Flinders Bay Bommies
4-15M
The fringing limestone reef along the Augusta –Cape Leeuwin shore is all accessible without a boat and is often sheltered when the westerlies are blowing out other sites. The foreshore reef near Augusta is generally a mix of long sandy beach and rocky reef platform in relatively shallow water. Some fitness or a boat is required to reach the more distant offshore reefs.
Groper Bay
12M
Groper Bay, just east of Flinders Bay is just one of the better known areas along this shore diver friendly coast. Fish life is good and the overhangs under the weedy reef are home to more delicate invertebrate life.
Seal Is
12m
This small island offers interesting gutters and ledges with good invertebrate life. The reef is also visited by school fish. Blue devils, dhufish, kingfish and trevally are frequently seen.
St Alouarn's Is
This area is accessible from a good ramp at Augusta, All the area from the island to Cape Leeuwin is dotted with offshore reef and bommies offering good diving in suitable weather. The fishlife is great, blue groper, dhufish and Samson fish. Watch out for currents.
Windy Harbour, Point D'Entrecasteaux
Point D'Entrecasteaux is one of the few places where the coastline of the D'Entrecasteaux National Park is accessible to 2WD. The area offers walks and spectacular lookouts. The coast is more exposed to prevailing SW swells with few safe boat launching points. Windy Harbour is a holiday settlement that is surrounded by D'Entrecasteaux National Park. You can launch from a basic boat ramp to reach nearby rocks but the southerly swell is often large and breaks on the ramp. Windy Harbour and the sheltered beach at Cathedral Rock is a great place for a swim or shallow snorkel with kids on a good day. There is a camp ground at the settlement with grassed camping areas, toilets and hot showers
Fish Creek
There is a short 4WD track off Chesapeake Rd into a nice bay. The bay is reasonably sheltered during moderate weather. The best diving at Fish Creek is on the south eastern side of the cliffs generally on shallow foreshore reef that drops off suddenly to reveal a nice reef with good fish life. It's a 50 metre walk down a steep track to get to the water. A rough camp spot exists on the cliffs above the bay.
Boat Harbour
Boat Harbour is another shallow shore diving spot that is only 4WD accessible, It is about 30km west of Denmark. There are no facilities.
Chatham Island
30M+
Extremely good weather is required, not only to get to the site, but to get the boat out of the sandy mouth of the Walpole Inlet which offers the closest ramp. It is still a long trip although the island itself is only 3 miles off Mandalay Beach. The end result is truly remote and rarely dived deep reef habitat on the island's seaward shore patrolled by heaps of fish.
Saddle Island , Goose Island
20m
Closer to the mouth of the Walpole Inlet these too small islands offer a safer relatively short run on a good day. There is a lot of broken reef all around this area of coast to explore with the sounder. The entrance to the Inlet is very dangerous in any swell and trips outside of the sheltered lagoon are not common.
Peaceful Bay
When the swell is down this seaside hamlet offers some easy snorkelling or diving on sea grass. There are also nearshore bommies offering some good diving.
Stanley Island
This site off Point Hillier can be reached in good weather after a long trip from Parry Beach boat launching site. The seaward side offers good deep reef diving on sheer granite drop offs.
Elephant Rocks, William Bay NP
There is some shallow snorkelling to be had for the family around the inshore rocks in good weather. The scenery is stunning and the beach lovely. The area can be subject to rips in big seas.
Madfish Bay, William Bay NP
The granite foreshore offers a walk through water to an island, which offeres some shelter from the swell. Sheltered swimming and snorkelling is created by the lee of the island.
Greens Pool, William Bay NP
This popular and protected swimming spot offers easy protected snorkelling and diving in a picturesque setting and it is becoming increasingly popular with families. The shallows are suitable for kids because, there are protective shallow sandbanks around many of the rocks. At most it's 150m from the beach. When the ocean is calm enough, you can also swim along the outer reef, especially on scuba. There are plenty of fish including wrasse, moonlighters, small grouper and old wife.
West Cape Howe
West Cape Howe is the southernmost point of WA and is spectacularly rugged. It is very exposed as soon as Tor Bay is left behind and the area is wild in even a moderate swell, but the fish life is great if you ever get the chance.