Esperance –mainland shore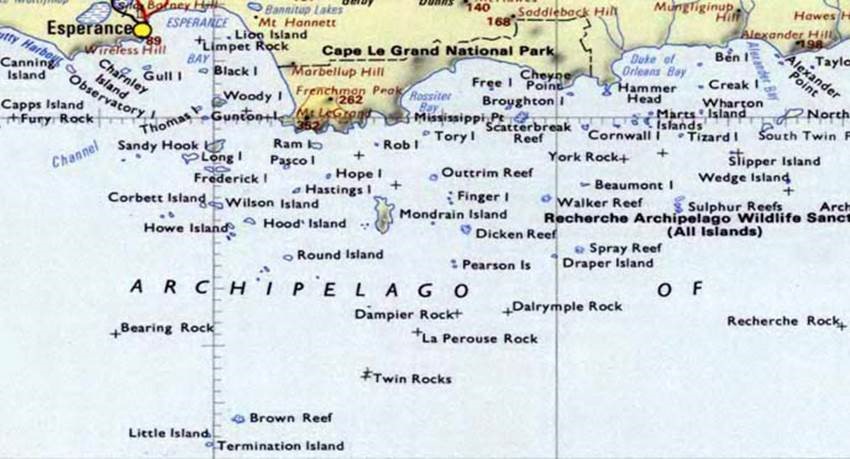 Esperance is located 725 km south-east of Perth. The town offers a range of accommodation and tourism facilities. While most of the offshore islands are relatively inaccessible, closer to Esperance are many excellent shore and boat dives. These granite capes and their underwater reefs and boulder fields provide large caves and swim-throughs. The temperate water encourages a wide variety of colourful soft corals and sponges in any shaded or deep area where the light is too poor for the dominating seaweeds. For a temperate water site, Esperance is has areas of hard plate coral in shallow water, large encrusting algal rhodolite beds out on the sediments and other unusual features. It's also a place where west meets east. The area's prolific fishlife is a mixture of western species and fish more commonly associated with South Australia. Some of the more common species include western blue groper, red snapper, harlequin fish, sweep, queen snapper, cuttlefish, wrasse, break-sea cod, blue devils as well as many smaller cryptic species. The Esperance region is rated as one of the best dive locations in Australia.  The climate is mild temperate with maximum temperatures ranging low 20′s in September to mid 30′s in January. The water temperature varies from 18 – 21 degrees.
Twilight Cove, Esperance
Esperance's Great Ocean Drive is a 38 kilometre ring road West of Esperance's Town Centre that takes the traveller past some of Australia's best coastal scenery, with views of the Recherche Archipelago. Dotted along the coast are a miles of deserted granite headlands and white beaches, both surf beaches and some offering moderate shelter from the wind. Twilight Beach lies 7 km and seven beaches west of Esperance. The eastern side of the bay is wave exposed and tends to be subject to rips. It becomes increasingly protected by the rocks and islets nearer the Surf Life Saving Club where there are two car parks. The Cove and has rounded granite rocks forming the western headland, wave-washed granite islets just off the beach. One is known as Twilight Rock and has some small underwater caves. One cave passes right under the rock, but is surgy and potentially hazardous in a big swell. The inshore areas can suffer from poor visibility but this improves on the seaward side. The generally weedy crevices are covered in colourful sponge and coral. The area can experience uncomfortable tidal currents at times.
Tanker Jetty
10M
The old long timber Tanker Jetty is located on the town foreshore in Esperance and is touted as the best jetty dive in southern Australia. It certainly enjoys good visibility that averages 10M. Like all jetty dives it is mostly for the weather-bound, macro-photographers and naturalists, although it will be a pleasant dive for any diver. A 500m long walk in full gear is rewarded with an entry ladder at the end. An old wheelbarrow is recommended if you can borrow one. New Zealand fur seals and Australian sea lions occasionally visit the jetty, with one regular visitor getting the name 'Sammy'. It also has an artificial reef at the end consisting of an old boat and bundles of tyres built by the Esperance Dive Club. It has been declared a `no fishing` zone by the Fisheries Department. While that might annoy the local anglers, as a result we should expect local reef fish to increase in size and become less timid. The clear water makes for some photogenic shots and fish school under the jetty. It is a great introduction to south coast diving with a good representation of inshore species. Divers from South Australia will notice many familiar fish such as leafy sea-dragons, sweep and schools of Old Wives, with a sprinkling of unique Western Australian temperate fish species although many are variations on families we regularly see further east. This is a great chance to pull out a fish ID book and start 'collecting' shots of local fish. Be on the lookout for schools of black-head puller, sergeant baker, Western foxfish, blue-spot puffer, leatherjackets, silver drummer, anglerfish, and southern coral fish. You will have to be very patient to see the camouflaged anglerfish and seahorses. There is a large variety of nudibranchs. On the sea floor are spider crabs, sea stars, brittle stars, feather stars, sea cucumbers and hermit crabs The Jetty pylons are covered with soft corals, ascideans and small gorgonia. Information signs have recently been installed with cables connecting them, no doubt soon to become fouled but a nice idea.
Cape le Grand
5-30M
Cape Le Grand is located 56 kilometres east of Esperance and is in a very scenic area with picturesque granite headlands and rocky bays, such as Hellfire Bay, Thistle Cove and Lucky Bay. There are beaches and bushwalks for the family and non-diving days. On calmer days boats can be launched from Lucky Bay. Located within the south western corner of the national park are a series of spectacular outcrops named Mount Le Grand, Frenchman's Peak and Mississippi Hill. Cape Le Grand is home to many unique species of native wildflowers and these can be seen in full bloom between September and November.Excellent caravan and camping sites can be found at both Le Grand Beach and Lucky Bay.
Cape Le Grand offers shore diving access in basically any area that you can walk to in full kit and enter safely in the conditions. A boat is needed for other sites. The depth can vary and will reach 30M even close to the shore towards the tip of the cape. The kelp-covered boulders are home to a variety of local fish life, including occasional leafy sea dragons, blue devilfish, boarfish, schools of bullseyes, silver drummer, and many other fish.
Whylie Bay
Wylie Bay has a 1.3km long beach that ends in an east-facing rock outcrop in the lee of Wylie Head. Boats can be launched off the beach in this relatively sheltered area to reach nearby rocky reefs. The area can also be shore dived.
Lucky Bay
15-20M
This is about the most sheltered spot near Esperance and can be dived in nearly any weather although good weather vastly improves the visibility. The spot is popular with tourists, who encourage kangaroos to come right down onto the beach. It is about a one hundred metre walk in full gear from the car park to the water. Inshore amongst the seagrass, the visibility can be poor sometimes, but it usually increases to 10M or more out on the point. The rocks are covered in sponges and various hard corals. Crevices contain lots of small fish and invertebrate life. Crays and bigger fish have long ago been removed, but small schools of swallow tail and herring often hang around. The rocks deepen in a series of steps to the sand in deeper water. This bay is also popular for night dives and is well-known as a good spot for finding sea dragons. Although relatively sheltered, big swells can make this a difficult dive.
Hellfire Bay
5-13M
Easy access form the rocks with relatively deep water close to the entry point. Fish life is excellent along the granite walls. The edge of the reef gives way to sea grass where seadragons and pipehorses can be found.  It is an exposed site requiring very good weather.
Rossiter Bay
Twenty kilometres away from Cape Le Grand, the Lucky Bay road provides access to the southern end of the beach, with 4WD access to where boats are launched in the southern corner. Dunn Rocks lie at one side of a 9km long beach. In the centre there is a small rocky platform in the lee of two islands. The southern end is the most sheltered and is marked by east-facing rocks, with a shallow seagrass bed lying just offshore. This area tends to be blown out in easterly weather. 
Little Whartons
16M
Like several spots on the south coast, Little Whartons offers a large patch of shallow plate coral, happily thriving in this temperate zone. The area is a series of weed covered reefs and gutters that is home to some good fish life including schools of swallowtails, sea-pike and bulls-eyes. The dive is not challenging in low swells and make for a very enjoyable dive.
Whartons
22M
This nearby area of weedy reef is popular is good weather for shore diving. The area tends to have slightly less fishlife than other nearby sites, but is good for spotting sea dragons.
'Secret spot'
20M
This local shore diving spot is just around the headland at Whartons. It involves a scramble over foreshore rocks at low water and is more easily dived at high tide. The bottom is slightly more varied with caves and swim-throughs to explore in between sections of generally flat reef. There is often plenty of good fish life as well including drummer, boarfish, seadragons, old wife, and sweep.
Nares Island
10-20M
Shelter SE through S to NW.
Wreck of the "Batoe Bassi", Alexander Point
GPS position: Lat. 33º 54.6' S Long. 122º 50.2' E
The 115.5ft long wooden brig "Batoe Bassi" had been built in Norway in 1864, but by 1880 was a Dutch ship working in Indonesia. On 30 April 1880 the Batoe Bassi had sailed from Tjilitjap in Java for Melbourne with 300 tons of sugar, 3 000 coconuts, rice and spirits. The barque was under the command of Dutch officers and crewed by 20 Indonesians. Three women were onboard, the wifes of crewmen.
Off the Western Australian coast, the "Batoe Bassi" was caught in two heavy gales. The pumps had to be kept going constantly until one of the crew was so exhausted he died at the pumps. When they were south of Esperance they decided to make a run for land as the ship was slowly sinking. That evening they anchored under Inshore Island where another exhausted crewman died. By morning there was 3 ft of water in the hold and no-one around to help. The mate was immediately sent to Albany for help while a southerly storm blew for the next 3 days while the vessel rested on the sand and began to be slowly buried. The government schooner "Agnes" arrived and the men began to strip the "Batoe Bassi". The following day the wind blew hard from the south-east, the vessel fell over on its side and began to quickly break up.
The wreck lies 300 m east of Alexander Point, and about 45 m from the shore in shallow water.  The area is subject to waves and currents and varying amounts of the wreck are exposed. She lies parallel to the waves with the starboard side towards the beach, and bow pointing slightly shorewards. The lower section timbers are in good condition due to the usually being buried. There are two heaps of anchor chain near the bow, and a small wooden capstan.
Wreck of the "Franklin", Point Malcolm
5M
GPS position: Lat. 33º 46.6370' S Long. 123º 44.6645' E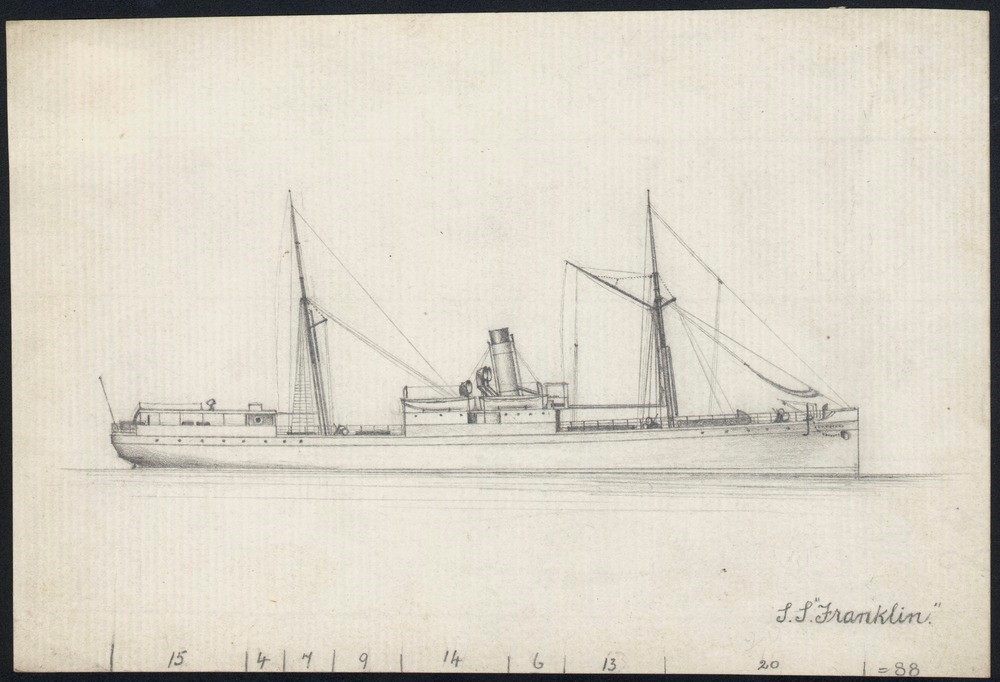 The 200ft long iron steamer "Franklin" was built at Glasgow in 1880. In 1902 she was heading to Israelite Bay on a regular coastal run, this time delivering operators to the telegraph station.
The "Franklin" was heading slowly towards its anchorage at Point Malcolm when it struck lightly. Soon after the engine room started flooding and soon put out the boiler fires. The ship quickly sank onto a rocky bottom, having filled in just ten minutes. The Franklin probably struck a small limestone reef or drove over an old anchor which started one or two of the hull plates. A diver was brought to the scene but the ship had settled into the reef and the leak couldn't be inspected. The sea was milky from the crushed limestone caused by the rolling of the stranded ship. The weather went sour and the salvage attempt was abandoned. The wreck lies about one kilometre eastward of the track down to the beach at Point Malcolm, about 500M offshore with part of the engine visible above sea level. The iron structure has largely fallen apart and lies flat on the bottom on a north-south axis. It is heavily overgrown with kelp.
Israelite Bay jetty
3-5M
Israelite Bay offers excellent coastal scenery. The last 100 kilometres of the 200 km trip from Esperance is restricted to four wheel drive vehicles only. Bring your own water and fuel as there are no facilities. It is relatively safe beach for swimming. There is a fishing camp behind the beach as well as an informal camping area, with fishing boats sometimes moored off the beach. Israelite Bay beach is 5 km long and receives low waves. The unusually sheltered nature of the bay saw it used for a jetty and telegraph station. The ruined station is 1km SW of the old jetty and operated from 1887 to 1917. The sandy Fisheries Road track terminates at the southern end of the beach near the ruins of the old jetty.
The easiest dive is along the old rotten jetty. It's a 30M swim from the beach to the first series of remaining piles. The piles are covered in seaweed, sponges and ascidians and head in an easterly direction for 90M (292 feet) to end in a substantial jetty head structure. It is very photogenic with bright white sand and crystal clear water. Israelite Bay also has offshore low profile reefs and a few islands further out to sea for those with a suitable craft and good weather. The reefs are apparently shallow and weedy.
Nullarbor Region
This area can be very hot and dry in the summer although along the coastal fringe the temperatures are often milder. Its cold in winter and is often freezing at night.
Twilight Cove, Cocklebiddy
The beach is often deserted except for the occasional four wheel drive and beach fisherman. This is beach at the end of the Culver Cliffs is named after the cutter "Twilight" wrecked on the beach in 1877. It is one of the few access points to the sea long this steep part of the Bight. The 3km white sand beach ends in a 100 m high cliff line called the Baxter Cliffs. The cliffs are named after John Baxter who was murdered in the area in 1841, while journeying with explorer John Eyre on their thirsty walk across the Great Australian Bight. It is possible to do an epic 4WD trip from here for another 158 km to the eastern end of Bilbunya beach and the beginning of the Wylie Scarp. From there it is eventually possible to get to Israelite Bay.
There is rough 4WD vehicle access to Twilight Cove both along the beach from Eyre, and via tracks from Cocklebiddy, 26 km to the north. The dunes behind the beach are used from informal camping. The beach receives relatively small waves on average and is usually free of rips. Over the sand bar visible at low water are some shallow limestone reefs which are possibly good sites to explore. Like all spots in the Bight, shark sightings are not infrequent, but usually only small sharks.
Cocklebiddy Cave
Ten kilometres to the northwest of Cocklebiddy Roadhouse lies Cocklebiddy cave. The Nullarbor area is renowned for a vast number of caves that penetrate an aquifer more than 90 metres below the Nullarbor Plain. Cocklebiddy is home to one of the world's largest cave systems. It's dangerous enough just to go near the edge and look and even more dangerous to dive in it if you don't have proper equipment and training. Within Cocklebiddy cave are a number of vast limestone caverns and saline lakes that extend for several hundred metres. In 1983 a French caving expedition explored Cocklebiddy Cave to a distance of 6.4 kilometres. During World War 2 Australian Army engineers attempted to tap water supplies from Cocklebiddy's vast underground lakes and found that a thin skin of fresh water overlays a highly saline lake.
Groups often pitch tents nearby and brave cold nights, scorpions, big snakes and big spiders. Diving the lake means climbing down into the cave using a ladder and lowering huge piles of gear, all in scalding sun. After going through the bat zone with its smelly droppings and chirping bats you reach the water. Fully redundant diving and lighting systems and kilometres of guideline are required. The water is spectacularly gin clear although there isn't too much life inside the cave itself. It's a full 1 km swim to the first dry cave where there is a big rockpile. Orange sea-urchins can be found on walls marked with dark bands left by previous water levels. Sea-shells are strangely common. Fall injury is possible in lots of places so leave this for the hardy and well-prepared. Appropriate levels of specialist CDAA training are essential. Pannikin Cave, Warbler and Weebubbie Cave are other diveable caves on the plain.