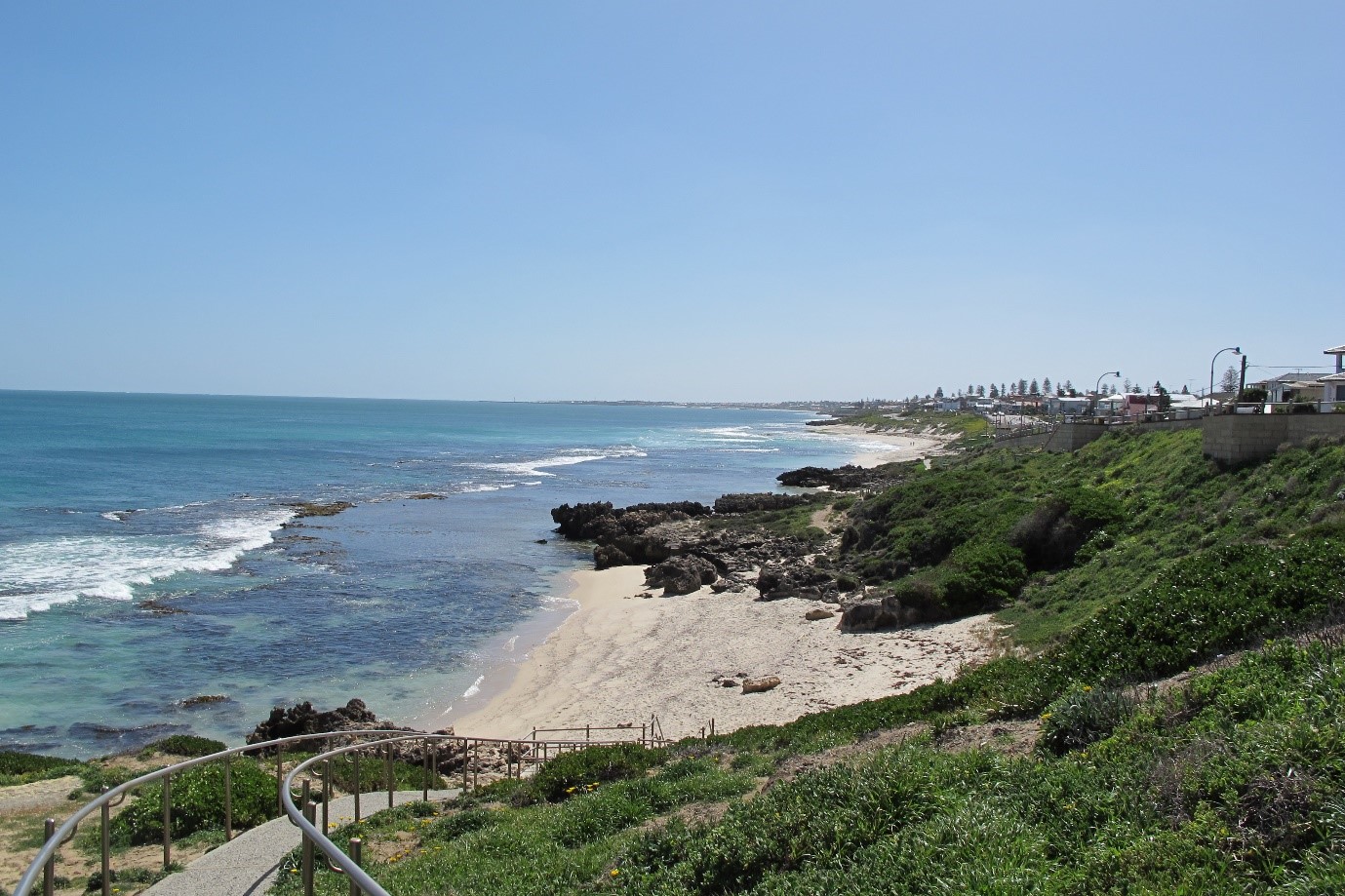 Perth Region
The south-westerly regions of Western Australia have a Mediterranean climate with hot, dry summers and mild, wet winters. Mean minimum and maximum temperatures vary between 18 and 30°C in summer and 7 and 16°C in winter.  The Perth metropolitan area waters are in the Leeuwin-Naturaliste (LNE) marine bioregion, which extends from Perth to Black Point, east of Augusta. The area is a high energy coast exposed to heavy waves driven by the westerly winds. Parts of the Perth shoreline are marginally protected from south-westerly swell and waves by a broken chain of offshore islands and reefs.
Around Perth itself, the diving is often on offshore limestone ridges separated by deeper gutters. Underwater structures, including caves, archways, vertical channels, rocky slopes and platforms, are a result of chemical and mechanical weathering. Subtidal reefs are dominated by large seaweed species, such as the kelp Ecklonia radiata. The reef crevices and overhangs support a range of invertebrates, by sheltering them from the swell and constant lashing of seaweed fronds. The fishlife is usually abundant, even on small reefs.
These reefs are remnants of the old prehistoric limestone shoreline, flooded by rising sea levels after the end of the last Ice Age. Twelve thousand years ago Murray Reef, Point Peron, Stragglers Rocks and the promontory now called Rottnest Island were all part of that prehistoric coast.
Closer to the shore, sand deposition has resulted in the formation of beach and dune systems, and mobile sandbars linking islands, like Penguin Island, to the mainland. Sheltered inshore areas have large seagrass beds with an interesting array of unique fish and burrowing animals. The habitats of the inshore area are important for the feeding, resting and breeding of little penguins and other sea and shore birds. The bottlenose dolphin (Tursiops truncatus) is a relatively common marine mammal.  Australian sea lions (Neophoca cinerea) use some of the islands around the coast as haul-out areas. The southern right whale (Eubalaena australis), the humpback whale (Megaptera novaeangliae) and some species of marine turtles are occasional visitors to these southerly inshore waters.
For reasons of convenience, most of the diving done in Western Australia occurs near the major population centre of Perth. However, just because it's close to city comforts doesn't mean the diving is easy. This coast can be challenging for diving due to its exposure to westerly swells. There are some sheltered embayments, but the wind circulations tend to fill them with sediments, meaning poor visibility in rough weather. There is plenty of great diving, especially on offshore reefs and wrecks, but Perth divers have to be opportunistic weather watchers, ready to quickly to take advantage of a good forecast.
In summer the winds tend to be easterly and southerly and the hot days usually lead to a strong onshore sea breeze around midday, known in Perth as the 'Freemantle Doctor'. At Perth the diving day tends to start off as a southerly wind and with the arrival of a high, swing in an anti-clockwise direction towards the North east as it passes. A sunny day with light winds doesn't mean great diving. If there is an intense weather system out to sea the front can be preceded by big swells. The summer is popular for water activities and underwater visibility is good rather than at its best.
Autumn creates the most stable and moderate conditions and is the best time for on water activities. Swells are more likely to be more moderate and the visibility underwater improves.
In Winter the winds are unpredictable and swing around as cold fronts pass over. The seas rise and swells are often dangerous for water activity. An occasional slow moving high can bring brief patches of exceptional weather, although the swells can still be uncomfortable. With the onset of Spring algal blooms can cause cloudy waters as the days become long and sunny and the waters warm. The swells tend to persist with diminished strength until November.
Perth diving can be remarkable and is definitely worth doing, but it is about picking the right day. With plenty of experienced dive charter operators in the area, this is something that isn't as hard to organise as it might seem.
Quinns Reefs
Well offshore of Quinns Rocks are Quinns Reefs. The reefs are further out to sea, more exposed, but also have more rugged underwater topography with plenty of caves and ledges. There are even caves on the northern side. The deeper areas have the more interesting marine life, and the breaking surf should be avoided for safety reasons anyway. As these rocks are well offshore and potentially troublesome to reach, they aren't dived very regularly.
Wreck of the "Alkimos"
0 -7 metres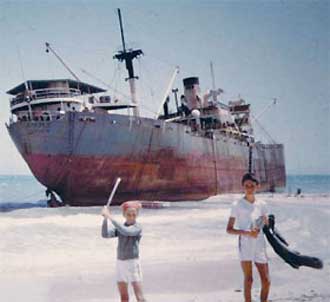 The "Alkimos" was originally built in 1943 as the standardised Liberty class freighter "George M. Shriver". The 'Liberty ships' were massive 7000 ton fully welded steel ships thrown together at breakneck speed in an attempt to make good the huge shipping losses suffered in the Battle of the Atlantic. They were the unsung workhorses of this WWII battle and made a huge contribution to the Allied war effort. The Alkimos saw 18 months of war service in the Mediterranean. After the war the 'Libertys' were sold off to private shipowners, often Greek shipping lines who squeezed the last life out of these worn out vessels.
By 1963 she had fallen on hard times and been laid up at Fremantle with unpaid debts and a hole in her side from a recent accident. Patched up and under tow for Hong Kong, she didn't get far before the tow line snapped and she ran aground near Quinns Rocks. Several salvage attempts failed and she remained high and dry on the reef, weathering successive storms. She remained intact for many decades, something of a local landmark. Word even got around that she was haunted. Weakened by corrosion she was starting to fall apart by the 1990s. As soon as the hull began to split, she lost her structural integrity and rapidly fell apart. Today only her engines are visible above the water.
The wreckage of the submerged bow section is a popular dive site. The wreck is well-lit but very surgy and stirred up after rough weather. This site is a disappointment for those expecting massive upright structures as she has been basically flattened. Her lines are also partly obscured by a thick covering of short kelp. However, the wreck is huge and in very calm weather is a rewarding experience for those with the imagination to make out the various parts of this old war horse. It takes approximately 20 minutes to reach the wreck from Mindarie Keys.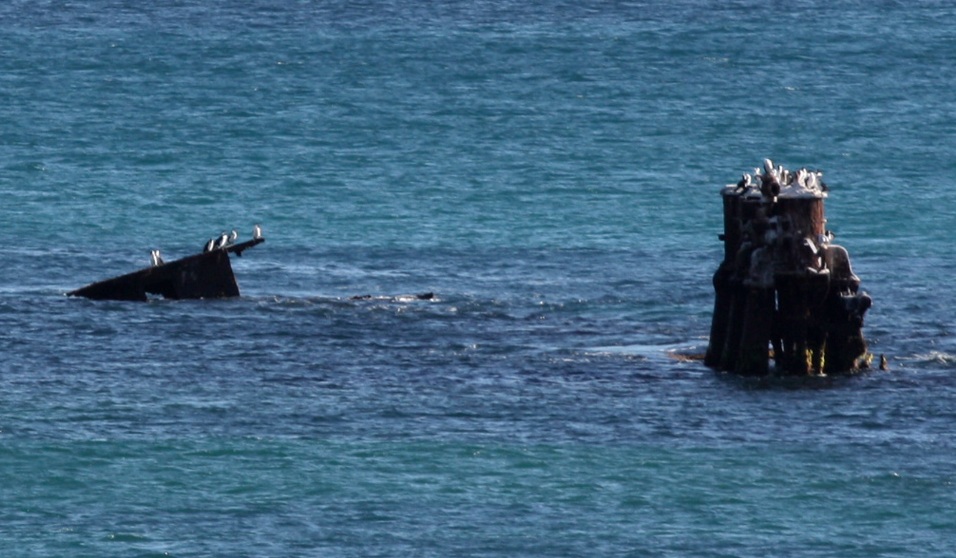 Wreck of the "Eglinton"
3 – 8 metres
Location: 31 38. 450 S & 115-39.537 E
The wooden ship Eglinton left Great Britain in April 1852 bound for Fremantle with passengers and cargo including gunpowder and 65,000 gold sovereigns. Faulty navigation led to her hitting an offshore reef at night and the vessel lost her rudder. Water poured into the ship and she foundered near what is now known as Eglinton Rocks. Three people lost their lives but the gold sovereigns were recovered.
The mostly buried remains consist of pottery fragments, the hardened contents of old cement barrels, lead pipes and ballast blocks. The site has good fish and invertebrate life but calm weather is needed to enjoy it safely. There are some large caves adjacent to the wreck. It takes 15 to 20 minutes to reach the wreck site from Mindarie Keys.
Wreck of the "Conference"
12 metres
GPS: 31-40. 280 S & 115-39. 640 E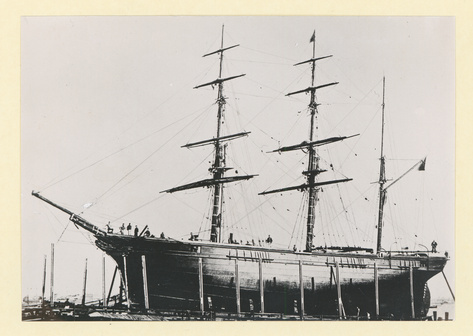 This 3 masted 164.8 foot long iron barque was built in Warrington U.K. in 1855. By the turn of the century she was obsolete. On 21 April 1904, the "Conference" was scuttled on a reef 2.8 kilometres due west of Quinns Rocks. The wreck site is reached from Mindarie Keys. Only a section of the stern now stands above the seabed. Ribs can be clearly seen amongst the scattered iron plate down in a maze of gutters and ridges. The mast is lays amidships across the wreck.  Various items of machinery are visible and bunker coal litters the site. The area is home to a large variety of sea-life including some corals, sponges and Western Blue Devil Fish.
Wreck of the "Gemini", Mindarie
WGS84: 31° 37.212′ S 115° 33.493′ E
30M
The "Gemini" was one of four barges used to cart spoil from the Cockburn Sound Channel. The vessel measures 130 feet long with a beam of 33 feet. The barge WH-301 (also known as Gemini) was scuttled in 1993 to create an artificial reef for SCUBA divers. It capsized as it sank. The wreck is 9km due West from the "Alkimos", around 15km NW of Mindarie Marina. The wreck lies on flat sand, but can be surprisingly hard to locate even if you do have the GPS coordinates and a sounder. The wreck runs from East to West with the top of the wreck in 26 meters. The internal spaces inside the wreck can be penetrated, but they areas are full of silt and should not be entered. Significant number of crayfish are also seen on the wreck, only because it is too hard to catch them under the long plates of steel. This popular wreck is home to many species of marine life including Truncate coral fish, Old Wives, soft corals and encrusting sponges. Huge schools of Kingfish can school around the structure, probably because spearfishing is not permitted. The area can be subject to strong current.
Wreck of the "Twofold Bay"
6 – 12 metres
WGS -84 / 31. 38. 800S  115. 39. 220E
Wrecked in 1997, this 200 ton trawler lies about 2 miles north of the Mindarie Marina. The "Twofold Bay" hit a reef in the early hours of the morning and sank on her starboard side. Much marine life has already colonised the wreck.
Chris's Cliff
16 – 24 metres
A limestone wall on the lee side of the reef covered in corals. Lots of fish life.
Coral Garden
14 -21 M
GPS: 31-39. 825 S & 115-37. 837 E
Lots of hard and soft corals.
Crayfish Gully
15 -20 M
GPS: 31-37. 460 S & 115-36. 520 E
The spot has many ledges. Large snapper are often seen here.
Dewy Ledge
15 – 20 metres
GPS: 31-37. 580 S & 115-36. 600 E
This 50 metre wide ridge is home to many large fish.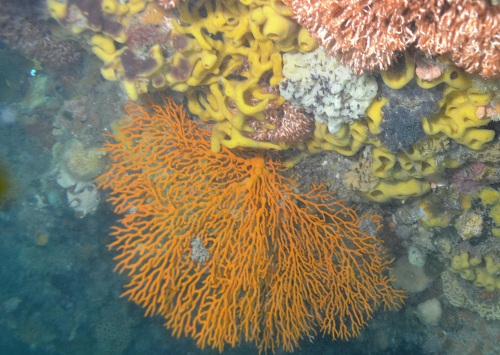 Gordon's Grotto
12 -15 metres
GPS: 31-41. 260 S & 115-38. 910 E
This Site offers caves, swim-throughs and many fish including blue groper.
Grouper Gully 
15 -20 metres
GPS: 31-39. 729 S & 115-37. 837 E
Fan corals can be seen along with many species of fish.
Ian's Cave Reef 
15 – 20 metres
GPS: 31-36.920 S & 115-36.139 E
This site has ledges and caves running North-South.
Paul's Point  (approx 15 – 20 metres)
GPS: 31-38. 786 S & 115-37. 344 E
This reef runs North-South with ledges and caverns on the sheltered eastern side. It offers beautiful corals and large fish.
Roger's Ledge 
4 – 7 metres
Located North-West of Burn's Rocks, is often used as a haulout by local sea-lions.
Snapper Peak
14 – 20 metres
GPS: 31-37. 338 S & 115-36. 456 E
Large queen snapper and trevally are often found on this section of the reef.
South Pass
16 – 21 metres
Beautiful corals and many different species of fish in an area occasionally current affected.
Staggie Reef 
6 – 16 metres
Broken reef with swim-throughs. Moderate currents attract many species of fish.
The 23 Metre Ledge 
18 – 23 metres
GPS: 31-39. 122 S & 115-37. 528 E
This dive site is well known for large snapper and dhufish.
The Wall
15 – 21 metres
GPS: 31-37. 100 S & 115-36. 313 E
A good variety corals and sponges, this spot is a favourite for large snapper.
North beach
5-10M
This area is typical of many sites along the foreshore in this section of the coast north of Trigg Beach. The diving is shallow on small weedy outcrops of limestone. These outcrops usually have a good selection of smaller fish and colourful marine invertebrates. The foreshore area is exposed to the weather and needs to be dived in low swells, usually more frequent in summer.
Burns Rocks
5-10M
These rocks are about 1.5kms off Burns Beach in the northern part of Marmion Marine Park. Boats can be launched at Ocean Reef to reach the site in fine weather. The sheltered inshore shallows are an easy dive in good weather, with the exposed seaward reefs offering more challenging sites. To seaward the bottom drops away quite rapidly and there is plenty of ledges and broken reef.
Marmion Marine Park
Little Island
5M-10M
The Little Island reefs offer a relatively protected shallow site when the weather is calm. It is part of the Marmion marine park and the flat island is home to seals and seabirds. Around the island the shallows are good for snorkelling or an easy dive, while the exposed reef offers deeper and more challenging sites.
Boy in a Boat Reef, Hillary's Boat Harbour
7M
It's often done as a shore dive but it is a 300M haul over a rough rocky breakwater in full gear. The entry point at the T-junction is steep and a fall injury is a possibility for the unwary. It's easier as a boat dive, or as a 400M surface swim if you are very fit. The sand is easily stirred up in a swell but the visibility can get to 10M. The small reef houses a series of ledges, small caves and undercuts. It is one of the better shore dives on the north side of the Swan River.
Marmion Angling & Aquatic Club Reef
5M
This is apparently one of the better shore dives in Perth when the swells are down and visibility is good. The reef is just in front of the MAAC clubrooms. In good weather it is an easy dive with plenty to see. For such a shallow site it often has good fish life including weedy sea dragons, bream, red-lipped morwong, trevally, scalyfins, banded sweep and stripeys. There are also some interesting bottom-dwelling invertebrates hiding in the small cracks and crevices. The reef nearly dries at low water and divers need to be careful they are not on the top of a rock as it can get surgy and dangerous in lumpy weather. It is best dived after a couple of days of low Easterly winds. It can also be managed after low Southerly winds early in the morning but beware of the afternoon sea breeze in summer that will quickly roughen the water and make exiting difficult. Beware of other water users including some nearby heavy boat traffic.
Mettams Pool Reef
2-7M
North of the Swan River the shore dive sites are more exposed to the swell and tend to be difficult to dive with a 1 meter swell or greater. They do tend to have richer marine life though, while in the south the reefs tend to be more complex. This area is affected by unfavourable swells and has varying visibility usually of 4-8M. It's safer and more enjoyable after a good spell of easterly weather when swells have dropped below 1 metre, which is rare. The inshore area is shallow and very wave scoured and divers can be buffeted by swell even on a calm day. There is marine life in the cracks in the rocks and occasional schools of fish.
Trigg Beach
2-6M
Like all north shore sites this needs rare days of swell under 1M. Rougher than that and heavy swells pound on the beach and make conditions dangerous. About 5 meters depth at the North end of the reef, with some nice reef walls, overhangs and ledges, and you could see that the reef became deeper if you ventured out just a little further. On the southern side there are also some small swim throughs, overhangs, and ledges.
North Mole Fremantle / 'Gareenup' Wreck
8M
This difficult site leads out to an old 20M long iron wreck called locally the "Gareenup" although no-one knows its real name. The remains are primarily a skeleton of ribs. The wrecked dredge was moved to the present site when the Rous Head extensions threatened to bury it. The wreck was then crushed by a lost house boat that sank on top of it and was later refloated. The issue is the entry and exit off the mole, which requires a rope. The risk of a fall injury is high especially in any swell. To find the wreck swim 355 degrees from the centre of the ramp for about 180 meters, approximately a 5 – 8 minutes swim. Swells are partly deflected by the north mole, but seas below 1.5M are recommended due to the rough exit and the poor visibility in rougher seas.  The wreck has some good small fishlife including rays.