Central West Region 
Lancelin to Dongara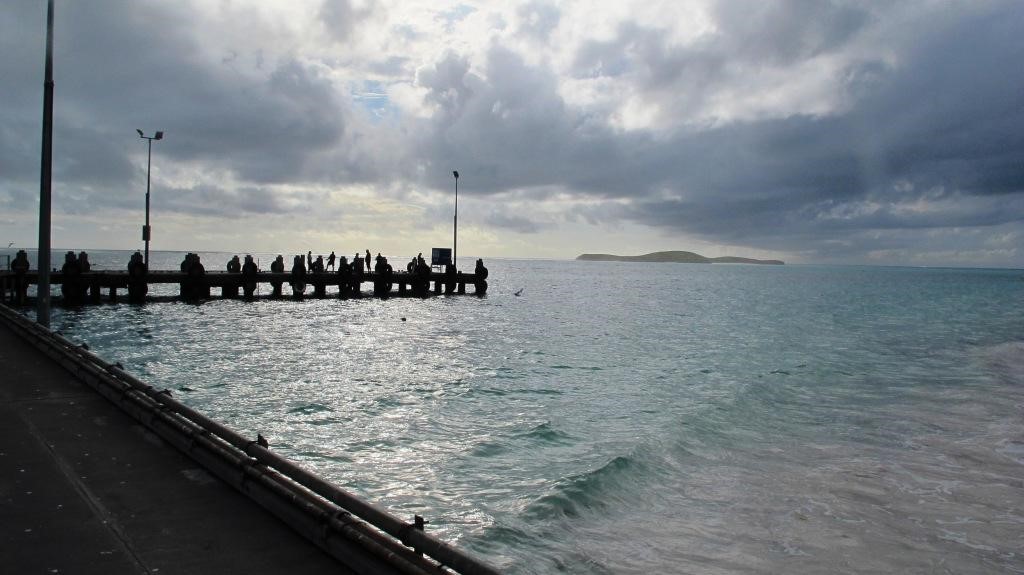 The coastal reef is typified by Tamala limestone reef system. Out at the 20 m depth contour, there is another series of long limestone reefs running parallel to the shore, which form part of the largest continuous temperate limestone reef in Australia (running from Dongara to Trigg). Associated with this reef are numerous rocks and islands with large intertidal rock platforms. It is this system of reefs and islands provides protection from swell waves, and in places there are shallow lagoons and relatively protected harbours. The region is still very exposed to westerly swells and the reefs aren't a complete barrier.
The reduced swell is still often enough to make diving dangerous, or at least to reduce the underwater visibility. Long periods of calm seas produce the best diving conditions and allow for diving on the richer and deeper outer reefs. The visibility inshore can be poor in the shallows, as the fine limestone sand is whipped up even by a light swell. The seaweed beds also fragment and further cloud the water with seaweed detritus and the decaying seaweed banks can stain the water brown. Its clearer further offshore usually.
On boat trips it is common to see seals, migrating whales and pods of dolphins.  Humpback whales migrate northward along the Western Australian coastline each autumn (April/May). The humpback whales return in spring (September/October) during their southern migration to summer feeding grounds in Antarctica. At least three species of marine turtle have been recorded in waters off the Central West Coast. The region contains a mix of plants and animals both temperate (65%) and tropical (35%). Biological surveys indicate that the park's marine plant and animal communities are very diverse and include a number of species that are at the limit of their geographical distribution. Some areas along the indented coastline are less exposed to the hot and strong Leeuwin Current and the islands and lagoons have varying degrees of water exchange. This means lots of habitat variety, species diversity and also opportunities for endemic WA species, such as the area's unusual sponges, to thrive.
Endemic cold-water species found at their northern distribution limits included the turban shell, Turbo jourdani , the abalone, Haliotis scalaris, and the sand dollar, Ammotrophus arachnoides. Rare animals include the cowrie, Cypraea venusta. Numerous colourful corals grow in the deeper areas (although they don't form reefs) and extensive limestone reefs contain grottos and overhangs. These are covered with colourful corals at the southerly extreme of their range. Two coral species of Acropora are, with the exception of a few colonies of A. yongei at Rottnest Island, the most southerly Western Australian records of living Acropora coral.
The ten most abundant reef fishes in the marine park waters consist of one tropical species, six subtropical species and three warm temperate species, Western king wrasse (Coris auricularis), Brownfield's wrasse (Halichoeres brownfieldi), McCulloch's scalyfin (Parmamccullochi), Miller's damselfish (Pomacentrus milleri) , Black spotted wrasse (Austrolabrus maculatus), Western buffalo bream (Kyphosus cornelii), Orange spotted wrasse (Notolabrus parilus), Western scalyfin (Parma occidentalis), Baldchin groper (Choerodon rubescens), and the Redstriped cardinalfish (Apogon victoriae)
The macroalgal (seaweed) communities consist of at least 125 species of algae.  The large brown Strap Weed Ecklonia radiata dominates from the seaward edges of the tidal platform and the limestone reefs in 20 m. Deeper, offshore reef platforms are dominated by red algae (95 species), with some brown algae (22 species) and green algae (8 species). The Central West Coast marine bioregion contains more seagrass species than any other area in Australia. Seagrass meadows are important habitat for marine species.  Dense seagrass meadows are found between the Jurien Bay town site and Black Rock and these areas are dominated by perennial (i.e. long-lived) Posidonia sinuosa and Amphibolis species that may take decades to recover if lost.
On the negative side, the population of the region has increased dramatically in recent years, with a lot more fishermen visiting the area in big boats as the seas around metropolitan Perth get fished out. You can expect the big oceanic fish to be few in numbers. As with many marine parks, 96% of the Jurien MPA is still open to fishing.
The limestone fringing reef is constantly battered by the swell in this predominantly shallow area. It has eroded in to very fine limestone sand which is easily mobilised. The visibility can be poor, especially inshore, as soon as the wind comes up. Expect wind in the afternoon of even the calmest day.
Jurien use to be a mecca for local diving, with most of the tourist trade coming to dive and snorkel with sea lions at a nearby reef. When the local environmental department banned the interactions, in 2014 the local charter service closed. Now there are no regular dive charters between Perth and Kalbarri, as a result very little diving occurs now in this area, especially for tourists.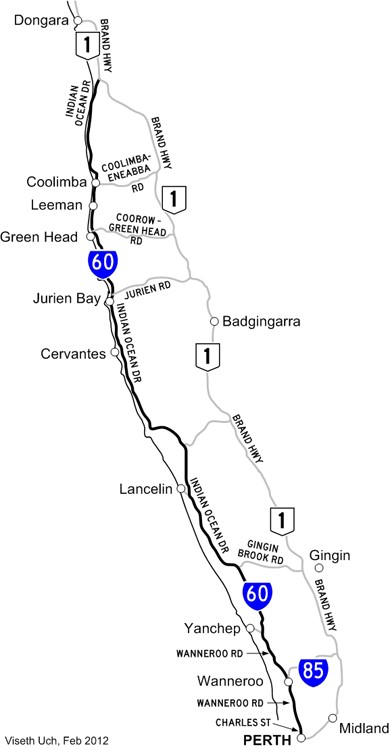 Key Biscayne, Lancelin
26-42M
GPS: 31° 09.89 S , 115 ° 11.81 E
In 1983, this off shore oil platform rig was being towed south for a refit. Gale force winds were encountered and the tow lines parted. The rig began to wallow and list as water entered the rig. Eventually she turned turtle and sank 10 nautical miles off Lancelin. It is now lying upside down in 42 Meters of water with the highest point at 26 Meters. The visibility and fish life are often good including jewfish and snapper. The rig has partly broken up. The deck of the rig is flat and relatively featureless, with the best life on the legs. The three triangular legs now laying splayed out on the sand. These legs sit 10m off the bottom  and are at least 200m long. It is renowned for its sharks, harmless Port Jackson and Grey Nurse sharks. This is a deep dive for experienced divers only.
Wreck of the "Cervantes", Cervantes
2-3M
This 230 ft long (30M) American whaling barque was anchored in Jurien Bay in June 1844. The crew were out fishing when a strong wind blew up and caused the anchors to drag. The vessel went up on a sandbar near what is now Cervantes Island and the modern day town of Cervantes about half a mile from Thirsty Point. The vessels fittings were salvaged but the hull could not be saved. In 1969 the outline of the wreck was first noticed appearing out of the sand. A few timbers can be seen in shallow water depending on the sand movement. She is a bit of a dive for the wreck enthusiast only as there is often little to see.
Wreck of the "Europa"
3-8M
GPS: S 30° 24.162′E 114° 59.147′
In 1897 the barque "Europa" was on a voyage from Glasgow to Fremantle when she struck an offshore reef just north of Cervantes. She was under the Italian flag and carrying a cargo of iron and steel bar. She was lying upright on the coral reef and a lot of the cargo and fittings were saved. Then a storm blew up and shattered the hull before she could be refloated. The wreck was reported by crayfishermen in 1976 on a shallow weed covered reef. Iron plates and items of cargo lie strewn across the top of this exposed and shallow reef. The large cargo of bottles and crockery have been completely smashed. The site is on 3 Breaks Reef, 4 miles west of the Hill River Mouth and 8 miles offshore. It must be dived in swells less than 1 metre in height.
Jurien Bay
Jurien Bay is located 200 to 300 kilometres north of Perth by road. The marine and coastal environment of the Jurien Bay region, with its unique combination of offshore reefs, islands and sheltered lagoons, was identified as an area that is likely to be representative of the marine biodiversity of the central west coast of Western Australia.  This led to the declaration of an 82,375 ha marine park.  The islands within the marine park have also been vested as A Class nature reserves.  The park extends south from Green Head to the southern boundary of Nambung National Park (Wedge Island). In the centre is the fishing hamlet of Jurien Bay which offers tourist facilities.  The coastline generally consists of curved beaches backed by low dunes, with intervening sand promontories, rocky headlands, or low cliffs of limestone.
Artificial Reef Snorkel Trail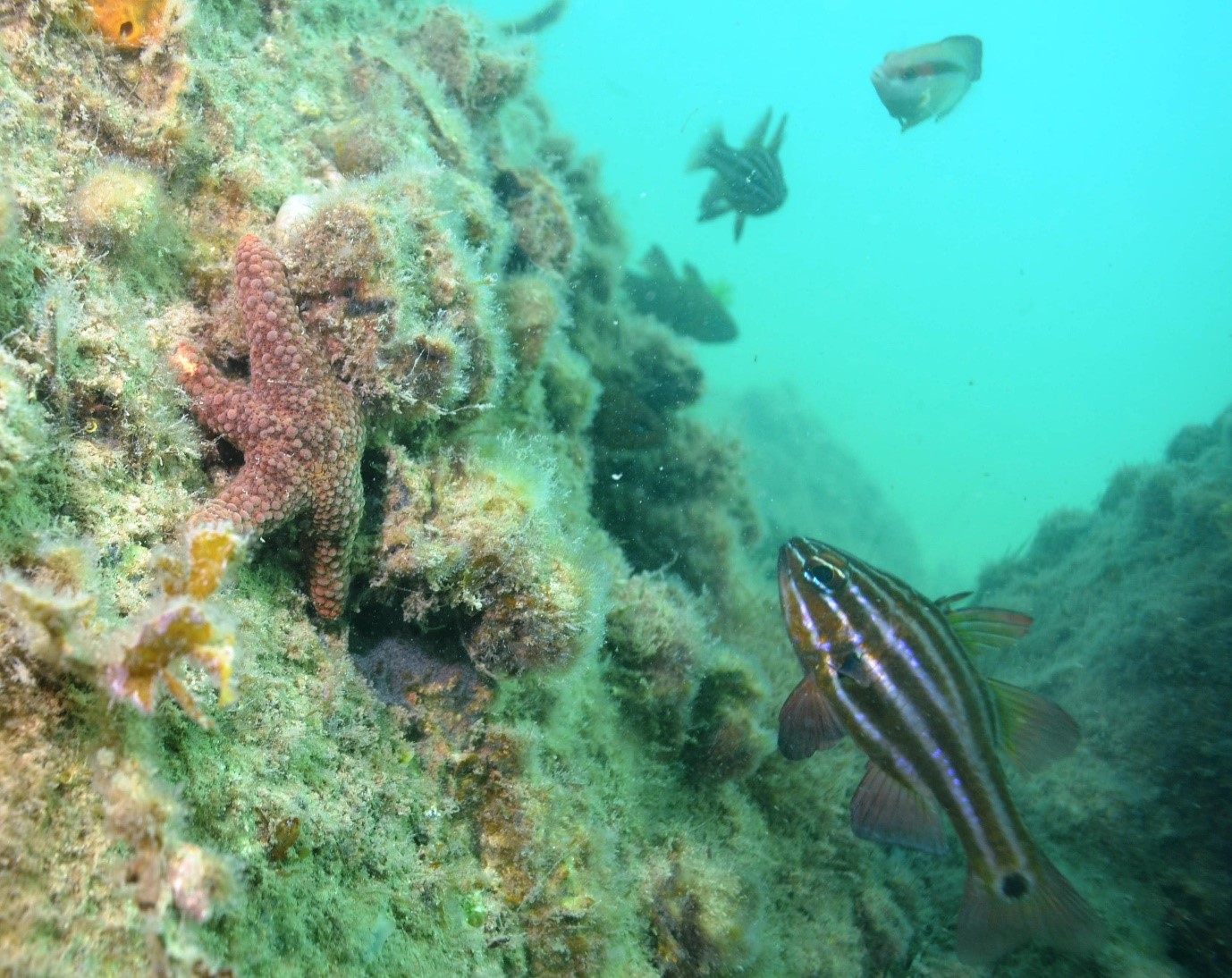 2-6m
The locals have made another artificial reef out of concrete reef balls near an old jetty. Unfortunately, the site was being buried by shifting sands and weed debris when I was there, but it was still a nice enough dive with quite a few inquisitive fish coming over to be photographed. Where there is any shelter plenty of small fish can be found, cardinalfish, rock cod, leatherjackets, boxfish, sweetlips and lots of toadfish. The site is generally safe and easy in calm weather.
Once more, a late start was rewarded by a strong breeze that instantly reduced the visibility. If you would like to remain here for a very long dive, if you buy a reefball they will inter your ashes in the concrete. It is both artificial reef and an aquatic cemetery.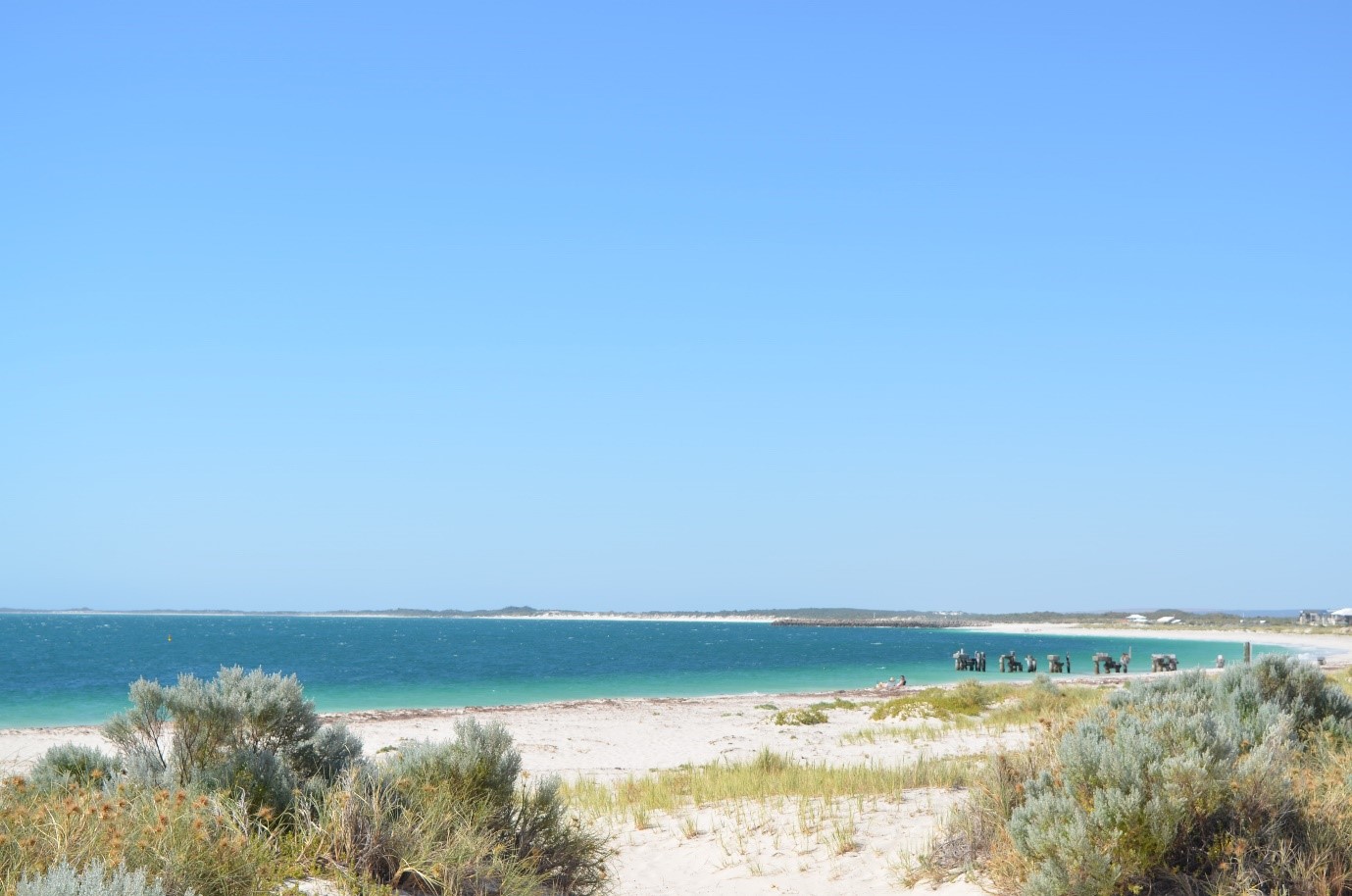 Sea Lion snorkels
1m
National Parks are concerned about the survival of sea lions and have a notable reluctance to allow interactions with tourists. Sea Lion encounters are still available from Jurien, Cervantes or Green Head but you may not be able to get too close in the future. The guidelines say not to approach within 10 metres. Some sealions may come over to snorkelers. Pack some sea sick pills, especially for the fresh afternoon breezes.
Essex Rock
3-4M
This rock is a rugged limestone outcrop off the coast. The saltbush provides a nesting site for ospreys and the beach a haulout site for a colony of sea lions. It is very popular with dive and snorkel parties and provides the tourist dollars that keep the charter boats afloat. The seals will interact freely with divers and it is a very worthwhile dive. The Australian sea lion (Neophoca cinerea) breeds on Buller and North Fisherman islands (not actually in the marine park) and uses other islands in the Jurien Bay region, like Essex Rock, as 'haul out' sites.  The Australian sea lion is an uncommon animal compared to other seal populations and have failed to recover after colonial era hunting.
Boullanger Island
This site lies 2km SW of the beach at Jurien Bay. It offers good marine life, mainly because it is a protected fisheries research area.
Favourite Island
3-10M
This island lies in the centre of bay and offers caves and crevices packed with colourful sponges. Turtles and groper are common along with many varieties of pelagic fish. The seaward side has the best diving, but this relies on a god weather day with low swells.
Osprey and Tern Islets
2-4M
These small islands lie West of Boullanger Island, The shallow water offers an easy long dive for photographers and snorkelers. The area has a wide variety of fish and corals. Foxfish, blue devils, stripeys. blue parrotfish and buffalo bream (silver drummer) are regularly encountered.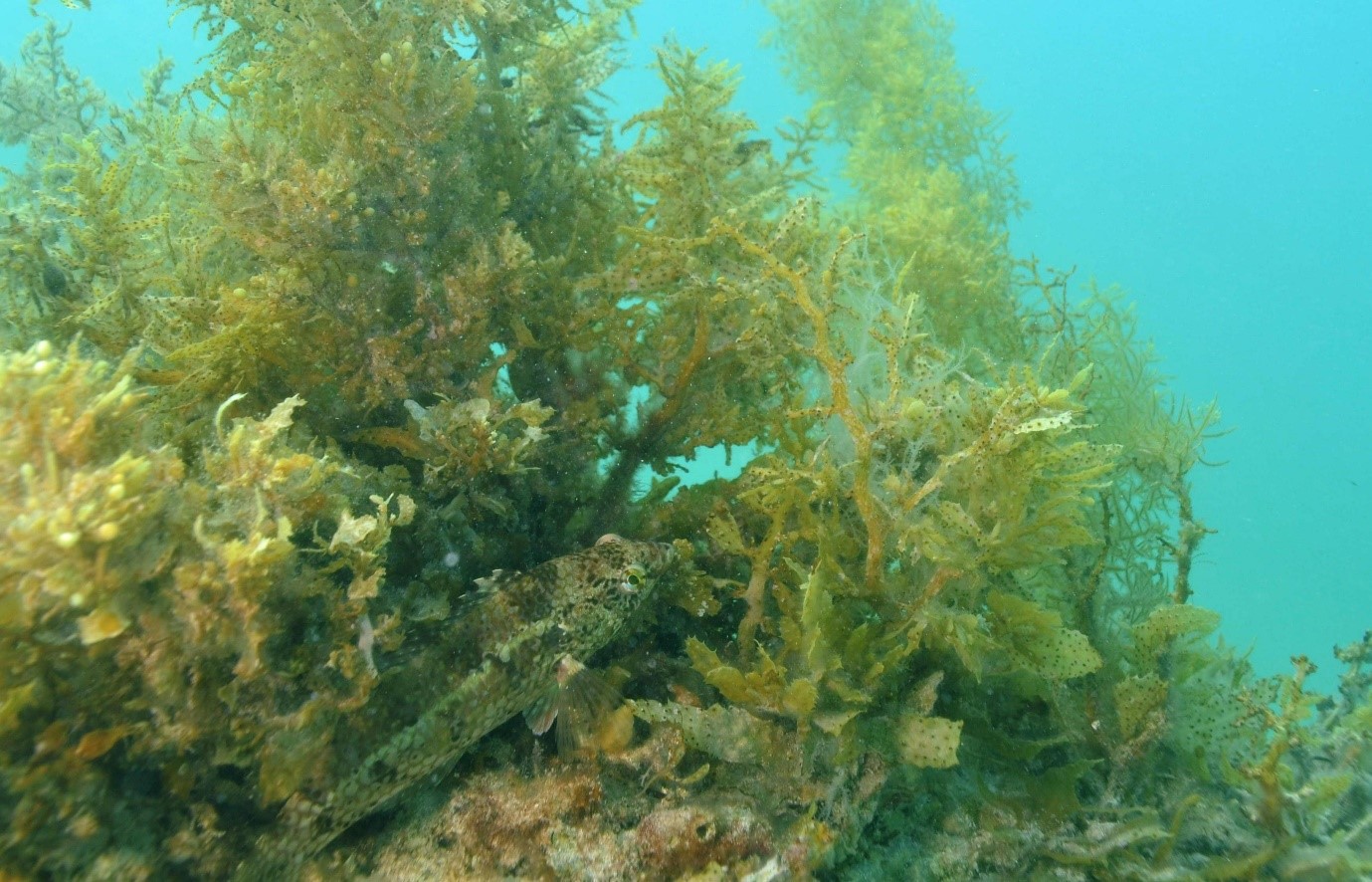 Wreck of S.S. "Lubra" – Boiler Reef
3-7M
GPS: S 30° 18.116' E 114° 59.891'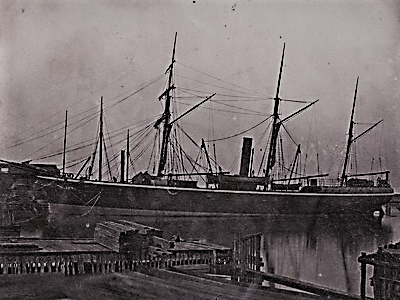 One kilometre north of Boullanger Island a small wreck lies scattered along bottom. This small coaster was wrecked here in January 1898. She hit a reef off Dongara while on a voyage from Geraldton to Fremantle. With waters gaining, she anchored off Jurien Bay and eventually swung around and foundered onto the platform on top of the nearby reef. The engine is still just visible from the surface.  The site is very exposed and surgy and must be dived on a very calm day. It is only a small site about 20x25M consisting of scattered plate and machinery.She was built in Glasgow in 1863 and was an iron steamship of 321 tons and 167 feet in length.
Seaward Ledge
8-20m
This site offers good crevices and caves 4kms out from the Jurien Bay entrance. There is plenty to see with lots of pelagic fish, turtles and groper on the overhangs, rock walls and caves. This area can only be dived in good weather.
North Head
2-4M
This promontory lies 8km north of Jurien Bay. It offers a good shore dive in very good weather. As you might guess, it is ordinarily very exposed. Limestone reef can be found 100m from the shore with good fish life. It was once a popular spearfishing spot, but now you might be lucky to have the place to yourself. Now the area is on private land and is only accessible by 4WD along the beach from Sandy Cape. On the cliff top above the site there is a memorial to a man killed here by a shark in 1967.
Sandy Point
2m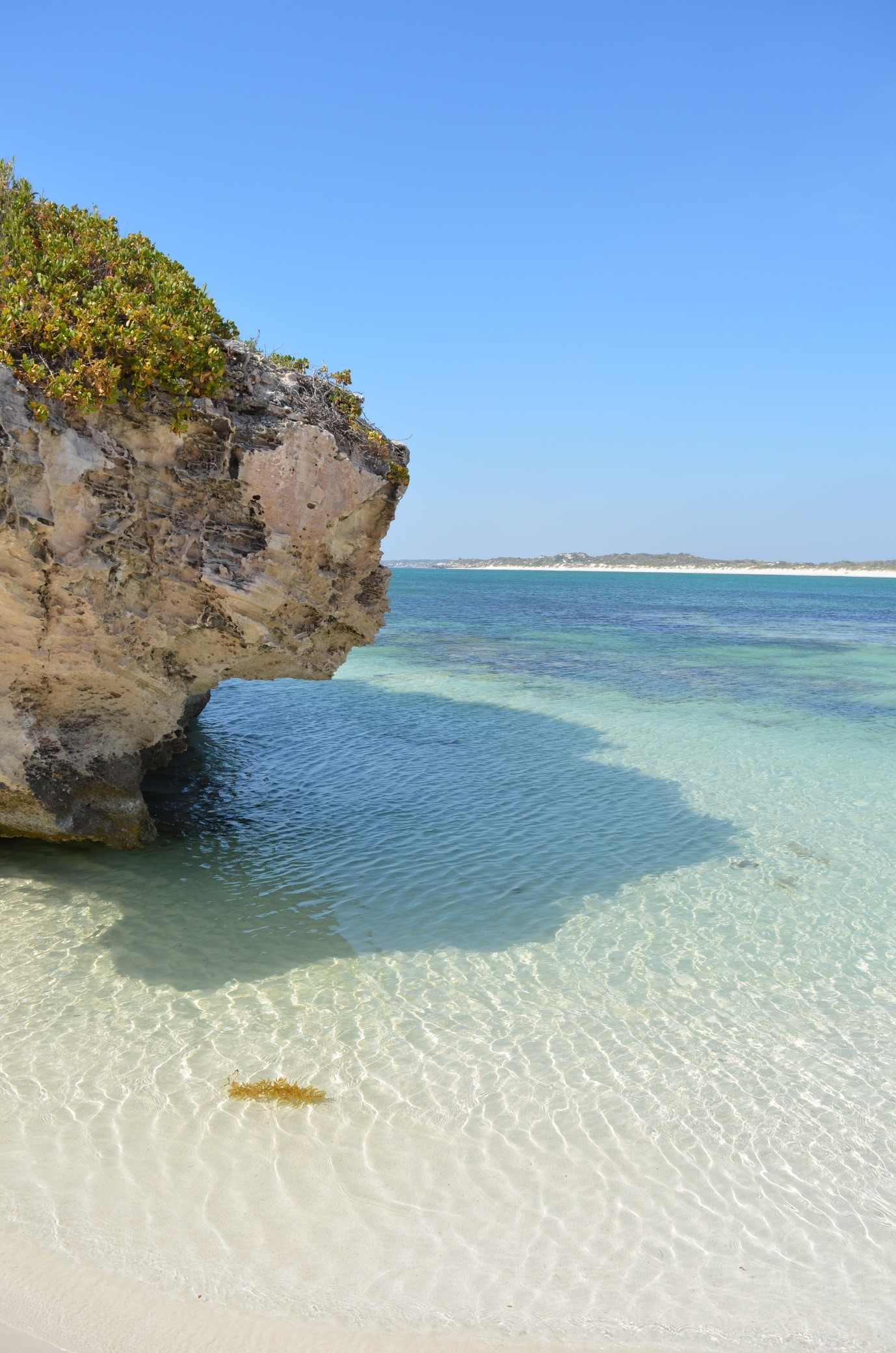 A beautiful shallow bay with a white beach allows for a great family paddle, snorkel, or a lazy beach day. The area also offers 4 wheel driving and a camp spot that has a coffee van on site at popular times. Trails lead out to the nearby headland where it is possible to snorkel in calm weather. Be careful to pick a secure and safe exit spot. It lies 13kms north of Jurien inside a conservation reserve. The unsealed road goes past a sand mine before deteriorating into uncomfortable corrugations, but it's passable for a 2 wheel drive vehicles.
Green Head, Dynamite Bay
2m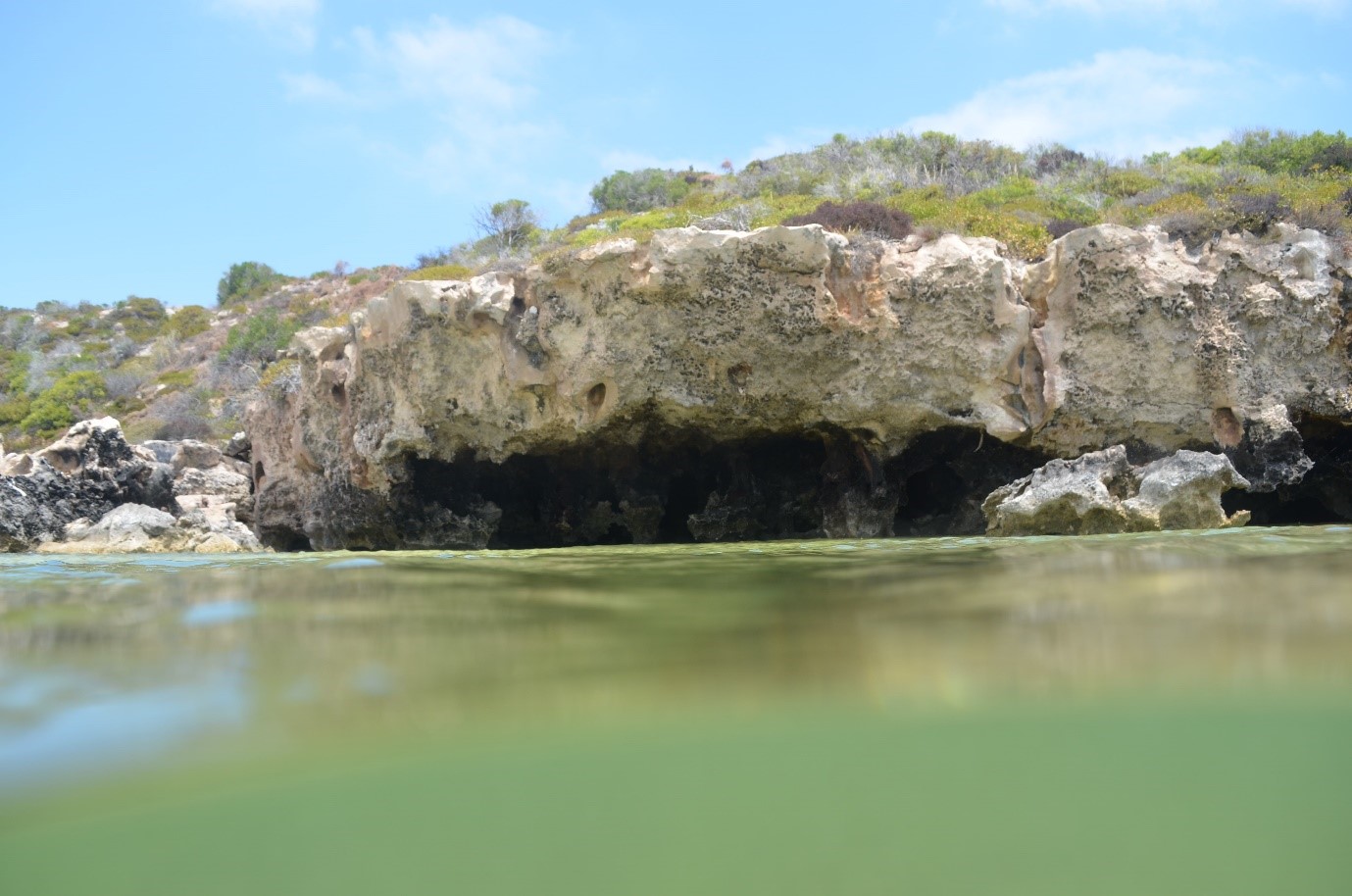 This shore diving site lies 20kms to the south of Leeman. The inshore area can be stained by seaweed detritus. It is shallow and easily stirred up in poor weather. The headlands have a nice seaweed garden with smaller fish. The bay itself is very photogenic and worth a lazy beach day with the family.
Billy Goat Bay
2-4m
This area has a beautiful beach with a sheltered reef offering nearby snorkelling in calm weather. There is a drop toilet nearby. It can be affected at times by mats of seaweed.
Pt Louise
This is a renowned surfing spot, but in calm weather an area of reef offers a barrier against the swell for a worthwhile snorkel on patchy reef and sand. Access is via a walking track near the island.
Leeman
Freezer Boat Reef
12-14M
This site is 5.5.kms south of Leeman and offers small caves with plenty of marine life including schools of drummer.
Search & Rescue jetty/Snag Island
2-4M
This bay offers a shallow weed garden to dive or snorkel. The area can be heavily stained by seaweed detritus after rough weather. Entry is easy from the nearby new boat ramp car park, but watch for boat traffic. There is more reef 150m to the NW and the reef can be followed north by fit parties. It eventually leads to Snag Island which has many more small crevices and bommies to explore. Alternatively, get out and walk most of the way there as the island is only 100M off the beach to the north.
Beagle Island
2-3M
This seal colony dive lies 16kms north of Leeman. Beagle Island is a breeding colony for the largest population of the Australian sea lion Western Australia, estimated between 150-250 animals depending on the breeding cycle.
Site 2
20-25M
This drop-off lies 3kms NW of Beagle Island. The site offers good marine life including soft corals, groper, snapper, kingfish and mackerel
Site 3
5-12
This site lies 500M north of Beagle Island. It consists of a shallow reef face with bommies and good fishlife.
Dongara
The area has some good shore diving, but seems to be a bit more exposed than locations further south and the water is often cloudy. It will often take 3 days of light winds before clearing up. Then the visibility will reach about 10M. On the plus side, when the weather is good you will be diving in areas with much less fishing pressure.