LAGOON
Erscotts Hole
2-8 metres
Erscotts Hole is a deep hole inside an otherwise very shallow lagoon. The site tends to attract fish from the surrounding area and it is nearly always patrolled by Galapagos Sharks. As it is very sheltered it is often visited for diving or snorkelling, especially in poor weather. It is shallow, generally free of currents and suitable for novice or training dives. It has good visibility and is good for photography. The inshore fringe of the hole supports some delicate corals and these corals attract bluefish, double header wrasse, spangled emperors and various butterfly fish and damsels. Very persistent amateur naturalists may also spot some rare species like pigmy seahorses and rare hawkfish. Although its an easy dive even for the beginner, this does not mean it is some second rate consolation prize for experienced divers. The lagoon holes offer some of the best diving on the island. This site is closer to the lagoon edge and can experience slow currents on a falling tide.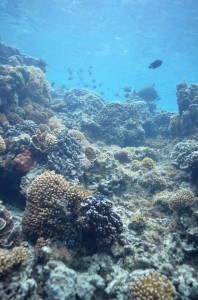 Erscott's Blind
2-20 metres
This hole in the lagoon lies close to the reef edge near the South Passage and can be affected by big seas, not so much on the dive itself, but in getting to the site as it is approached from outside the lagoon. The landward side of the hole offers a relatively steep slope studded with coral down to a sandy bottom in 20 metres. In big seas there can be a surface current, but it is manageable. The fish life is similar to Erscott and Comet Holes, but the coral is more extensive.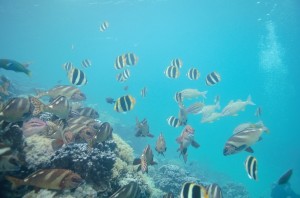 Comets Hole
2-8m
Comets Hole is the other dive site in the sheltered lagoon. The hole was formed by a natural freshwater upwelling and never fills with sand. It is otherwise very similar to Erscott's Hole. It is popular among photographers and of all the dives on the island, I consider this to be one of the best. It has very diverse fish life and delicate corals that are less frequently encountered on the high energy coast outside the lagoon. Some are more common species but there are also endemic and rare species to discover with effort. It doesn't hurt that the area is visited by glass-bottom boats that attract pelagic fish with pellets. At the start of the dive you are greeted by big schools of silver drummer. The white sandy base of the hole makes the reef well-lit and great for photography. The delicate corals protect a smorgasbord of smaller tropical fish as well as the usual Lord Howe resident reef fish. You will see a dozen species in the first minute. The nearby sandy bottom is covered in seagrass detritus and this attracts schools of different herbivorous and pelagic fish. The whole time, small and harmless Galapagos sharks buzz around the human intruders as they try to protect their territory. Keep this site up your sleeve for bad weather, but make sure you do it before you leave.
Sylph's Hole
6m
This hole lies about 100 metres offshore from Settlement Beach, an easy walk from the township. This site is good for a snorkel when the high tide brings in schools of fish. The area around it is shallow seagrass, so you can expect to encounter turtles from time to time, either in the hole or on the surrounding seaweed beds. The area is protected from fishing and is marked with a yellow buoy. The hole was an anchorage for a small local sailing ketch of the same name, lost at sea with all hands in the 1880s.
"Favourite" Wreck and North Bay snorkel
This area is frequently visited by tour boats, mostly for glass-bottomed viewing, but you may be able to organise a snorkel. In 1965, the tuna boat "Favourite" dragged her anchor at night and ended up on the went up on the north side of North Passage. Parts, including the engines and freezer box, are still visible at low water sitting in three sections. The vessel was burnt to avoid planks washing into the lagoon and posing a hazard to the flying boats. This is only a snorkel dive as much of it nearly dries at low water.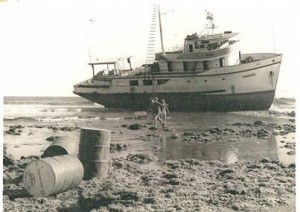 Wreck of the "Jacques del Mar".
This 145 ft long steel screw steamer of 506 tons was built in Bremerhaven, Germany in 1906 as the "Marion Sleigh". On 20 July 1954, the Jacques del Mar anchored outside the reef to unload general cargo and fuel for the island. A gale sprang up suddenly and she ran aground at the south side entrance to North Passage. The wreck was bought by the manager of the Pinetrees resort. All moveable fittings were removed and some are probably still used in houses on the island. Parts of her are in the local museum. Twisted parts of the hull and some bollards are visible at low water, with the depth not exceeding 3 metres at high tide. She can be snorkelled, but be wary as currents do sweep around the entrance, especially after heavy weather.
NORTH PASSAGE AREA /FRONT REEF
The dive sites along the front reef, bordering the lagoon are diverse and suited to beginners to advanced divers. There are quite a few sites which include The Arch, Le Meurthe, North Head Cave, North Head Gutters, Cathedral Cave, Boulder City, and Twin Caves. All of the Front Reef sites provide divers with interesting underwater terrain to explore ranging from about 12-16m in depth. Coral archways, bombies, gutters and overhangs have formed over the years and house numerous species of fish, invertebrates, hard corals and colourful sponges.
Wreck of the "Ovalau"
18-30M
31° 31.717' S 159° 02.328' E (WGS 84)
The Ovalau was a 1229 ton steel steamship, used as an island trader by the Union Steamship Company of New Zealand. She was built at Dumbarton, Scotland in 1891. On 19 October 1903, while anchored off the North Passage, she was destroyed by a fire in her cargo of copra. The wreckage is now spread over about 300 metres and is covered in coral. Items that can be identified include bollards, two boilers, the propeller shaft, hull plating, and a mound of collapsed components off the steam engine. The boiler lies in 18 metres with the rest down the deeper reef crevices. Her position on the reef flat is exposed to swell from the south and west. Six other wrecks have been found at Lord Howe, most in the North Passage area. The remains are few and mostly scattered and overgrown or buried. She has an unusual quadruple expansion engine.
Undiscovered Wreck of the Aircraft Pacific Chieftain (VH-BRE)
An ANSETT Airways Short Sandringham flying boat was driven ashore in the lagoon by a gale on 3 July 1963 and severely damaged. Beyond repair, the aircraft was partially salvaged for usable parts, towed to sea, holed with hand axes and sunk off the North Passage.
Wreck of the La Meurthe.
This 1597 ton, three-masted wooden warship was once a grand pre-Dreadnought French naval vessel. She was built in France in 1882 with an anachronistic battering ram, to go with her powerful steam engine and lavish ornamentation. Newer naval designs soon made her obsolete and she was relegated to transporting troops outs to Noumea in New Caledonia. By 1907, her engines were out of action and she was unwanted. The old warship was sold to a Sydney foundry, probably to be cut down and used as a coal hulk. The tug St Louis started to tow her from New Caledonia to Sydney, but into the teeth of a fierce gale. One of the crew was killed in an accident before the tow line was cut to save the tug from foundering too. The old warship wasn't done for yet, and she drifted ashore on Lord Howe Island on 9 October 1907. She hit the fringing reef near the opening to North Passage and the impact drove away the rudder post, damaged the keel and she settled on the shallow reef. Most of her lavish fittings were recovered before she was set on fire. Little remains on the wrecksite, scattered in three metres of water at high tide, knee deep water at low tide. She now lies under a surf break and her scattered remains can only be dived in very calm weather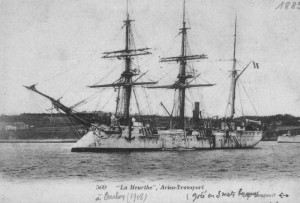 Le Meurthe Reef
5- 16 metres
Located just outside the North passage of the lagoon
Follow the reef towards the passage past large Acropora corals that shelter juvenile Painted Crayfish, Slate Bream and Southern White Spot Octopus. There are also plenty of juvenile wrasse species on the reef top such as Bird Wrasse, Five-Banded Wrasse and New Guinea Wrasse.
Undiscovered wreck of the S.M. Stetson
In 1877, the collier barque SM Stetson left Newcastle with 1150 tons of coal on 10 March 1877 bound for San Francisco. After springing a leak at sea, Captain Curtis beached vessel at the entrance to the North Passage on 25 March. A timber barque of 707 tons gross, S.M. Stetson had been built at Port Maddison in the USA in 1874. She was heavily salvaged before breaking up. The remains, little as there might be, haven't been located.
North Passage
5-12m
There are many features just to the seaward of the surf breakers between North Passage and Blackburn Island. This site is one of a number of wave-scoured features of various names along the reef edge. They offer an excellent dive in moderate depths. This area offers a honeycomb of interconnected smaller tunnels and overhangs in the reef. The crevices are open at the top allowing soft light to enter. There are numerous smaller tropical fish. Other fish commonly seen include, catfish, crays and scalyfin.
A popular site is a single coral encrusted pinnacle that reaches to within 5 metres of the surface. The pinnacle is wave worn and contains many crevices and overhangs encrusted is quite a rich diversity of corals. A swim around the pinnacle reveals many of the inshore reef species at LHI such as species of butterflyfish and wrasse. Silver Drummer and Pacific Drummer patrol the cracks and overhangs within the pinnacle complex.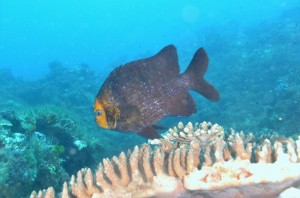 Shark Reef
30m
This site is off the Western end of Blackburn Island on the edge of the lagoon. The reef edge offers gutters, swim throughs and ledges all packed with fish and invertebrates, the reef edge is patrolled by small Galapagos sharks
The Arch
6 – 16 metres
This relatively small site lies half way between North Passage and Blackburn Island. It lies beyond the breakers but is usually partly sheltered. The reef ledge drops on to a sand channel down. This leads through a series of gutters and crevices dominated by a large limestone arch. The large cave has lots of crevices and openings, often affected by surge in heavy weather. The insides of the cave are wave-swept and relatively bare, but they offer an interesting feature with good fish life including, schools of trevally, catfish, angelfish and wrasse. A search around the Arch will reveal invertebrates including crayfish, Spanish dancers and shrimp.
North Head Gutters
6 – 20 metres
Named after the numerous swim throughs that run out from the reef into deeper water, this is a challenging dive to navigate. Also keep an eye trained for Ornate Butterflyfish and Splendid Hawkfish perched on the lips of hard corals.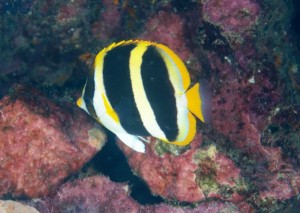 North Head
30m
This area just outside the passage offers deeper diving on volcanic outcrops covered in invertebrates. The site offers lots of ravines and overhangs to explore.
North Head Cave
5-16 Metres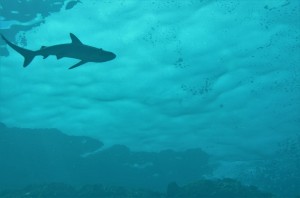 The dive starts and ends on a reef flat in 5 metres that is quite surgy at times, but the nearby sandy gutters offer good, easy diving. The gutters either lead to a shallow cave in North Head that is easily seen from the surface. This is area is wave scoured but usually has a Galapagos Shark or two in residence. The walls of the crevices hold diverse corals wherever there is shelter from the swell, and nudibranchs, crays and other invertebrates can be found. In the other direction the gutters lead to honeycombed features in the limestone that also allow divers to access the deeper reef front if they have the air, and are experienced and so inclined. Navigating back to the boat can be tricky without an experienced guide.
Phillip Rock
1-33m
This site offers diving on a deeper pinnacle patrolled by lots of pelagic fish including, kingfish and trevally. The bottom also has some large boulders, small caves and drop offs.
NORTHERN SIDE
Located below Malabar cliffs are several dive sites that are part of a complex reef system referred to as Malabar, Malabar West and Landslide.
Malabar
9-18m
The area offers a range of sites with small caves, bommies, overhangs and walls draped in coral and black coral trees. Malabar is the deepest area at 18m is considered one of the best dives on the island at that depth, especially for photography. Pelagic fish are very diverse with schools of trevally, kingfish, silver sweetlips, dotted Sweetlip and small Galapagos sharks. In and around the reef there are crayfish, Spanish dancers, shrimp, anemone fish, nudibranchs, cardinal fish, turtles and eels. The sites are protected in Southerly winds and swell.
Kim's Lookout
25m
This deeper site is under a prominent lookout perched high on the towering Malabar cliffs. It offers a mix of tropical and temperate species on a reef running parallel to the shore. The sheltered side of the reef offers excellent fish life. Sea fans, feather stars, catfish, batfish, Moorish idols, smaller tropical, nudibranchs and anemones.
Landslide
5-13m
It is a very large area of limestone reef broken by gutters of blinding white sand. This shallower site offers lots of smaller gutters and crevices and is good for a training dive or for photography. Soon in to the dive you are likely to be buzzed by schools of pelagics fish, including kingfish. The white sand helps to make the site particularly photogenic.
Second Reef
13m
This area lies further offshore than Landslide but so close they could be dived together. The larger areas of limestone reef are heavily sculpted by the waves and offer large overhangs and swim-throughs with good fishlife. A particularly large cave that bisects the reef is a highlight. The area has good fish life in the caves and even turtles.
ADMIRALTY ISLANDS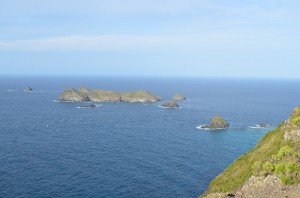 This area tends to be favoured as it offers some shelter in most weathers, usually has good underwater visibility and also contains some of the islands better dive sites. There are a mix of moderate depth and deeper sites from 15-30m, on the steeply sloping walls and boulders fields that fringe the shore of these volcanic islands. There are a large number of named sites near the SW side of Roach Island and Sugarloaf, with some deeper sites on North Island. Most of these dives offer good soft corals and sponges, but it is the fish life on the moderate to deep sites that is particularly good.
Deacons Delight
22m
This is considered to be an excellent dive site offering swim throughs encrusted in soft and hard corals. The fish life is also excellent with Galapagos shark, schools of fusiliers, trevally, kingfish, butterfly fish, tuskfish and Clown Triggerfish. The area can experience moderate currents at times.
Octopus Gardens
12 – 18 metres.
A large reef system with a range of diving from the shallow reef at the anchoring spot, to large sandy canyons and gutters in 16 metres. There is a lot of plate coral and fish life including, moorish idols, spotted sweetlips, butterflyfish and schools of moon wrasse.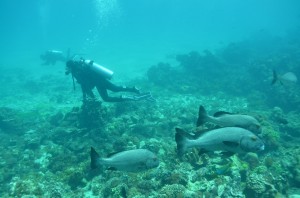 Ruperts Reef
8-22m
Rupert's reef is in the channel between No-Name Rock and Roach Island. There is a crevice that gives access from the reef shallows to deeper water. There are green turtle, sea fans, bryozoans and lots of smaller marine life. The fish life is excellent.
Noddy Island
20m
The walls are covered in anemones, coral, sponges and weed. There is also a very nice reef in the channel just away from the island itself.  It is named after the brown noddy terns that use the island as a nesting site.
Sugarloaf Island
5 – 16 metres
A dive along the southern shore offers a steep rock wall. The area has some good corals and gorgonian sea fans, and a good spread of LHI fish life including moray eels. This area is dived in westerly weather when it becomes more sheltered. The area is usually exposed to the prevailing southerly weather.
Tenth of June Bombora
7 – 18 metres
This dive is usually centred on a small pinnacle of reef that comes close to the surface. On the northern side there is a deeper boulder field near the island, draped in sea fans and patrolled by a dazzling array of schools of pelagic fish, white-spot chromis, trevally, drummer and fusiliers. It is known for having unusual fish and invertebrate species including spanish dancers, as well as rarer blue angelfish, green jobfish, and Japanese boarfish. The dive can be completed by working back up the pinnacle where there are a few coral and sponge patches with interesting invertebrates, including various feather stars, ascidians, egg cowries.
North Rock (North Rock Close and North Rock Deep)
Depth 18 – 35 metres
This island tends to be more exposed to swell and current and is infrequently dived, but is considered one of Lord Howe Island's best dive areas. The swell has carved tunnels and crevices through the fringing reef, then it drops over a wall into deeper water. Along the wall the current encourages the pelagic fish and invertebrate life. There is prolific soft coral growth and large black coral trees in deeper areas. Schools of southern fusiliers, violet sweep, spangled emperors, amberjack, yellow striped goatfish, trevally, tri-coloured basselets, kingfish and Galapagos sharks may be encountered.
Flat Rock
12 – 24M
This small rock close to North Rock is often wave-swept. Experienced divers can visit the site and see large schools of pelagic fish swimming by in the current. The fish species include kingfish, big-eyed trevally, unicornfish, surgeonfish, knifefish and rainbow runners. Along the reef wall there are anemonefish, rare nudibranchs and christmas tree black corals.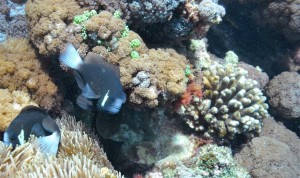 North East Shore
Ned's Beach
2-10m
This beach is a major tourist drawcard and for good reasons. It offers snorkelling, safe swimming, fish encounters, nesting seabirds and lazy sunbathing, all close to facilities and a short stroll from the town. Years of feeding the local fish with pellets (which can be bought from a dispensing machine) has seen the sandy shallows routinely patrolled by mullet, dart, drummer and trevally. The fish will come close to swimmers, a hoot for the kids and adults alike. In late spring, the dunes are clustered with seabird nests, they make a racket but are apparently quite happy nesting in close proximity to humans.
The inshore beach area is protected by a shallow coral reef that provides good snorkelling very close to the shore. Snorkelling gear can be hired from a nearby amenities shed, where there is an honesty box for payment. A good range of LHI inshore reef fish, and quite a few pelagic fish can be seen. There are even a few small giant clams as well as the popular anemonefish. The surge can get uncomfortable in a big sea, but it is generally very safe. If in doubt, ask a local.
On moderate days a 2 metre deep sandy gutter offers a passageway through the shallow reef, out past the breaking surf, and on to the offshore reef. It is a longish surface swim for anyone who has limited finning fitness. Just beyond the breakers there is a hole in the reef marked by a large bommie. The reef is heavily scoured in to some crazy shapes, and there are crevices and overhangs with reasonably good smaller marine life including the odd turtle. Tourists will need to be guided as navigation back to the beach can be tricky.
Middle Beach
10-16M
This bay can be hard to reach in southerly weather, but on a good day it offers a very large area of reef. The offshore end of the reef is skirted by brilliant white sand, and the limestone has been carved into a honeycomb of interesting passages and crevices. The reef top is quite scoured, but the crevices have patches of interesting coral growth, quite a few feather stars and seastars and other invertebrates. Schools of small damsels, morwong, wrasse and doubleheaders.
The beach can also be snorkelled from land, but you need to be wary of currents. The best part of a snorkel trip is the walk there, and make sure you also fit in a walk to the nearby point. Clear Place Point trail offers mutton bird rookeries, big banyan trees, seabird roosts, Kentia palms and big vistas up and down the coast including of Ball's Pyramid.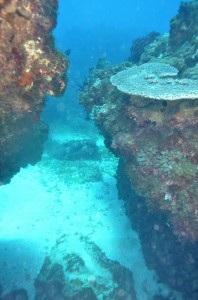 SOUTHERN END
South Head
50m
There are a number of sites on the southern tip of the island but they are all deep dropoffs that are rarely dived. The sites offer big schools of pelagic fish including sharks. The area is for experienced divers and requires very calm weather.
Little Slope
54m
Large boulders and caves mark this deep wall and it offers huge schools of pelagics in very clear visibility. Rarely dived and for experienced parties only.
Balls Pyramid
25m
This is the world's tallest sea stack, located 26km (and a one hour ride) south of the island. The above water scenery is half of the attraction. Because of the distance the dives are double the usual price and are for experienced divers only. Dives are all drift dives due to the current.
The heavy swells mean that the exposed and shallower parts of the rock are swept of life, but the deeper crevices have caves and cracks with coral encrusted walls. There are three varieties of black coral tree in the area, with one 2 metres highThere are massive schools of violet sweep, amberjack, kingfish, silver drummer, rainbow runners, trevally and occasionally marlin, dolphins and even whale sharks may be seen during the voyage. Smaller reef inhabitants include one-spot chromis, clown triggerfish, turtles and stingrays. Small Galapagos sharks are also common. It's also possible to see the rare Ballina angelfish has been encountered here although it is usually only found in depths over 100 metres in other areas. Named sites include The Dungeon and Ballina Bommie, but the area has a lot of scope for further exploration.
Observatory Rock/Wheatsheaf Rock/ SE Rock
These sites lie close to Balls Pyramid and offer deep drop-offs patrolled by pelagics. They are rarely dived. There are two main dive sites that are more commonly visited Treasure Trove (Wheatsheaf Islet) and the Aquarium (Observatory Rock).
MIDDLETON AND ELIZABETH REEFS
Middleton Reef lies 450km east of Ballina and 190km north of Lord Howe Island. This lagoon is reached by yachts and private launches. It is hard to hire vessels for tourist visits, as the charter boats based in Lord Howe are not usually rated for trips of that distance. Middleton is a kidney shaped atoll with a lagoon entrance on the NE side. It sits basically in the middle of nowhere and is a hazard to shipping. There are 16 wrecks on the reef. The only ones with identifiable remains are the ones that drove onto the top of the reef where they can usually be inspected at low water. The reef still regularly claims yachts and fishing trawlers. The largest wreck is the massive 13,500 ton freighter "Runic" that was a huge landmark for a long time, but is now collapsing onto the reef top.
Around the reef, the seafloor plunges to 400m very quickly, except on the north side where there is a narrow shelf of pristine corals. This site is very rarely visited and the anchorage is poor in a heavy sea. The reefs have dropoffs patrolled by lots of sharks, not all of them small. The coral in the lagoon is storm damaged but there are lots of big fish, kingfish, sweetlips, Japanese boarfish, double-headed wrasse, black cod, drummer and trevally.
Elizabeth Reef lies 28 nautical miles south of Middleton and has claimed 10 ships. It is very similar to Middleton except there is even less shelter.