Eastern Gippsland
The habitats found include kelp forests, granite and sandstone reefs, sandy beaches and soft sediments. The reefs range from intertidal to subtidal, up to depths of 50m. The reefs have a complex structure due to constant battering by the prevailing easterly swell.
Beneath the dense canopy created by the brown cray weed Phyllospora comosa is an underwater community of sea squirts, algae, sea tulips, sponges and seastars. Within the deeper waters there are dense sponge gardens that include hydroids, gorgonian sea fans and sea whips. These habitats are home to many fish species including wrasse, blue grouper and herring cale.
Gabo Island
Access to the island is by a 13 kilometre air or sea journey from Mallacoota, but the area is very exposed to bad weather and trips are often cancelled. The trip out is an experience in itself with the prospect of seeing whales, dolphins and seals. The 47 metre high lighthouse is also impressive and was constructed in 1858 from the island's distinctive pink granite. Tours of the island can be booked with at Parks Victoria's Mallacoota office. The granite reefs and walls around the island can be quite deep with deep sponge gardens and drop offs. Large gorgonian sea fans, and clouds of Butterfly Perch are a feature of the areas deeper rock walls.The tiny island off to the south is Tullaberga Is, which also has good diving. Little Penguins are common too, foraging from the large rookery at Gabo Island
Wreck of the S.S. "Easby"
2-4M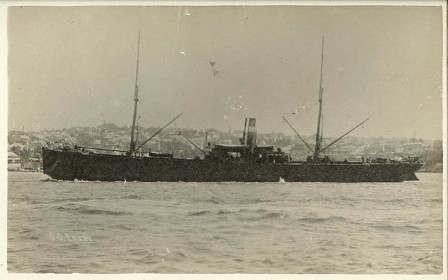 This 250ft long, 1489 ton, iron collier was built in 1873. In 1907, she struck Skerries Reef, twelve miles east to the of Point Hicks. The captain tried to keep going but was later forced to beach the steamship on the northern side of Gabo Island. During World War 2, the hulk of the "Easby" was bombed and strafed by the R.A.A.F. The remains of the Easby are still visible, although heavily broken up.
Wreck of the S.S. "Monumental City"
1-5M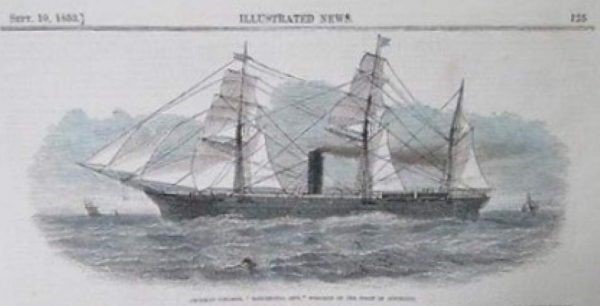 This 737 ton wooden steamship was built in the U.S.A. in 1850. She was the first steamer to cross the Pacific Ocean under screw propulsion. In 1853, while on a voyage from Sydney to Melbourne she ran ashore on Tullaberga Island just south of Gabo Island. The ship broke in two, thirty-seven lives were lost. She reputedly carried £250,000 in gold but a salvage party working over the wreck in 1919, found only an empty strong box.  The remains lie on the reef 50m south of the south-east tip of Tullaberga Island and consist of a propeller shaft, propeller, cylinder, some iron plate, and chain in the gutters between the reef. Three anchors from her lie to the north east. A monument to the wreck stands on Gabo Island.
per Heritage Vic
Cape Howe Marine National Park
Cape Howe is a 4,050ha that protects a mixture of cool water southern marine species and warmer waters species more common in the north.
Cape Howe Marine National Park is accessible via a long and remote walk in on foot or via boat (launching point in Mallacoota).Low profile reefs are covered in a dense forest of the brown seaweed Phyllospora or Crayweed that reaches over two metres long. Beneath this thick, swirling canopy shelter many smaller seaweeds, red sea-tulips, sponges, sea-stars and many large shells. Tiny brittle-stars, pill-bugs and brightly coloured worms nestle around large sea squirts.
Off this section of the coast, the seafloor tilts steeply down into deeper water. Here, there is not enough light for the large brown seaweeds and the low sandstone reefs are covered with small patches of leafy red seaweeds and many attached animals. Sea-whips are common.
Pt Hicks Marine National Park/ Cape Everard
This area is also known locally as Cape Everard but the name was officially changed in 1970. The area is renowned for an Australian Fur Seal colony, some good shallow snorkelling, and some more exciting offshore reefs. It once had small giant kelp forests but they have struggled in recent years.
Scuba divers with boats will try for Whaleback Rock out in 30 metres or Sensation Reef in about 20M for deeper reef dives on large granite boulders. These are home to large schools of fish and heaps of colourful invertebrate life including large sponge gardens.
Inshore there is some attractive diving on low reef covered in low brown seaweed. There is a good range of reef life including sea-squirts, Sea-stars, Fan Worms, shells and nudibranchs. Fish comprise of schools of Silver Sweep and Long-finned Pike. The water is usually very clear.
The 2044 ton steel steamer Saros, ran ashore in heavy fog on Christmas Day 1937. The "Saros" stayed intact for many years until it broke in two then the bow washed onto the rocks, where part of it can still be seen. Little of the wreck remains.
The site is worth a trip just for the adjacent Croajingolong National Park. There is camping at the mouths of the Thurra and Mueller Rivers and old cottages can be rented at the Pt Hicks Lighthouse.
Cape Conran
This area is part of a large nature reserve offering a wide range of activities. It lies 18 kilometres east of Marlo. Boats can be beach launched for dives on the cape, but the ramp is exposed to south westerly winds. The cape can also be snorkelled as part of day walk through the reserve.
Beware Reef Marine National Park
Beware Reef Marine Sanctuary is located three kilometres offshore and five kilometres south east of Cape Conran. The exposed section of reef sits two metres above sea level at low tide and is seventy metres long. The underwater reef continues for one kilometre to the south east. The beach launch at Cape Conran is the closest launching place. Beware Reef is very exposed. Fish are abundant, Trumpeter, Long-snouted Boarfish, Wrasses, Morwongs and Sea Sweep. Port Jackson Sharks and Wobbegongs can be seen resting on the sand. Around the edge of Beware Reef is a thick rim of Bull Kelp in the surf zone. Where there is enough light, the upper reef is covered in a dense canopy of brown seaweeds. On one side Black Sea-urchins have formed an urchin barren. Lower down the reef steep walls are found in thirty metres. These are covered with filter-feeding animals, sponges, Feather stars, sea-fans, sea tulips, sea-whips and anemones.
Wreck of the S.S."Ridge Park"
7 – 24 metres
This 969 ton, 214′ ft long, Iron steamship, w as built by S P Austin & Co, Sunderland in 1879. She was predominantly a collier but in February 1881 was bound for Newcastle from Adelaide with a cargo of Brandy, wine and flour. She was wrecked when she struck the north western side of Beware Reef. The "Ridge Park" remained on the reef for a month until a series of gales washed the wreck into deeper water.
The widely scattered remains of the SS "Ridge Park" include the bow structure, winch, a squashed boiler, the engine, propeller and broken hull plating.
Wreck of the S.S. "Auckland"
19-26 metres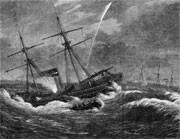 This 212.8 ft long iron steamship of 698 tons was built in Newcastle U.K. in 1863. She was wrecked in foggy weather on Beware Reef in 1871. She was on her first trip after an extensive refit and had dodgy compasses. The vessel was extensively salvaged as it lay on the reef for some time.
The S.S. "Auckland" has now collapsed. Remaining features include iron hull plating, beams, decking, a unique Australian-made engine, propeller and rudder post. The bow section lies on its port side. A memorial plinth lies on the sea floor between the engine and bow section. The S.S. "Auckland" is a protected historic shipwreck.
Wreck of the S.S. "Blackbird"
38 43'45″S 146 4l' 45″E
Drawing by G.Hewitt
The SS Blackbird was built in 1863. She was an iron steamship of 665 gross tons and was 196.4 feet long. When she was lost near Port Albert in June 1878 with a cargo of 800 tons of coal. The Captain mistook the Latrobe Island Light inside Port Albert Entrance, for the light on Wilson's Promontory. Blackbird went aground and then got off, but totally confused, the captain then put her on the beach at Clonmel Island. The wreck of the Blackbird lies some 300 to 400 metres from the southern shore of Clonmel Island in shallow water. The remains of the boiler steam dome is just awash at low tide, parallel to the shore-line with the bow to the north east. The Blackbird wreck-site is often subject to poor visibility, strong surge and a current running parallel to the shore. Access to the site is severely restricted by weather and sea conditions, The site is exposed to weather from south to east.
Wreck of the S.S. "Clonmel"
1-4M
This roughly made and early steamer was built in 1836 in Birkenhead. She ran aground on the spit at night in 1841. This wreck lies mostly buried in the eastern sand bars outside the mouth of Port Albert. Its boiler is exposed at low water. This small wreck of an early paddle steamer is very fragile and historically important, so take a quick look and otherwise leave it alone. The site is affected by currents and big swells and can only be dived at slack water on very calm days. It also suffers from poor visibility. She is Australia's earliest steamer wreck. Port Albert has one of the most difficult and dangerous estuarine entrances on the S.E. coast. The sand bars constantly shift and local knowledge is essential for safe navigation.