Shark Bay Marine Park & WHA,
Shark Bay is one of Australia's largest sheltered waterways and lies 850 kms north of Perth. Most sheltered waterways in Australia have been converted into ports and farms, but Shark Bay is in relatively inhospitable terrain with poor rainfall. This has resulted in the much of the bay being a pristine environment full of sand, seagrass, coral reefs, saline shallows and open ocean waters.  There is 1500kms of coastline and the bay covers 22000kms2 of habitat, of which 4000km2 of seagrass beds that can support 10000 dugong and 6000 turtles. From May to November you may also see manta rays and whales on the oceanic areas. This range of habitats has made the ecology of Shark Bay unique and it has been registered as a World Heritage Area.
Shark Bay sits in an odd spot between the temperate and tropical zone. It has a semi-arid climate with hot, dry summers and mild wet winters. Shark Bay's coolest months (20–25º C), from May to September, are also its wettest, but the area is pretty arid generally. Expect the winter tourist season to be over by October. February is the hottest month, with a daily average around 35º C. That is an average and expect 40 degree plus Summer scorchers on a regular basis.
It has a sometimes intense southerly wind, especially between October and April, December and January are the windiest months, with the cyclone season from November to the end of April, although cyclones are relatively infrequent. Most of the tourist activity is in winter and its quiet by October.
Shark Bay presents some diving challenges. The bay is vast, you could almost fit the eastern half of Tasmania in to it, and the marine attractions are very special but also very spread out. Only the fringing oceanic islands at the mouth of the bay provide conventional ocean reef diving.  These distant and exposed sites are of a high quality, with a survey of one site at the southern end of fringing islands reporting 323 species of fish. These sites are a long way from Denham, most dive spots are 45 minutes to 2 hours away by fast boat. Most of the rest of the bay is very shallow and sandy. Many inshore areas also get cloudy after wind.
To spend a long stay just diving Shark Bay would overlook many of the area's unique coastal attractions, and you probably won't get enough settled weather to do that anyway. If seagrass beds teeming with small critters, marine mammal encounters, unique prehistoric algal growths, unique shallow coral patches, odd bush marsupials, quiet bays, brilliant white sand beaches, lonely 4WD tracks and big sunsets don't interest you, then you won't like the bay. Most people go for this kind of thing, so expect it to be busy in Winter/Spring and jammed with motorhomes. Services are in demand and can get pricey. Most of the facilities including charter and nature tour operators are in Denham. Dive charters are currently available from the Ocean Park Aquarium. Another way to see the fringing islands is on a 4WD tour, which could be organised to allow for snorkelling of some sites on the sheltered eastern side of Dirk Hartog Island.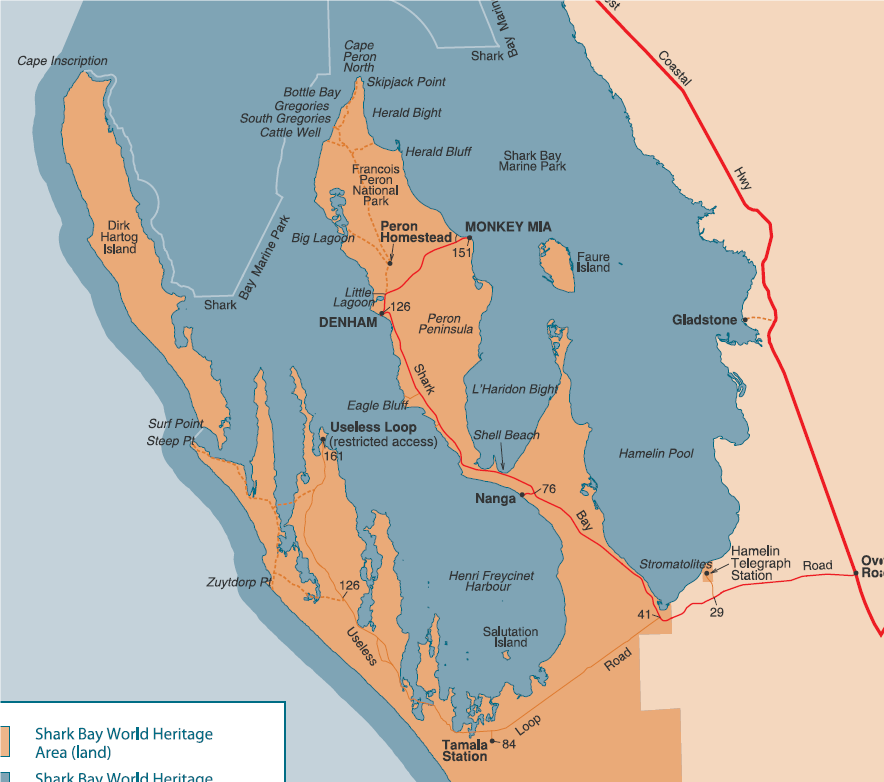 Turtle Bay, Dirk Hartog Island
4-7M
The island lies 20 nautical miles from Denham and Turtle Bay is on the northern point of Dirk Hartog Island, just to the east of the Cape Inscription Lighthouse. This bay is remote and often sheltered except in northerly weather. The main limestone reef runs out about 500 metres from the beach just east of the old jetty pylons. A wide range of marine life lives along the cracks and crevices in the walls, a number species of hard and soft corals as well as plenty of fish. The beach is a nesting beach for loggerhead turtles and they are often seen in the waters of the bay. Dolphins, sharks, whales, manta rays and whale sharks are also seen in this area occasionally. 4WD tours of the island visit this area and you may have opportunities to snorkel the area from the shore.
Louisa Bay, Dirk Hartog Island
3M
GPS: S 25°45.73, E 113°04.77
This site is on the northern end of Louisa Bay on the eastern side of Dirk Hartog Island. It is a good protected site in a strong westerly wind with large patches of hard and soft coral reef.  A long bottom time and good shelter makes it great for a snorkel or photographic dive. There are lots of baldchin grouper, angelfish, damsel fish and beaked coralfish.
Surf Point, Dirk Hartog Island
3-4M
This site lies in a marine park sanctuary zone at the southern end of Dirk Hartog Island. The area is easily reached by dive charter boat from Denham. The bay is sheltered from the ocean swells The site offers very good soft and hard coral cover. There is abundant fishlife in the shallow water including wrasse, baldchin groper, snapper, angelfish, butterflyfish and parrtofish. The coral patches are also well known for egg and tiger cowries but these are look and don't touch dives.  Generally, the biodiversity at the site is excellent and has been rated as more varied than even the Abrohlos Islands.
Sandy Point, Dirk Hartog Island
3-4M
25 43 24S 113 04 36E
This site also lies in a sanctuary zone at the southern eastern end of Dirk Hartog Island. Some of the best coral in the bay is found here especially staghorn coral and brain corals. The fish species are also diverse with the species diversity being different from Surf Point. The area is also known for frequent visits by green and loggerhead turtles. Whales may pass nearby from July to October. Dugongs may also be encountered in the seagrass beds adjacent to the coral patches.
South Passage
7m
Between Cararang Peninsula and Dirk Hartog Island there is a good dive when the visibility is good and the currents slow. An unfavourable ebb will stir up the bottom and bring dirty water out of the bay and over the dive site. The bottom has a sparse covering of hard corals and other marine life but it attracts a lot of fish, sea snakes, turtles, reef sharks, stingrays, shovelnose rays and marine mammals including the odd dugong.
Monkey Rock, Steep Point
6-19M
This dive is on a prominent island at the entry to the South Passage, 300m off Steep Point. Dive sites can vary. In the shallows there are plenty of fish on patchy coral. The bottom gradually gains more structure and depth further out to sea. In the deeper areas there are large underwater caverns. The coral reef is home a wide variety of tropical reef fish including Queensland groper, mackerel, trevally, small sharks, lionfish, wrasse, pufferfish, moray eels, damsels, butterflyfish, angelfish, sweetlips, hawkfish and rays. Marine invertebrates like soft corals, nudibranchs, sea stars, feather stars and clams can be found around the reef. Pelagic fish and turtles also visit the reef from time to time.
Steep Point
18-27M
The deeper bottom off Steep Point is renowned for big pelagic species including Spanish mackerel, trevally, sharks and rays. The bottom also offers underwater caverns and gutters. The cave walls have lots of invertebrate life including soft corals. This is considered to be one of the bay's best dives.
Bar flats
4m
S 25 deg 20′ 08″ E 113deg 20′ 49″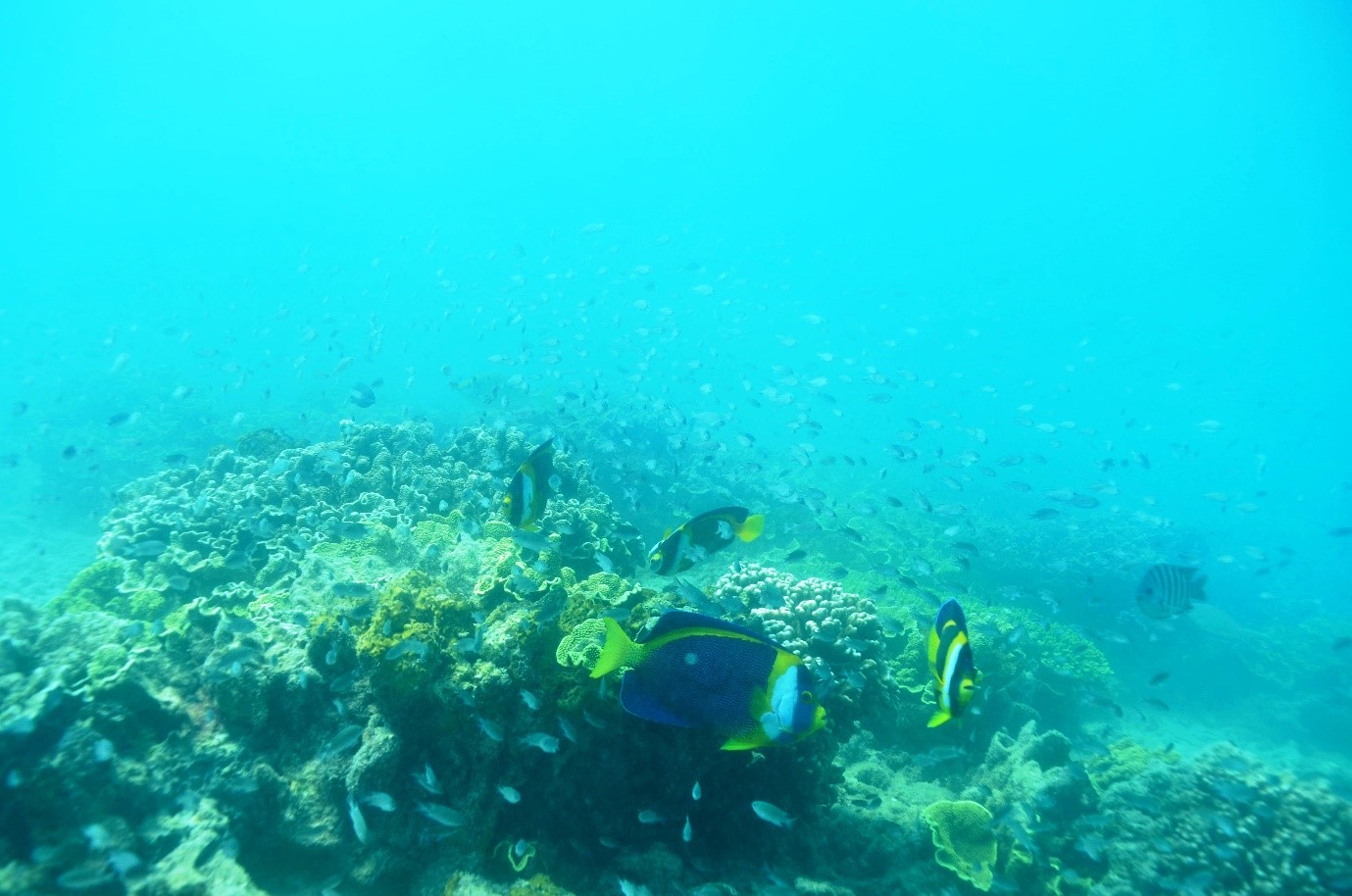 This shallow site lies 8 miles off the Peron Peninsula in a direct line from Denham to Sandy Point on Dirk Hartog Island. Basically, it is in the middle of the bay, a 45 minute boat ride from Denham. The Flats offer a series of large coral outcrops on a seabed of brilliant white sand.  The corals are dominated by yellow and green coloured encrusting plate coral species. It also has a variety of encrusting sponges, some quite large. It is a popular fishing site so the larger fish have disappeared. There are still lots of smaller fish. About half the biomass must be blue damselfish that form huge clouds, angelfish, beaked coralfish, small baldchin groper, cardinalfish, and a variety of sweetlips species are also common. Expect to also see the odd moray eel, sea snake, nudibranch, western king wrasse and Moorish idol. While often used as a training dive, this is still a very pretty area in its own right.
Gregories
2-4m
This is a shallow offshore coral wall inside Francois Peron National Park. It is not especially challenging for intermediate to experienced snorkelers and makes for a good drift snorkel. Two-wheel drive access is limited up to the Peron Homestead area. To travel north of the homestead you will need a high-clearance four-wheel-drive vehicle and will need to reduce tyre pressures to access the soft and sandy tracks.
Wreck of the "Gudrun"
6M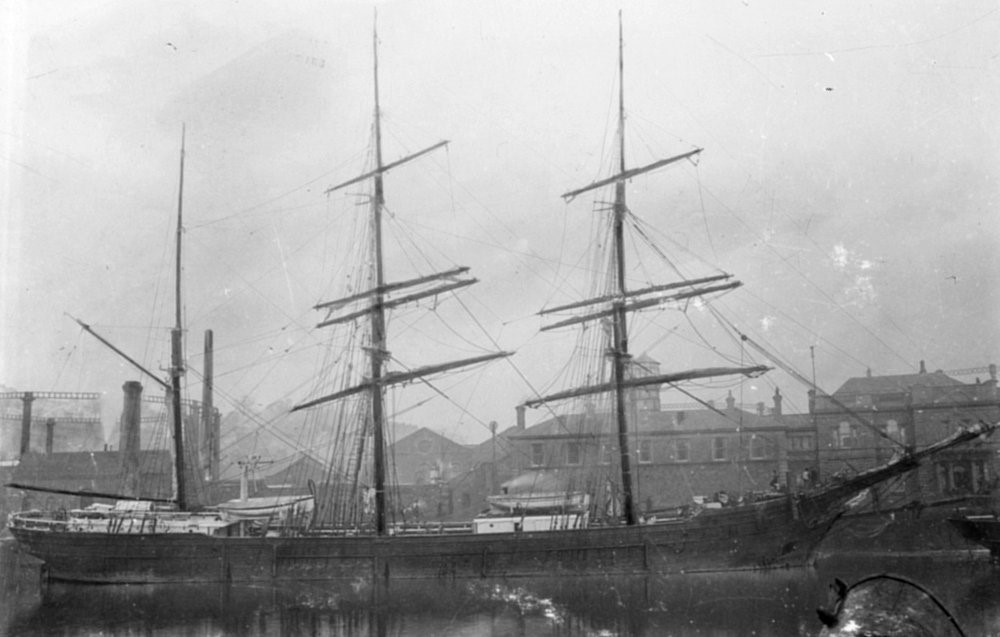 The Gudrun was a three-masted wooden barque of 992 tonnes, built in Quebec, Canada, in 1880. She arrived in Western Australia in 1901 to load jarrah. On her return journey to Falmouth she started leaking badly and had to limp back to Fremantle. The 22-year-old carpenter later admitted that he had sabotaged the vessel by drilling a hole through her hull. After repairs in Fremantle, she set out again, this time with her carpenter in leg irons. But within days the ship was again taking on water and in strong winds she decided to make for Shark Bay. Half full of water, she was beached about 10km north of Cape Peron. The stranded vessel was demolished by a storm before she could be refloated. The wreck is now inside Francois Peron National Park and is in a 500 metre radius sanctuary zone. This means that she is home to plenty of marine life including turtles, rays, giant groper, spotted cod, trevally, sweetlips, lionfish, , batfish, sweetlips, and mackerel. Anchors, fastenings, deck knees and other fittings are all visible above the sand. Currents can be very dangerous and it should only be dived on a turning tide (preferably a neap tide).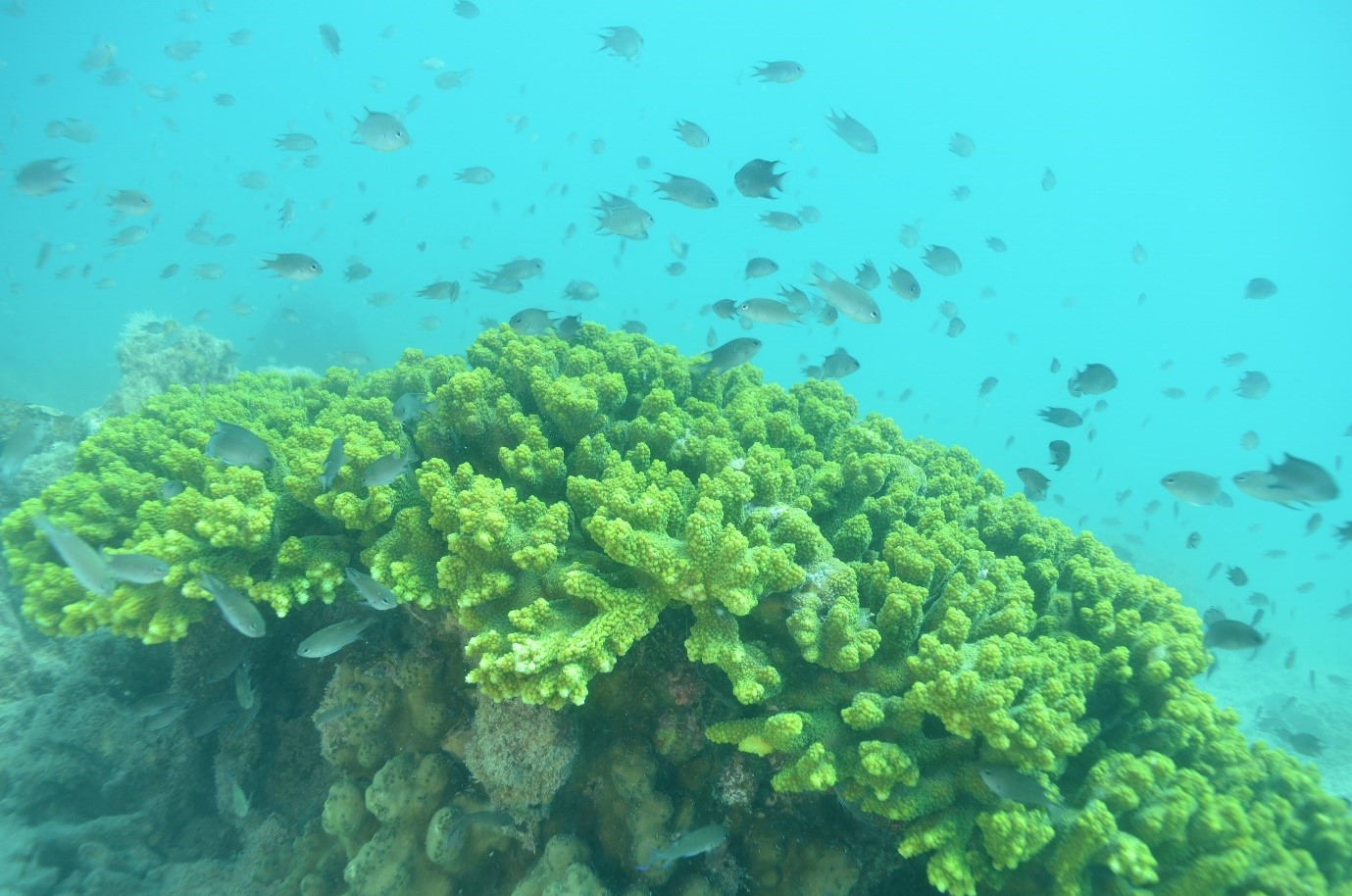 Broadhurst Corals
3-4M
25 38 13S 113 22 14E
This 500 metre wide sandy bank is covered in staghorn, brain and plate corals. Colourful sponges can also be seen.  The fish life tends to consist of smaller species, but they are very colourful, angelfish, angelfish, surgeonfish, cleaner wrasse and scissortail sergeant The area is shallow and easily damaged by fins and should be done as a drift dive on a reasonably slack tide. You will need a reliable boat and a good lookout/boat skipper.
Eagle Bluff
2-5M
Eagle Bluff is a shallow snorkel or scuba dive 30 minutes from Denham on west side the Denham Hamelin Rd. From the car park go to the beach and walk to the right to the base of the cliff. Enter directly off the beach. Swim out along the rubble line at the base of the cliffs. Great muck style diving with many chitons, some corals and lots and lots of life including coral trout, tuskfish, seasnakes, dugong, dolphins and small sharks. There are a couple of bommies with hard corals surrounded by seagrass.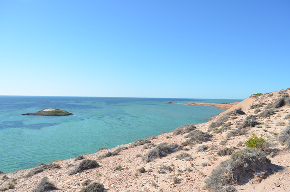 Carnarvon
While the oceanic islands off Carnarvon are technically in Shark Bay, they are too far from Denham to be frequently dived from there. The only way to visit them is currently by private boat from Carnarvon.  There are presently no dive facilities in the town.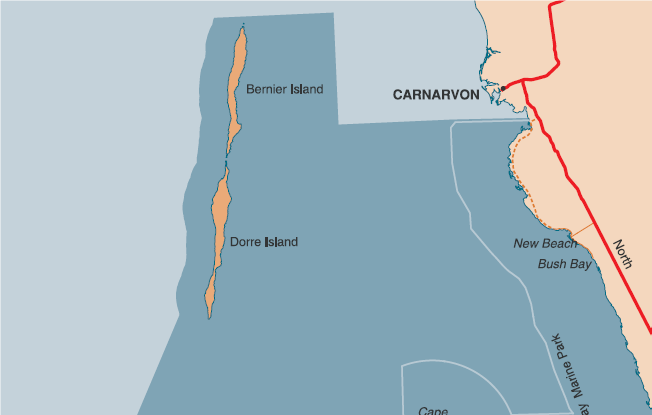 Bernier Islands
10-20m
These long, thin and sandy islands guard the entrance to Shark Bay and provide some shelter from the swell. The limestone area around these islands offers good diving with excellent fish and invertebrate life. The sheltered eastern sides are dived more frequently. Marine life seen on the reefs on the eastern side of Bernier Island includes angelfish, damsels, anemonefish, filefish, trevally, wrasse, rock cod, coral trout, gropers, turtles, sea snakes, wobbegongs and reef sharks.
Dorre Island
10-20m
The area around these islands offers good diving with excellent fish and invertebrate life. The sheltered eastern sides are dived more frequently. The eastern side of Dorre Island provides some of the best coral growth in Shark Bay. Numerous hard and soft corals are found in shallow water. Marine life includes coral trout, batfish, reef sharks, gropers, trevally and stingrays.
Pt Quobba  - Quobba Holes
2-4M
72kms north of Carnarvon there is an easy shore dive or snorkel with good access, inside a 'no take' reserve. This part of the coastline is very exposed and is rarely visited by divers. The Quobba Holes are a lot more benign with a fringing reef and island protecting a small lagoon from the incessant Indian Ocean swells. They lie 1km south of the popular blowholes tourist spot. The shallows are a good place to see turtles, eels, wobbegongs, sponges, anemones, nudibranchs, sea stars, stingrays, parrotfish, angelfish, butterflyfish, moray eels and corals.