Ningaloo MPA
Ningaloo Reef extends for 260km along the coast of Western Australia. Being the nearest point on the continent to the Continental Shelf it offers a huge variety of fish and other marine life. The diving here ranges from shallow to 35m and the reef structures are all hard coral.
Ningaloo is famous for its whale shark dives, but it's a lot more than that. The Ningaloo Marine Park protects one of the world's longest barrier reefs. The outer reef and passages offer remote and challenging diving on an exposed coast. There are big fish and big wrecks in some tricky spots. Inside the outer reef there are large coral gardens in slightly less challenging conditions, while along the shore there are plenty of camping spots with long spectacular beaches and plenty of shallow, sheltered places for snorkelling and shore diving.
Red Bluff
The southern section of the Ningaloo Marine Park is remote and a great place for escaping the tourist rush at Coral Cove. Camping is basic and you will need everything from your own water to a chemical toilet. This area is less travelled for a reason, some parts aren't quite as sheltered as further north and the area is renowned for surfing and windsurfing with the attendant rips and surges in poor weather. There are still a few accessible spots where barrier reefs blocking the worst of the swell. Red Bluff offers a great snorkel or dive just 5 to 10 metres from the coastline, close to a camp site. The low coral reef is very attractive with 250 species of coral and 500 species of fish having been recorded in the area.
Gnaraloo – 3 Mile Lagoon
The lagoon at 3 Mile Camp offers a marine sanctuary zone framed by a beautiful white sand beach. The lagoon offers a protected and shallow snorkel on staghorn, fan and brain coral. Turtles, squid and stingrays can be seen along with a variety of fish. The lagoon is usually protected from the swell with good visibility.
Wreck of the "Magnolia"
1-2M
This small fishing boat was caught in a strong current during the night and went ashore in 1938. She was 58ft long and was originally built in England and was brought out in sections to Botany Bay. For many years she was a crack sailing yacht in Sydney and Melbourne waters before being acquired for fishing. The wreckage was heavily salvaged and now consists of iron keel sections, iron ribs, chain, 2 small Admiralty type anchors and a windlass. The Magnolia is located just offshore at the Monuments. The hulk of the wreck has become home to some small marine life.
Warroora – Maggies
The main beach at Warroora offers beachside camping but it is renowned as windy and exposed with dangerous rips, great for windsurfers but mostly popular with bored fishermen in campervans. A nicer spot is the coastal camp site at Maggies. All the roads in the area can be sandy and challenging for any 2wd, especially a commuter car with limited ground clearance. It is best visited in April/May and in the Spring before the summer breezes start. Maggies offers more shelter and some good shallow snorkelling close to the camp. There are turtles and small reef sharks to be seen even along the swimming beach. A small light boat can be launched off the beach by a four wheel drive.
Coral Bay – Paradise Beach
3M
This popular swimming beach lies a 30 minute walk south of Coral Bay. The dive site is off Purdy Point just beyond a reef flat that dries at low water. A stiff 200M offshore swim offers a good drift dive or snorkel over a 50 M long patch of shallow lavender coral gardens. The gardens are home to wrasse, surgeonfish, octopus, humbugs, damselfish and even small reef shark. You need to be reasonably fit and experienced to handle the current and relatively long swim. If in doubt, head back to the Coral Bay foreshore.
Coral Bay township
5-14M
The Coral Bay town site at the southern end of the park, is both a popular place to launch a boat, and also offers great nearshore diving and snorkelling. Tow a dive flag and watch out for boats. The coral starts very close to the shore which should be the limit for novices or children. Here there are plenty of fish and corals to see including spangled emperor, parrotfish and sweetlips, butterflyfish, gobies, parrotfish, surgeonfish and angelfish.  Big pelagic fish aren't usually seen here. Going further involves crossing the boat channel that is clearly marked out with yellow buoys.  This area is noted for lots of anemones and the accompanying anemonefish. There is a big patch of staghorn corals that can be crossed at high tide. It is also a good area for a night dive.
Pt Maud drop-off
14M
For the more experienced divers, the diving SW of Point Maud deepens more than usual in this area and leads to an opening in the reef with a pronounced drop-off. This area is more exposed to the sea and currents but also boasts large patches of hard corals. Along its reef edge there are turtles, reef sharks, sweetlips, mackerel, gropers, barracuda, snapper and trevally. This can be a tricky spot, especially in big seas. Manta Rays occur at Ningaloo in aggregations of up to 100 animals. Point Maud has plenty of mantas and it could be an important mating ground. The area south of Point Maud is also a reef shark nursery area. A good place for big fish interactions.
Wreck of the "Emma"
2-3M
On 3 March 1867, the schooner Emma set sail for Fremantle from Port Walcott. She was a small vessel used for both trading as well as pearl diving. She was never seen again. Almost ten years later a story surfaced that Aboriginal people saw the shipwreck, a number of survivors took to the ship's boats and landed on the shore. The local papers claimed the survivors were taken captive and eaten, highly unlikely. The captain, like a large number of the northwest settlers at the time, was notorious for his bad behaviour toward Aboriginal people. They might not have survived long after reaching the shore. The remains were found recently on a flat corraline reef at Point Maud. The reeftop is in the breakers at low tide and too dangerous except on very calm days. There isn't much to see although the site is important to the history of the local area and the pearling industry. The wreckage is heavily encrusted in growth and concretions and mainly now consists of a jumble of anchors. A squashed diving helmet was recovered from the site and is now on display at the W.A. Maritime museum.
Point Cloates
100 kms south of Exmouth. Point Cloates is marked by a stone lighthouse. Its main interest is that it seems to have been a magnet for shipping accidents.
Wreck of the "Stefano"
GPS position 22°49.613′ S 113°43.271′ E.
Stefano, an 858–ton barque, was on a voyage to Hong Kong from Wales when, at 2 am on October 27, 1875, it hit a reef south of Point Cloates. A pitiful band of 10 survivors travelled south but they were trapped in a cyclone and many of them died. The other continued on down hoping to make it to the Gascoyne River. But they turned back disappointed. The last two survivors were taken by Aborigines to Exmouth where six months after the wreck, they were picked up by Captain Tuckey in Jessie. The wreck site was found in 2004.
Wreck of the "Rapid"
22° 44.44′ S 113° 41.46′ E
The Rapid was a 366–ton American China trader, was wrecked in 1811, just south of Point Cloates. The captain and crew then burned the ship to stop it being salvaged, and headed north in the lifeboats. A salvage team was sent back down and recovered all but 20,000 silver dollars. The wreck was found by spearfishermen who were rewarded $30,000 and worked with the WA Museum on recovering the coins and other artefacts. It is an interesting wreck, but the site is quite buried.
Wreck of the "Correo D'Azia"
A wreck was found in 2004 by an aerial magnetometer survey and for a long time could not be identified. After a long process it turned out to be a forgotten Portuguese dispatch vessel missing since 1816. A cargo including coins has been excavated by the museum. The site is mostly buried.
Wreck of the "Chofuko Maru" and "Shunsei Maru" relics
In February 1931 the wheat ship Shunsei Maru ran onto a reef about 10 nautical miles north of Point Cloates. The vessel sent distress messages to the 3287–ton steamer Chofuko Maru, which was nearby. While trying to assist, Chofuko Maru also ran aground. While it was aground, a fire broke out, water got into the hull and the cargo expanded and pulled the ship apart. The Shunsei Maru was later salvaged and the anchors and chain used to recover the vessel still remain to mark the site of stranding.
Wreck of the "Perth"
GPS position 22° 41.67′ S 113° 38.48′ E
1887
This 499-ton ship also had an interesting life. While trading between Melbourne and Adelaide, it collided with SS City of Launceston, which sunk in three quarters of an hour, in Port Philip Bay. Perth was then refitted and operated on the west coast, until it was wrecked near Point Cloates. The engine of the ship is clearly visible on the reef top opposite Ningaloo Homestead, but the wreck is difficult to reach in an area of extremely dangerous seas requiring exceptionally calm conditions.
Wreck of the "Benan"
Benan, a 1400-ton sailing vessel, was carrying coal when it was wrecked at Point Cloates in 1888. It was thought that strong currents carried the ship onto the reefs. All of the crew survived. In 1992, a team from the WA Museum examined a wreck believed to be Benan, just south of SS Perth. The wreck is difficult to reach and is dangerous in all but flat calm conditions.
Norwegian Bay
The area just to the north of the Point Cloates was once the site of a whaling station and the remnants, including rusty boilers, can still be seen in the dunes. Corals are less dense than at Coral Bay but the fish life is excellent with stingrays, turtles, sweetlips, rock cod, angelfish and surgeonfish also often seen. This area wasn't heavily spearfished in the days before the park so there are still some very old and very large barramundi and potato cod, making this site a bit special. Well offshore at the entrance to the bay large schools of pelagics can be encountered near the sand cays. The offshore drop-offs are current affected and exposed to big seas. Small boat launches can be done over the beach with a 4wd.
Wreck of the "Fin"
1-2M
GPS position 22°38.93′ S 113° 37.6′ E
The small Norwegian whaler was built in 1881 and wrecked in January 1923 when she dragged her anchors in a devastating cyclone which drove it onto sandbars near Fraser Island at the outer edge of the Ningaloo marine park. This area was once the entrance through the reef to the whaling station and consisted of big sandy shoals marked with a light. The sand bar she hit has since disappeared leaving the wreck and the old lighthouse tower exposed. It is still visible at low water. Although the wreck site is visible and only a few minutes from the shore it is an exposed spot. A boat is still needed and it is worth a look in the right conditions.
Wreck of the "Zvir"
GPS position 22° 36.55′ S 113° 37.56′ E
Zvir, a 3,355-ton steamer en route from Java to Melbourne with a cargo of sugar, ran aground two nautical miles north of Fraser Island in November 1902. The crew survived but the steamer soon sank. This wreck is an excellent dive when swells are low.
Pilgramunna Ledges,
3-4M
This is an easy dive for the whole family and is convenient to the Pilgramunna campsite. The dive is on ledges that rarely extend more than 10 metres from shore. It has some great small fish life and corals, but also tends to be visited by larger ocean roaming species as well. In addition to the usual coral fishes there are large but harmless leopard sharks, giant clams and stingrays.
Mandu
4M-20M
It is possible to get to this site by boat from Exmouth or by swimming 200m out from the shore, across a channel, to the shallow corals. The shallow reef top dries at low water and make sure you are clear of there before low water to avoid damaging the coral and getting cuts. The inner reef edge is a large wall going north to south with soft coral on top with caves, ledges and swim throughs. There are lots of reef fish including big potato. Similar to many sites on Ningaloo Reef, the exposed outer reef edge of Mandu Wall drops into deeper water on a current-affected coral rubble slope. The attraction here is the very diverse oceanic fish life, trevally, barracuda, gropers, coral trout, sweetlips, batfish, baitfish, fusiliers, reef sharks and unicornfish. Experienced divers can do this as a drift dive. Tiger sharks have been seen here a number of times.
Oyster Stacks
2m
The Oyster Stacks car park is 12 kilometres south of the Milyering Visitors Centre in Cape Range National Park. The Oyster Stacks themselves are five small islets covered in oysters that virtually dry at low water. It has some nice small corals around the edge of the rocks covered with chromis, damselfish, Moorish idols, butterfly fish and wrasse. On the northern side of the Oyster Stacks is an area of shallow reef platform that offers a great diversity of staghorn corals. Some areas show evidence of damage from drupella snail infestations. These snails explode in numbers and eat away at the reef. It's a natural phenomenon, but a bit like crown of thorn starfish outbreaks on the Great Barrier Reef, it may have a link to changes made to the reef by humans. This area is only to be dived at high water as otherwise you will damage the coral and cut yourself on the sharp corals, rocks and shells.
Turquoise Bay,
2-4M
Turquoise Bay is 10 kilometres south of the Milyering Visitors Centre in Cape Range National Park. It experiences a strong northerly current at times, especially offshore and when the seas are strong on the outside of the reef. On a good day, the southern side of the bay offers a nice drift dive. The slight current simply allows more experienced snorkelers and divers to plan a lazy short drift dive. The southern bay has a large staghorn coral garden to the south of the day access area. This car park lies 40 metres to the north of the entry point. The garden is home to spangled emperor, butterflyfish, rays, parrotfish, reef sharks, batfish and schools of buffalo bream.  A safer dive can be had at the main car park at the elbow in the bay. Here a couple of bommies lie very close to the shore where it is slightly more sheltered. They are covered in small fish and brain corals. These corals are very slow growing so please be cautious about breaking off corals or standing on the reef. The area, like many spots on this coast, is occasionally visited by dolphins. The fish life at the Oyster Stacks is more diverse but Turquoise Bay has easier enter and a good swimming beach nearby for the non-diving family members.
Lakeside bommies
2-5M
The Lakeside camping site is only 500M away from a nice coral garden near the shore. However, it is close to a low spot in the outer reef 1.5kms out to sea which causes the area to be affected by strong currents at times during unfavourable tides and strong winds and swells out to sea. It is best to plan this as a dive for a neap tide during good weather. The reef is home to trevally, surgeonfish, parrotfish, dart, angel fish and large stingrays. In crevices there are plenty of small and colourful fish including anemone fish. There are some nice larger caves on the far western side of the reef. The area around the reef is sandy and covered in seagrass.
Turtle Mound
35M
This area north of the Tantabiddi boat ramp is a dive for experienced divers on the outer edge of Ningaloo Reef. It has excellent corals, sponges, pelagic fish and big turtles.
Whale shark dives.
The Ningaloo area is an aggregation point for whale sharks and whale shark diving has the 'thing' to do if you are at Ningaloo. It is definitely worthwhile but its no easy day out. The whale sharks are well offshore in spots that have to be located by light plane first. It can be very swelly, meaning big boats and seasick pills. Expect to pay for all that effort. The charters are well-run along guidelines that try to limit the tourist stress experienced by the sharks and the risks to yourself, so follow the instructions. You snorkel with them, and as they cruise along at 2 knots or more, it is difficult to keep up. Scuba is a bit slow and restrictive and bubble noise is thought to annoy them and make them take off sooner. The visibility is usually excellent, making for some great photo opportunities. The tours only operate between mid-March and end of July. They will also likely encounter other things along the way including whales, dolphins, manta rays and dugongs. The sharks don't stick to charter cruises though and an opportunistic sighting is possible even from the shore. Other times you may not see a thing, even if you pay the big dollars. Like all wild animal encounters there are no guarantees. There are multiple charter operators, often based at Exmouth.
EXMOUTH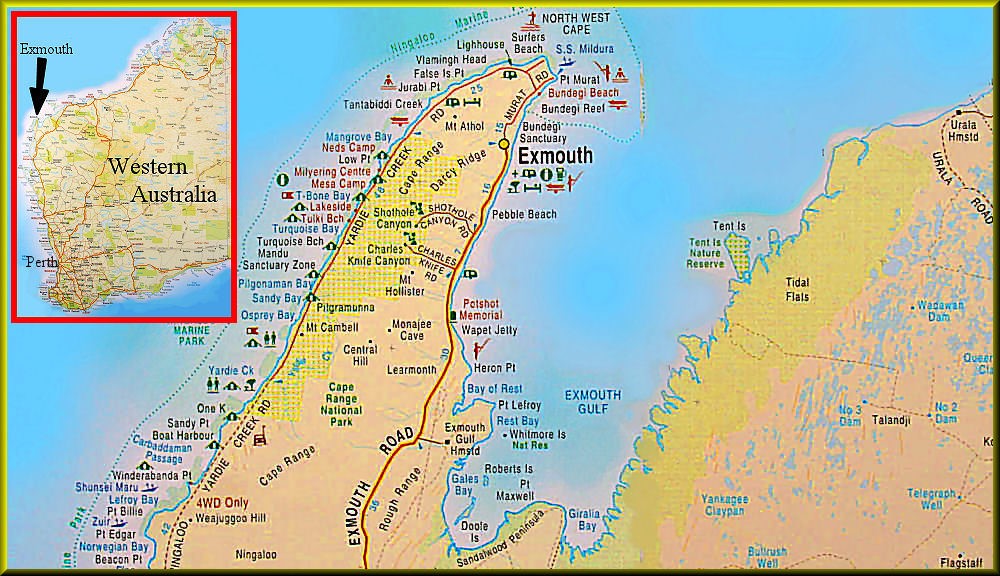 Wreck of the "Mildura"
GPS position 21° 47.14′ S 114° 10.00′ E
In June 1907, this1,394–ton steamship was carrying a cargo of bullocks, bound for Fremantle when the vessel ran aground off the north point of the North West Cape. The crew got ashore safely but many of the cattle were lost. The master was found guilty of neglect. Although the wreck is plainly visible offshore, it is not a recommended dive due to an exposed position. The intriguing sight of the shipwreck of SS Mildura can be seen from the shores of picturesque Lighthouse Bay. Most of the remains were salvaged and used for renovations and the hull was used for bombing practice in World War II. Most of the remains were salvaged and used for renovations and the hull was used for bombing practice in World War II. The wreck can be snorkelled around at high tide in good weather.
Blizzard Ridge – Lighthouse Bay
12-15M
This site lies approximately 1 km out from the lighthouse. Blizzard Ridge is a large rim of coral about 200m long running NE-SW, parallel to the coast. Around the reef there are lots of caves, crevices and overhangs draped in soft corals, sponges and gorgonians. You should see sharks, lionfish, sea snakes, wobbegongs, stingrays, coral trout, baitfish, trevally, large gropers, Rankin cod, angel fish, snapper, eels, pearl threadfin perch and snapper.
Labyrinth- Lighthouse Bay
This area is a complex of coral bommies and crater like sandy spots in the coral that seem to attract sleeping dugongs and leopard sharks. The site is only a few minutes from the Bundegi boat ramp and covers the area of a football field.
Nor-West Reef
16M
This site is accessed from the Bundegi boat ramp and lies about 2kms off the Cape. Nor West Reef can only safely be dived when the tides and sea conditions are suitable, so it's rarely dived. The eastern side of the reef is more sheltered and offers ledges, overhangs and small caves. It is home to tawny nurse and reef sharks, turtles, eagle rays, coral trout, moray eels, schools of pelagic fish and occasionally a manta ray or potato cod. The reef itself has good coral formations with soft corals, gorgonians and other colourful invertebrates. It is a dive for experienced divers.
Bundegi Reef
14m
This site lies at the north-western entrance to Exmouth Gulf. This area has great invertebrate life including many varieties of anemones, featherstars, and nudibranchs.
Bundegi Sanctuary Bommies
14M
The reef lies in a more sheltered part of Exmouth Gulf. Bundegi provides protection for a wide variety of species who use this area as a nursery. Bundegi Reef is extremely rich in invertebrate life.  It is done as a drift dive, often on snorkel. The bottom is covered in a huge variety of corals and reef fish. Make sure you understand the current and have arranged for a boat pickup. A great dive for photography.
The Murion Islands
The Murion Islands are located about 16km north east of Exmouth. They lie at the boundary between the cloudy waters of Exmouth Gulf and the clear open sea. They are surrounded by fringing coral reef and ledges with plenty of marine life. The sheltered side of the islands is a popular site with charter boats operating out of Exmouth. Only experienced skippers with suitable vessels should attempt to access this area as sea conditions can be unpredictable. Once there, the Murion Islands are suitable for all levels of divers, although you need to beware of currents in enclosed passages between islands and rocks. The complex reef systems are home to shrimps, nudibranchs, mantas, eels, angelfish, potato cod, rankin cod, turtles, tawny nurse sharks, all living among a large variety of corals.  The trip out can be as exciting as the diving as this is a fairly remote and relatively untouched wilderness. Ospreys, shearwaters, dolphins, dugongs. Humpback whales might be seen from time to time during August to November. Late in the year, manta rays also appear. From about November, the turtles head for the shallows at the Islands to mate and nest.
Cod spot, Murion Islands
16-18M
This area of reef consists of a 4M high wall running parallel with the southern shore of South Murion. The wall is covered in a variety of soft and hard corals. At the northern end of the wall is a large bommie sitting out on the sand which is a manta ray cleaning station when the mantas are around. The area is noted for lots of coral cod and large potato cod, who will follow divers around during the dive.
Fragile Rock, Murion Island
16M
The rock has a large reef about 150m long covered in plate coral. The bottom offers plenty of overhangs and there are bommies sheltering local marine life including loggerhead turtles, green turtles, white tip reef shark, wobbegong, yellow snapper and potato cod. The west side of the reef is less complex than the west side.
The Gap
15-20m
This is a drift dive of variable depth in the passage between North and South Murion over a bottom encrusted in soft and hard corals. Lots of fish can be seen including loggerhead turtles, green turtles, white tip reef shark, batfish and mackerel.
The Bastions
16M
This rocky outcrop lies on the western side of South Murion Island. The area is a reef wall covered in plate corals and good reef fish and other marine life including lots of clown fish. Deeper down it reaches sand with overhangs and gutters often harbouring sleeping small sharks and large bull rays.
Point Murat Navy Pier, Exmouth
12-17M
The 300M long Navy pier was built in the 1960's by the U.S. government and lies inside a restricted area that can only be visited with a permit. Only one shop has permission to take groups and they can only perform guided shore dives. The entry may be from the platform or from the beach depending on the work schedule for repairs and upgrades to the pier. It must be dived during slack water. Groups are a maximum of 8 divers per guide so you need to book a week in advance so they can sort out the navy paperwork which is pretty meticulous. Visibility can be variable and drops after strong winds, but is often about 10M or more. The pylons have plenty of colourful filter-feeding growth and heaps of fish, wobbegong sharks, white tip reef sharks, large cod and groper, lion fish, angler fish, stone fish,  scorpion fish, frog fish, moray eels, trevally, barracuda, batfish, bannerfish, crocodilefish, butterflyfish, angelfish, queenfish, perch, snapper and coral trout. All the fish are huge due to the zero fishing pressure and this is the payoff for all that effort. You may have a long day with an early pick up due to tides and the unusually long preparation time. A night dive is also recommended.