Western Port 
Western Port Bay is a sheltered and often shallow embayment dominated by French Island in its centre, and Phillip Island at the entrance. Most of the diving is concentrated around the clearer ocean waters on the seaward side of Phillip Island.
Shelley Bch/San Remo
6-9m
This dive is on low sandstone reef just to the east of Shelley Beach on the ocean facing coast near San Remo. The reef lies off a cobble beach between two headlands.  The area is very exposed, but if conditions change it is possible to exit on the adjacent sandy beach. Fish life is very good and the area is rarely dived.
GULL ISLAND/Bird Rock
6-8M
WGS84 – 38° 33.5978? S  145° 21.6025? E
Gull Island is located on the eastern side of Phillip Island near Cape Woolamai. It is a large rocky outcrop situated in a bay normally sheltered from adverse south-westerly weather. It consists of small crevices and overhangs with some colourful corals, sponges and zooanthids. Wrasse, leatherjackets, morwong, Port Jackson sharks and Conger Eels live in the crevices amongst the weed.
Colin's Cave
10m
This dive consists of a small but intricate section of reef consisting of vertical walls marked by crevices and swim throughs. The site is off shore from Woolamai surf beach.
Sunderland Bay
5m
This area has a wide sandy beach and sea terrace that is popular with divers in summer when northerly winds are blowing.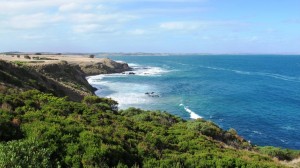 Wreck of the George Kermode
18m
S 38 31'12′ E 145 14'38″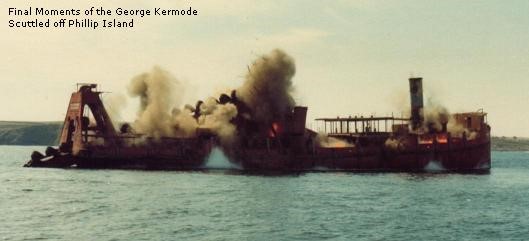 The S.S. "George Kermode" was a twin-screwed bucket dredge scuttled in 1976, approximately 1 nautical mile south of Cunningham Bay. The dredge settled upside down on her bucket gear, leaving much of her machinery accessible. The wreck rises eight metres off the bottom at the stern. The 2 boilers are very prominent and huge dredge buckets are scattered over the wreck site. Penetration by qualified and experienced divers is possible, but the passageways are tight and the visibility can be poor. There is plenty of growth on the wreck and schools of Bullseyes everywhere. Snapper and Yellowtail Kingfish are sometimes seen. The reef around the wreck is also interesting Charter trips to the wreck are run from Hastings.
Smiths Beach
11 M
This easy shore dive is located on a popular Phillip Island Beach. Walk down the stairs to the beach then head to the left. The weed-covered shallows hold small swim throughs, crevices and over hangs with good fish life. Blue Devils, Port Jackson Sharks, Draughtboard Sharks, Boarfish, and Old Wife are common.
Cunningham Bay
5m
This are of shallow sandstone reef close to the shore is also very popular during calm summer weather.
Pyramid Rock
10-15 m
Located on the southern side of Phillip Island, Pyramid Rock contains a number of good dive sites. The sites offer steep kelp-covered walls, boulders, and ledges covered in sponges, sea stars, molluscs, zoanthids and gorgonians. It could be dived from the shore with considerable difficulty, but boat diving is easier and safer. Port Jackson sharks, kingfish, morwong, pike, wrasse, boarfish, old wives, catsharks, bullseyes and leatherjackets can be seen. The site can be affected by surge.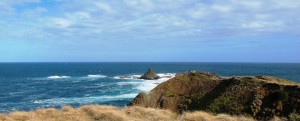 Berry Beach
10M
This area consists of extensive areas of sandstone rock platforms and is popular in good weather.
Wreck of the "Speke"
5m
The 3000 ton, 100m long, steel barque "Speke" was on a voyage from Melbourne to South America when she saw hit by a huge storm off Phillip Island. She was driven ashore in Kitty Miller Bay in February 1906 and broke up on the sea terrace just to the east of Walt Point. The bow wreckage is visible at low water. The rest of the wreck lies in shallow water close to the sea terrace and has been pulverised into small pieces by the swell. The reefs in the surrounding area are also interesting.
Phelan Bluff, Summerland
10m
In this region the area changes into basalt reef, with large blocks of stone spread along the eroded cliffs. The area is very exposed with better diving in deeper reef area offshore.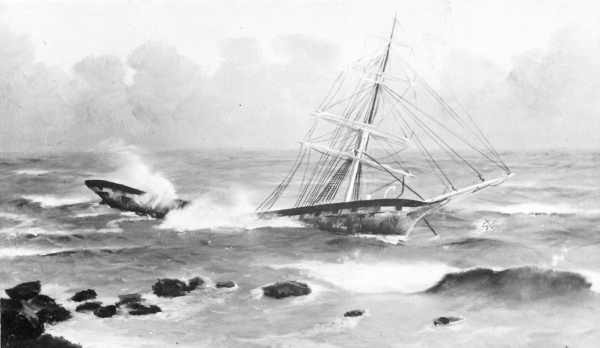 Mandeville
12m
A sheltered shore access point can be found at nearby Mandeville Road onto basalt reef similar to Phelan Bluff. Extensive canyons and bommies can be found offshore along the cliffs. The area is very exposed to southerly swells.
The Nobbies/Seal Rocks
4-15m
This interesting basalt prominence juts out into the western channel of Westernport Bay. Around the tip it can therefore be affected by currents. On the southern side it is very exposed to the swell, with dangerous swells pounding onshore even on reasonably good days. There are also dangerous cross-currents and it can only be dived on exceptional days after northerly winds. The northern side of the peninsula is much more sheltered and offers some interesting shore diving on shallow rocky reef.
The Nobbies shoreline holds the largest Australian fur seal colony in southern Australia with about 5000 seals. Divers sitting on the bottom in the shallows will soon attract seals and interacting with them is a fascinating experience.
Cowrie Beach
5-8m
This area is more sheltered from moderate southerlies and in suitable weather an easy shallow dive can be had on patchy weed and reef with smaller fish and marine life.
Flinders Pier
5 metres
This shallow jetty dive is renowned as a great photographic and marine naturalist dive. It is also usually sheltered from inclement weather and is one of the most popular jetty dives in Victoria. Ladders provide easy access from many points. The bottom is mostly sandy and seagrass with clumps of weed and debris from the jetty. Sea dragons are fairly common, along with pipefish, cowfish, rays, crabs, sea stars, leatherjackets, wrasse, boxfish, goatfish, cuttlefish and octopus. The pylons are covered in delicate marine growth and are patrolled by schools of sweep and pike. There is also a wrecked ferro-cement yacht at the bend in the jetty. The visibility is often good. The water is shallow and you may need an extra weight. Beware of fishing line as the jetty is also popular with anglers. This is an excellent night dive.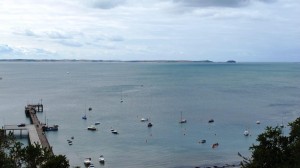 Balnaaring Reef
8m
The upper bay is often very shallow and silty. Some of the areas on the western shore are still flushed by clear ocean water during the flood tide. A wide expanse of rocky reef provides shelter for small marine life. The areas are sheltered and relatively safe. This makes the area popular with divers on holiday.
THE PINNACLES
39M
The Pinnacles consists of two vertical spires of rock rising from the depths to within 8 metres of the surface. The shallows are covered in thick kelp. As the light fades and there is more shelter from the swell, the rock faces are taken over by sponges, soft corals, zoanthids, bryozoans, anemones, ascidians and gorgonian sea fans. The rock walls attract plenty of fish including pelagic like kingfish, snapper and trevally.
THE GARDENS
6-19m
This dive is on a gently sloping granite reef terminating in boulders and a series of sand gutters. The passing fish life is very diverse including many species of small shark and stingrays. School fish pass by occasionally including large schools of Australian Salmon.
West Head
4-10 m
This shore dive involves a long walk from the car park. Thick kelp covers the bottom. The boulders have shady overhangs lined with sponges and gorgonian. Fish life is reasonably good.
THE BUS STOP
9m
This site is often visited by local charter operators in low swells. It consists of a long section of reef divided by small crevices. The shady overhangs and crevices are great places to see and photograph more delicate species of marine life.
BUDGIE SMUGGLER'S
6-22m
This rock is in an exposed location and can only be dived in good weather. The kelp-covered shallows end in a ledge at 6m and then the rock drops away down a drop-off to 22m. There is excellent marine life around the rocks,
TWO CAVE BAY
16m
This kelp-covered rocky bottom is in an exposed location where the sea has carved out interesting underwater channels and scoured rock formations. Obviously not a good site in a heavy swell, but it is popular with charter operations.
The White Gates
12m
Another very exposed site visited only in good weather. The fringing reef is set against some spectacular sea cliffs. In about about 10 metres there is a cave created by a jumble of fallen rocks. At the end of the cave a small area of light can be seen which marks a swim-through. Divers can swim through the hole in good weather to emerge into a spectacular chasm of smooth granite walls. A terrific dive awaiting a long period of magic calm weather.