Albany Region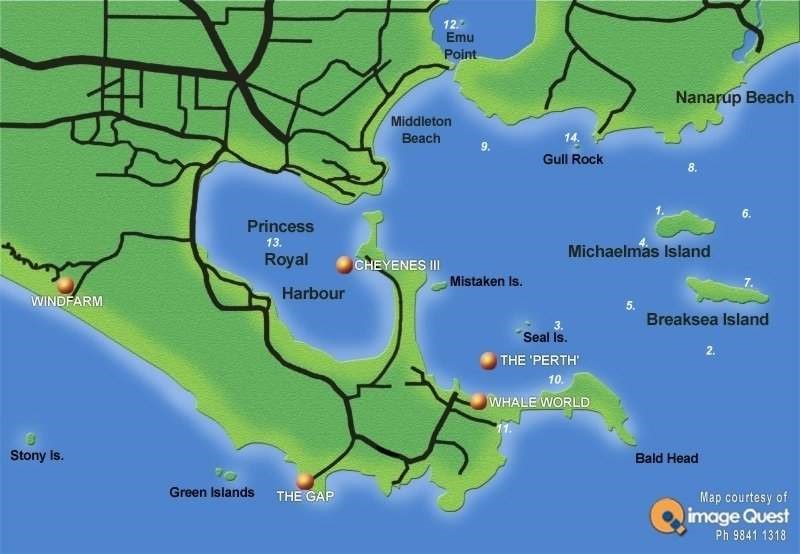 The region offers shelter and a variety of diving experiences, sea grass meadows, the reefs and around nearshore islands, wrecks and artificial reefs. The best conditions for diving are usually experienced from summer through to autumn, when the seas are calm and the water clear. This popular tourist region has an excellent range of facilities, accommodations and is serviced by dive shops in the area.
Dunsky Beach
Dunsky Beach lies in the eastern lee side of the West Cape Howe and if you have access to a 4WD shore diving can be done from the rocky headland adjacent to the beach. There are some nice swim throughs and occasionally visited by pelagic fish due to its proximity to deeper water. Strong rip tides sometimes occur in this area. Spear guns and gidgees are not permitted.
Tor Bay cliffs
Launching at Cosy Corner over a rough and exposed 4WD ramp gives access to numerous small islands and nice coastline out toward West Cape Howe.
Tor Bay Head
30M
This area has dangerous currents and is for experienced divers only. It offers big boulders encrusted with sponge in depths over 20m. There are caves at 12-22m along the rock wall with 2m wide white gorgonia sea fans. Fish life includes buff bream, morwong, blue devils, harlequin wrasse, scaly fin, kingfish and big blue groper.
West Cape Howe
West Cape Howe is the southernmost point of WA and is spectacularly rugged. It is very exposed as soon as Tor Bay is left behind and the area is wild in even a moderate swell, but the fish life is great if you ever get the chance.
Mutton Bird Island
8-12M
Comfortable shore dive from beach if you have 4wd or via a 100m walk down a hill from the car park. Easy entry can be had from the sandy beach. The large island in front of beach is Shelter Island and Mutton Bird island is around to the left of the beach. It offers an easy shore dive and quite a good night dive.
Wreck of the hulk "Sarah Burnyeat"
The brig Sarah Burnyeat was built as a barque at Southwick, Durham, England in 1862. It sailed to Australia in 1879 only to be driven ashore at Lockeville, WA during a heavy gale. Refitted in Fremantle in 1880 as a brig, it sprang a leak sailing to Port Adelaide. It was then purchased as a coal hulk by the Adelaide Steamship Company in 1882. In 1894, whilst coaling a ship, it caught fire and was abandoned at its present position off Residency Point. The wreck is one of the best preserved and most accessible mid-19th century wooden hulls in WA. It is also the only coal hulk with its cargo intact. It is a 'look and don't touch' dive for the wreck enthusiast on a silty bottom with sometimes challenging visibility.
Wreck of the "Kingfisher", Princess Royal Harbour, Albany
GPS position: Lat. 35º 01.9692 S Long. 117º 52.17192' E
The Kingfisher was a small iron barque of 120.33 ft length built by Renfrew, near Glasgow in 1854. She was lightly built and no great success. After only 5r years it was converted to a coal hulk at Albany. By 1872 it was cut down and used as a lighter. A severe storm in 1905 drove the hulk Kingfisher ashore south of Melville Point at the western end of Princess Royal Harbour. The "Kingfisher" lies east/west and upright in shallow water. The lower section of the hull is buried in the sandy bottom. Almost all the hull above the high water mark has either disintegrated or collapsed. Little is visible above the sand and the iron is covered in marine growth. A winch is visible in front of the wreck. The wreck is exposed at low water and is well-known and accessible for the maritime enthusiast. The Kingfisher is one of the oldest iron ships to be wrecked on the coast of Western Australia. Really only a 'snorkel and photo' dive at high water for the enthusiast.
Wreck "Lady Lyttleton", Emu Point Channel
7-13M
This is another harbor wreck that is mostly broken and buried, but worth a look, especially as it is not too hard to find and in a modestly sheltered spot. This old wooden barque put into Albany in 1867 after springing a leak. It was careened in the Oyster Harbour for repairs when it was hit by a storm rolled over and sank. Rediscovered in 1978 it was found to carry lots of interesting whaling era artefacts and might have been an American built vessel.
Mistaken Island
5-12m
The rocky reefs around Mistaken Island offer good shore dives. The best marine life is found on the deeper southern side of the island where there are sponge gardens with good small fish and invertebrate life.
Whalers Cove, King George Sound
This offers some easy and shallow snorkeling along a marked snorkel trail.
Gia Batta Patch
10-12M
This small limestone reef caters for a levels of diving. The marine life and sponge formations are good and it can also be visited as a night dive spot.
HMAS Perth
25-36M
GPS: S35°04.790, E117°58.060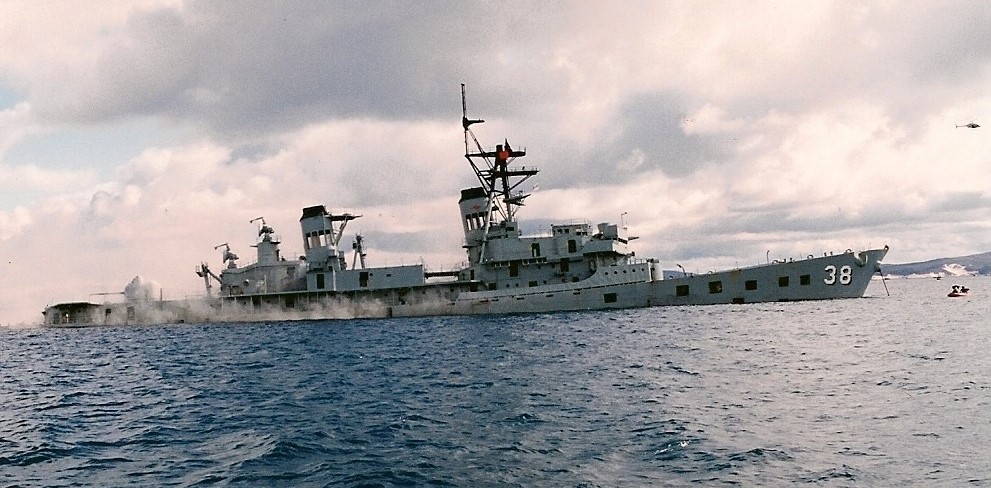 This former R.A.N. destroyer was deliberately scuttled in 2001, 500M SW of Seal Island in King George Sound as a dive wreck. The masthead protrudes above the surface to height of 4M. The ship lies E-W with the bow to the East. Much of the ships equipment and machinery was left in place. The growth has surprised everyone sponges, mussels, oysters, scallops, cuttlefish, large kingfish, and many local fish. The wreck is surrounded by 10 mooring bouys. The ship was built in the USA in 1963 and did 2 tours of Vietnam, only where it was attacked mistakenly by U.S. aircraft. Permits are required to dive this site. They are available from the Albany Visitors Centre, City of Albany or local dive shops.
Seal Island
5-20M
Seal Island offers Plate Corals (SE corner), occasional seals, Blue Devils, Pineapple (Knight Fish) Fish, Scorpion fish, Queen Snapper, King Fish, Blue Groper, Harlequin, Sea Dragons, Nudibranchs plus more. This dive site has it all and in shallow water. Top dive and an excellent night dive. Shallower on the western end and deepest on the east. Good most weather barring heavy easterlies.
Seal Cove
Depth 18 – 30M
North of the cove there are a group of bommies that hold very large gorgonia fans. Along with these fans are southern black coral trees. Reef fish of many species can be seen along the swim throughs. Visibility is rarely less than 20M and the site is sheltered from all winds barring any strong from N – E. Lots of fish and a coral garden can also be found along the edge of the sand.
Breaksea Island – Southern Dropoff
40M
This site offers deeper diving for the more experienced.  The southern side of the island offers a spectacular drop off. Along the wall are plenty of caves, sponge gardens and a few black coral trees. The reef fish and invertebrates are abundant. Regular visitors to the area include schools of pelagic kingfish, samsonfish and trevally.
Breaksea Cove, SW Corner of Breaksea Is.
5 – 28M
A great dive fully protected from the hard easterly winds. Walls and swim throughs, bommies and plate corals. Small caves and overhangs are home to colourful small fish and marine life. There is a good anchorage for boats with interesting rock formations above the water as well. Avoid on SW winds and S swell over 2M.
Northern eastern side of Breaksea Is.
Depth 2 – 18M
This site can be found about 250M from the eastern end of the island. This area has a seal haulout and they usually buzz divers during the dive. In the very corner of this cove is an interesting rock overhang which can be explored on a very calm day. Out from this cave the depth drops off into 15 – 18M and you will find some interesting plate corals and gutters lined with Gorgonian fans. Port Jackson sharks are often found resting on the sandy areas between rocky outcrops.
Blue's Canyon, SW corner of Breaksea Island
Depth 9 – 45M
This area should only be dived on days with little or no swell due to its exposure to the open ocean. The canyon is 5 – 6M wide and approx 300M long with the walls towering above you. As you start the dive from the deep end and slowly make your way towards the island you see the walls covered sponges on which cowry shells are often seen. There are also many deep ledges in which the occasional crayfish may be living along with resident wobbegongs. The canyon is home to very large blue groper and queen snapper.
Breaksea Boulders, Northern side of Breaksea Is.
Depth 5 – 20M
This area is just to the west of the landing and offers seafans, sponges, overhangs, coral plates, walls and swim throughs. There is good fish life and often good visibility. It is an easy dive that makes a fantastic night dive. Good on most winds bring strong SW-NW
The Cables, Northern side of Breaksea Is.
Depth 9 – 28M
This site is under the lighthouse about 100M offshore. It was named after the old mainland communication cable that is now tangled around and through the site. This site is a dive over tall bommies with large fan & plate corals, sponges and large blue groper. The area is spectacular with plenty of fish and is protected from any southerly swell. Visibility is generally good all year round. It is exposed only to NW – NE winds.
Wreck of the "Cheynes III", Michaelmas Island
23M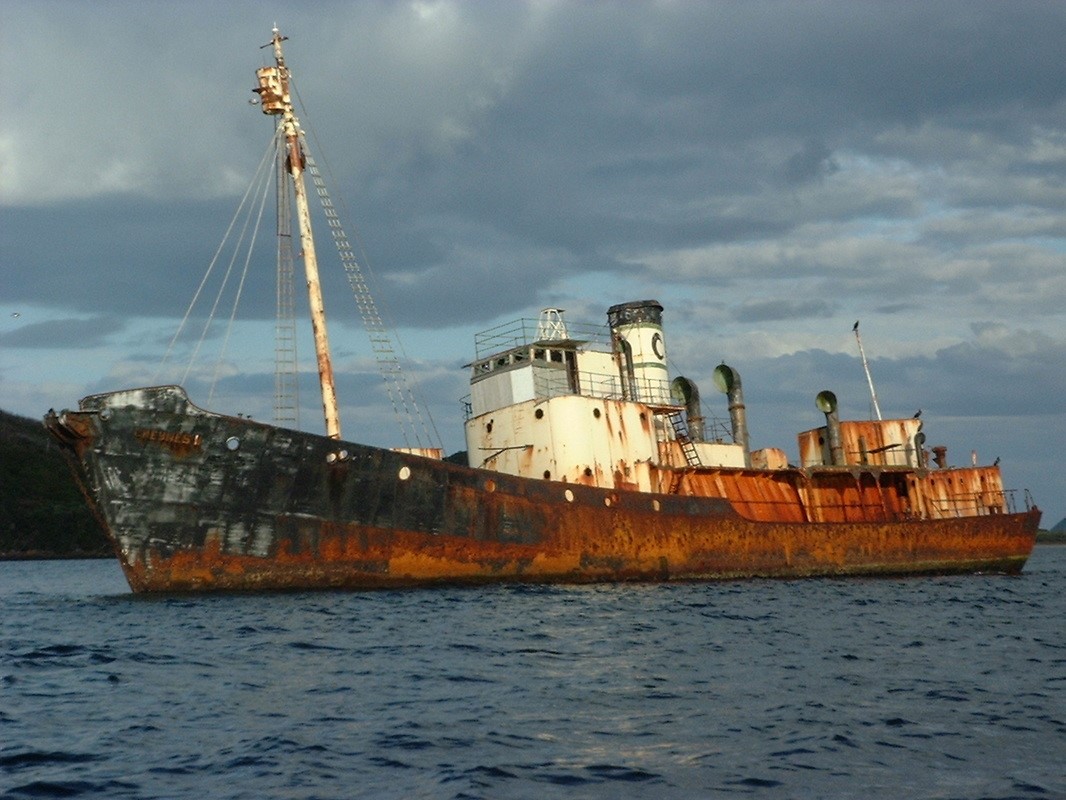 Sister Ship Cheynes II abandoned in Princess Royal Hbr
The 440 ton steam whale chaser Cheynes III was built by the Smiths Dock and Engine Company of Teeseburgh, Middlesbrough. It was originally named the Thorgrim and operated by a Norwegian based whaling company. Between 1962-63 it was owned by Whale Products Co. of Queensland and named Looma III. In 1963 it was bought by the Cheynes Beach Whaling Co, renamed Cheynes III and was engaged in whaling operations in Albany until the company ceased operations in 1978. The Cheynes III was scuttled as an artificial reef off the western side of Michaelmas Island in 1982. Around the wreck live boarfish, morwong, blue gropers, bullseyes, old wives, perch, snapper, jewfish, silver drummer, kingfish, samsonfish and leatherjackets. Although the hull is beginning to break up, you can still explore the wheelhouse and engine room. Nearly all of the structure is encrusted with sponges, soft corals, anemones and other invertebrates. The growth and fishlife is a little sparse for colour but it is a big wreck and well worth a look.
North Michealmas
Depth 0 – 18M
About halfway along the northern side of Michealmas Island a rock sits up approx 1M out of the water just west of a big bay. Tis marks an area noted for plate corals, gorgonian fans, sponges, a few small caves, and rock walls. There are usually lots of cuttlefish, sometimes lionfish, large groper, kingfish and queen snapper. The site is good in all winds excepting strong NW-E.
North West Michaelmas
Depth 1- 6M
This site is found on the northern side of Michealmas Island about 300M from western end of island. The shoreline is very steep limestone and the site is 80 – 100M off shore. Two limestone bommies offer a spot for a quick snorkel dive on ribbon weed backs patrolled by squid and cuttlefish. Good in all winds barring strong northerlies.
SE corner of Michealmas Is.
7 – 26 M
The site is identified from the surface by a jumble of broken rocks on the SE corner of Michealmas Island. The dive consists of some spectacular rocks including "Grinding Rock", that can be heard moving backwards and forwards in the swell. There are also caves and grottos with gorgonia fans, colourful sponges and shells. Fish life is abundant. It is best dived with less than a 1M swell & SW – N winds. Surge can be quite severe inside these caves. The site is exposed to easterly weather.
Michaelmas Reef
14-18M
This reef lies out in King George Sound about 1 km due west from Michaelmas Island. The reef is about 2km long and 1/2 km wide. This reef is all limestone. The shallows are covered in kelp with sponges and gorgonians under the overhangs and in crevices. It is often frequented by photographers, because of the colourful smaller life and shallow depths.
Anchor Rock, Michaelmas Island
12-18M
On the western end of Michaelmas Island boulders have tumbled down from the island to create sensational boulders, caves and swim throughs. The area has excellent invertebrate and fish life.
Michaelmas Island Fingers
25-30M
Located on the eastern end of Michaelmas Island, the granite fingers extend from the eastern end of the island. At the end of these strips of granite there is a mass of canyons and crevasses which are covered in sea fans, sea stars, nudibranchs, sponges, gorgonians, sea tulips, ascidians and soft corals. The fish life include boarfish, blue gropers, morwong, harlequin fish, wrasse, leatherjackets and scalyfin, bullseyes and blue devilfish.
Eastern end Michealmas Island
Depth 12 – 27M
This site lies 50 – 60 M off the wall on the east end of the island. There are some very big fan corals, black coral ledges and walls. There are also schools of pelagic fish . This site is subject to some strong tide at times. Best in S – N winds and is exposed to easterlies.
Breaksea Island
The island is noted for lots of fish including bullseyes, foxfish, seadragons, moonlighters, western blue devils, giant cuttlefish and stingrays. The rocks also have great invertebrate life including lots of colourful corals. Australian Sealions and New Zealand Fur Seals are also common around the island.
Football Field
16M-60m
This deep reef lies 1 km east of Michaelmas Island and is for experienced air and technical divers only. The shallows slope off into canyons with huge bommies covered in masses of sponge growth, huge gorgonians, black coral. Large and numerous fish. The site levels out to 66metres on the southern side. This site is sometimes subject to an unpredictable current.
Middle Rock – Herald Reef
12-17M
This limestone reef is locate between Michaelmas Island and Herald Point. The kelp-covered reefs offer crevices and overhangs packed with colourful marine life.
Wreck of the "Athena"
2M
Approx position: Lat. 35° 01.018' S Long. 118° 01.42' E
The 131.0 ft long wooden barque "Athena" was built in South Shields, U.K. in 1869. By 1896 it was obsolete and converted into a hulk. In 1898 it was taken to Albany for use as a coal storage hulk. After stripping the hulk of all useful items the Athena was towed to a position between Ledge and Herald points, east of Gull Rock, and there set on fire. The wreck lies in the western corner of a small bay a little over a kilometre north-west of Herald Point. The wreck of the Athena lies in 2 m of water in the surf zone at roughly 90º and 30 m out from the base of the cliff. The site consists of substantial timber remains including the stem, breast hook and windlass barrel together with a number of metal knees and fastenings. There is also a mound of chain and two hawse pipes.
Two Peoples Bay
10-12M
This seaside settlement lies 26 Kms due east of Albany in the Two Peoples Bay Nature Reserve. The best dive sites are on the boulder reefs offshore from Little Beach and Waterfall Beach. These rocky reefs drop down to 15 m, and have a surprising variety of invertebrates. Around the boulders live old wives, wrasse, leatherjackets, scalyfin, harlequin fish, morwong, perch and the occasional leafy sea dragon. Sponge and plate corals are common. It is a good dive in all weathers except easterly. It is a great night dive if conditions are ok. For something different there are huge meadows of sea grass in the bay.
Coffin Island
Just south of Two Peoples Bay, Coffin Island offers several dives on rocky reefs with caves, gutters, sponge gardens and abundant marine life. Divers usually come to swim with the colonies of Australian sea lions and New Zealand fur seals that are found in the sheltered areas along the shoreline.
Wreck of the "Arpenteur"
3M
The "Arpenteur" was built at Mahe in the Seychelles in 1839 and was originally registered at Port Louis, Mauritius. She was a 95 ton square rigged wooden brigantine of 72.7 ft length. "Arpenteur" was totally wrecked at Cheyne Beach in 1849.  The vessel was engaged in trade between Adelaide, Singapore and Java and had 6 tons of oil, 8 tons of flour and quantities of tea, sugar and sundries on board. She was taking on a cargo of whale oil at Cheyne Beach when driven ashore by a terrific north east gale. The remains of the "Arpenteur" were re-located in 1965 by some fishermen when their nets snagged in some wreckage.  The wreck of the "Arpenteur" lies about 100 metres off shore at the west end of Hassel Beach in Cheyne Bay. The wreck lies on a flat sandy bottom. There are several frames and about 4.6 m of planking showing above the sand. Some rounded stone ballast is also present on the site.
Tourist Rock – Cheyne Beach
10-13M
This site is 80kms east of Albany at Cheyne Beach. This is a relatively safe shore dive on granite rocks. Good selection of marine growth and fish life. Exposed in east – southeast winds.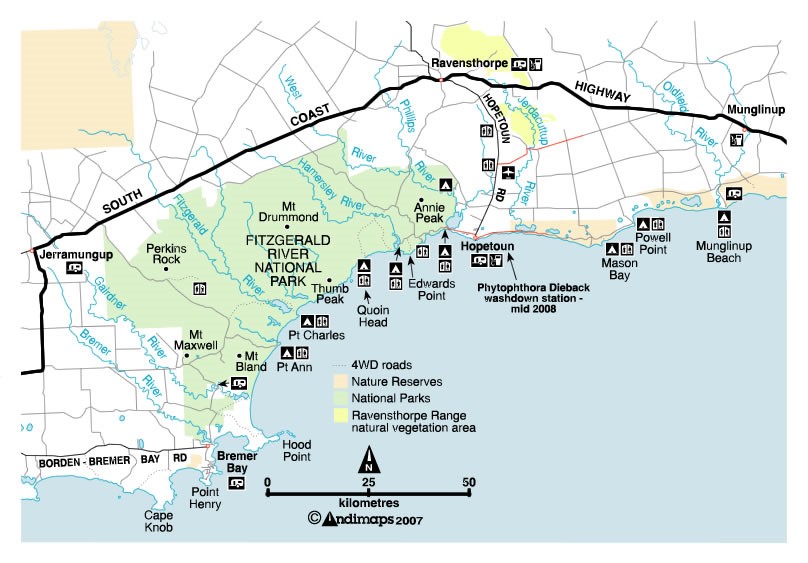 Fish Eyes, Bremer Bay
14-16M
Located 180 km east of Albany, Bremer Bay has excellent dive sites. Around Black Point, approximately half way along the cliffs there is a sculpted hole in the granite in the shape of an eye socket. Get in the water and head east. Once in the water, proceed east following the cliffs. The granite boulders are covered with a wide variety of hard coral, soft coral and sponges. The site has very good fish life including leafy sea dragons. You can often see sea lions and even turtles have been seen very occasionally at the site.
Back Beach, Bremer Bay
10-15M
This makes for a good night dive with plenty of small marine life to see and photograph including sponges and corals. There are lots of sea dragons and groupers.
Sandra's F.S. Bremer Bay
14-18M
GPS: S34°28.051, E119°21.370
Small boat launching can be done from Dillon Bay at Little Boat Harbour. The site lies approximately 400 metres off shore. It consists of a plate coral bommie that starts at 18m and rises to within 8m of the surface. The site has a large variety of fish, blue grouper, swallowtails and old wives along with a large variety of other fish. The sponge life and invertebrates are very good. At the top of the bommie on the south-eastern side there is a large area of gorgonian fans.
Wreck of the "Dunster Castle"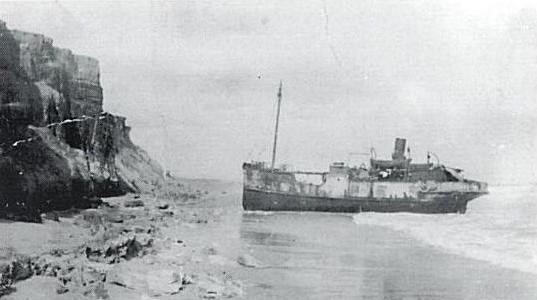 The "Dunster Castle" was a steamship of 62 tons.  In 1916 she was delivering rail for the Esperance-Salmon Gums Railway when the vessel ran into heavy weather. Captain Shroeder decided to seek refuge but she lost her anchor and was low on coal and water. She was soon ashore. Numerous salvage attempts failed. What's left of the "Dunster Castle" can still be seen in the water 90 m off the beach in Stoke Inlet, west of Shoal Cape. The wreck of the Dunster Castle lies on a west-north-west by east-south-east axis almost parallel to the beach with the bow to the eastward. Surf breaks continually over the site, and a strong 5-7 knot current running to the south-east makes the site dangerous. A small section of the hull about 20 m in length was showing above the sand. Iron frames are often visible, as is the top of the propeller, and the boiler and engine. For the experienced wreck enthusiast keen to visit a challenging little-visited site.