A limited sample of what you can do around Darwin,
NT marine life activities
Rather than talk about tourist attractions you can easily see on the internet, here are some recommendations for visiting some local features.
Wetland Walks
Darwin's extensive mangroves support many interesting animals, but you will need sunscreen and insect repellent to see them. To experience a taste of this wilderness in a low-impact way, board walks with helpful interpretive signs can be found in Darwin at Mindil Beach and Casuarina Coastal Reserve.
Another excellent and little used walk is along the raised metal walkway at Lake Alexander on Darwin's East Point Rd. The walk takes about 20 minutes, the last section runs along the mangroves out towards the sea. This area inundates at high tide, but as the seaward end is flooded first you aren't likely to be caught out by the fast changing 8 metre tidal range. Colourful birdlife is a feature of the area. The coastline walk along nearby East Point also finishes off a pleasant day.
Charter boats also take people on day tours through Darwin's many fringing mangroves.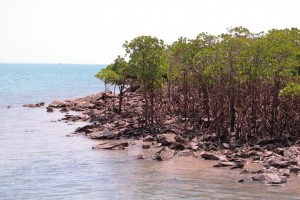 Swimming and beach ambles
In any NT swimming place, you need to obey the signs and especially avoid swimming in remote estuaries where crocodiles are prevalent.
Thanks to the large tidal range, a wide expanse of sand at low tide can be enticing to explore, but can relatively quickly transform into wave studded deep water, cut by freshly-created channels that are knotted with driftwood. Use your common sense and keep one eye out for changing conditions and be ready to move back to higher ground as the tide turns.
Casuarina Beach in Darwin's northern suburbs, is a patrolled multi-use beach with a BBQ area and playground. There is also a basic walkway through a nearby nature reserve and mangroves.
A local institution is to go to Mindil Beach on a Thursday or Sunday evening and watch the sunset. Market stalls are set up in the dunes during the dry season.
In Darwin, the Fannie Bay beaches can be virtually abandoned in the wet season due to stingers. Nearby Lake Alexander is safe year round and provides public swimming and playground facilities, with a safe beach, bike tracks, BBQs and picnic areas. A row of white buoys marks the edge of the swimming area. The rest of the lake is a sports area for kayaks, sailboats and other water users.
City beach is a roped off patch of sand in the CBD that is great for families, especially as its close to the artificial Wave Pool.
There aren't really any surf beaches in Darwin.
Fishing
The coastal waters and rivers of the Darwin region have a reputation for some of the best fishing in Australia, with Barramundi the most sought after prize. Saratoga are also a popular fighting fish. Mud crabbing in the estuaries is also a local institution and is even included as an activity on tourist cruises. I get the impression that fishing has saved many a local from going 'troppo', in the times when swimming in the water is either too risky, or too murky, to be rewarding.
Virtually any road bridge or jetty makes for a useful angling spot. The East Point Rocks area is a marine sanctuary, limited to rod & reel or handlines. Fish under 30cm must be released and corals, crabs, shells and sea urchins are also protected.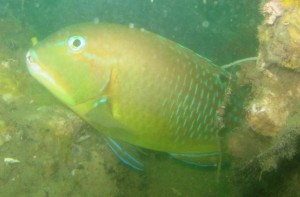 A boat is a more effective way to enjoy a day out. Boat hire services and fishing charters can cater for the keen traveller. Week long fishing safaris can be organised to more remote areas like Shady Camp, the Peron Islands, Finniss River and Crab Claw Island.
Boat ramp locations can be found at http://www.nt.gov.au/d/Fisheries/index.cfm?Header=Boat%20Ramps
Crocodiles are attracted to boat ramps and fishing spots too, thanks to the dumping of fish carcasses and they have a good memory for spots where food has previously been on offer. Don't linger unnecessarily, or camp, in areas near deeper murky water. Children and pets are more at risk, especially in the big estuarine river banks that may be a long way from the open sea. Here crocodiles aren't expected by tourists but they thrive even in the interior.
Heritage
Close to the mangrove walk is Darwin's East Point Military Museum, full of WWII bunkers, command posts, ammunition stores and gun emplacements. This is a great place to learn about the history of the bombing of Darwin and the ship wrecks created as a result.
The Australian Aviation Heritage Centre, a good distance away along the Stuart Hwy, also holds the remains of a Zero fighter shot down during the Japanese bombings of Darwin, along with other huge jet aircraft. It also has information on local Catalina bases and their aircraft wrecks.
Dudley Point Cable
The remains of the old World War II anti-submarine boom defence cable can be seen at low tide. Completed in 1939 this 6.8 kilometre steel cable once supported a net that enclosed the bay, right across to Mandorah. It was intended to snag submarines. In 1945 it was unwanted and was just dropped onto the bottom. The Japanese Navy was interested in Darwin and one sub, I-124, was sunk by destroyers just outside the harbour.
"Ataluma"
Nearby lie some scattered remains of the "Ataluma", a wooden seismic survey vessel, can be seen on the flats at low tide. She went ashore during cyclone Tracy when another vessel collided with her and put her engines out of action.
Doctors gully
After a trip to the fish feeding centre, look out for the mooring buoy from the old boom net defences and the nearby rotting remnants of a Vietnamese refugee vessel.
Catalina base
At Berrimah, East Arm, the remains of an old flying boat base can be seen and the concrete ramps are still used as a modern boat ramp. This was home to 20 Sqn RAAF who performed tireless patrol work and night raids during the war. This important work left several Catalina flying boats sunk in the harbour, both American and Australian. The American planes were lost at their moorings near Shell Island in 15M, during the first Japanese bombing raid. The RAAF machines were mostly lost to accidents in 1945, when the worn out old aircraft were at the end of their life. The oldest is A24-1, flown by the decorated Wing Cdr Bolitho. Pieces of her can still be seen on the mud about 3km from the boat ramp at East Arm, surrounded by croc tracks. A24-205 lies in 12M of water about a kilometre from the ramp in croc territory. Water visibility is poor in other than exceptional conditions. There are many other aircraft wrecks near Darwin, most aren't located.
Coastal walk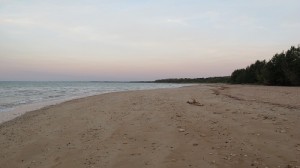 At Doctor's Gully a boardwalk has been created through one of the last remaining patches of rainforest in Darwin. This also leads to "Aquascene", a tourist business where daily, at high tide, hundreds of wild fish (mullet, milkfish, bream, barramundi, and others) come to be hand fed. This tourist facility is protected by the tiny 14 hectare Doctors Gully Aquatic Reserve. This reserve prohibits commercial and recreational fishing.
East Point Aquatic Life Reserve was created in 1993 and was created to protect bottom dwelling life. The reserve permits recreational fishing but bans commercial fishing. This reserve occupies a tiny 365 hectares. The area has birdlife, old fortifications, interesting coastal scenery and easy walking tracks.
The Casuarina reserve protects the area between the Rapid Creek and Buffalo Creek estuaries. There is a several kilometre walk here, starting from the car park at Dripstone Park. The walk takes you through a range of habitats including tropical rainforest, along the beach and the foreshore, all the way to Lee Point Reserve. Similar to East Point there are also remnants of WWII fortifications along the way. Some areas allow for horse riding on the beach and even nudism. The return walk along the beach passes along tidal flats with good birdlife. Please try to avoid disturbing the birds, and keep dogs inside permitted exercise areas and on a leash. 
Marine animal encounters
Bare Sand near Darwin is the most accessible sites for sunset turtle eco-tour visits which run from April to October depending on tides and weather. Waits for a nesting female can be long and there are no guarantees. In 2009 the tour operator had a nesting turtle 94% of the time. It can be expensive, but each ticket pays for the cost of a satellite tracker needed for turtle research. Aboriginal groups in outlying areas like Melville Is, the Coburg Peninsula and the Gulf of Carpentaria, will occasionally offer tour packages that include dugong and turtle spotting. A helicopter flight is also a fairly reliable way to spot dugongs.
The safest way to see crocs are on the numerous farm tours, the crocodile aquarium, or on the 'jumping croc' river cruises that have encouraged crocs to approach the boat and leap up to take a bait.
Birdwatching
Almost any river cruise, foreshore walk or mangrove trail will reveal interesting birdlife. Many specialised bird watching tours also operate from the top end, especially into the Kakadu.