Yorke Peninsula
The Yorke Peninsula is 40 miles wide and 100 miles long in the shape of a boot. It is a generally flat and arid wheat growing area. At various times it has been an important copper mining centre and a visit to the old mines at Moonta is popular bad weather pastime. Active mines still exist at Wallaroo which is the largest settlement on the peninsula.
The area has had a rich maritime history and a visit to the museums at Pt Victoria and Edithburg are worthwhile. Ardrossan has a population of less than 1000 and is the largest centre on the East Coast. It boasts an all-tide ramp and a long jetty used for wheat loading.
The peninsula is a popular destination for Adelaide divers and holiday makers, especially on long weekends. There are hotels, cabins and caravan parks at most of the major centres. Local service stations have ritually supplied air fills rather than dedicated dive shops,
Ardrossan
Wreck of the "Zanoni"
18 metres
GPS 34 30 79  138 03 70
The 3 masted, 42 metre long, composite ship "Zanoni", is one of the best-preserved sailing shipwrecks in Australia. She was built in 1865. The "Zanoni", capsized during a storm in 1867 and settled on its port side. She is located 10 nautical miles off the coast of Ardrossan and 5 miles WNW of the Long Spit Buoy. Due to the salinity of that end of the gulf, ship worm hasn't eaten away all her timbers. The masts, sternposts, rudder, bow sprit, and many other fittings are still intact. She was only discovered by divers in 1983. A Protected Zone has been declared around the wreck, a permit from the Dept of Environment and Planning is required to dive her.  The wreck is marked by buoy, and is more easily reached via a one hour boat ride from North Haven in Adelaide
'Zanoni' Barge/'The Ardrossan Barge'
20M
WGS84 – 34.26.35 137.55.44  GDA 94 – 34°31′ 48.88″S   138°03′ 47.04″E
The protection zone around the 'Zanoni' historic wreck site (where fishing is banned within 550 metres of the wreck buoy) is an exclusion zone. To compensate for the lost fishing opportunities, in 1984 the Department of Fisheries decided to establish a new artificial reef nearby. They acquired an obsolete barge for the purpose. Built in Sydney in 1911 by Pool and Steel for the Marine Board of South Australia, No. 5 dumb hopper barge measured 140 feet (42.6m) in length. The barge had been used to dump spoil from dredging operations in Port Adelaide and most major outports, but became surplus to requirements after the commissioning of two self-propelled barges in 1978. The barge was stripped and six 30 metre steel pipes, donated by Steel Mains Pty Ltd of North Haven, were placed inside the hoppers. The 30 metre long dredging barge was sunk, one nautical mile south of the Zanoni on a sandy bottom. Snapper, mulloway, Australian salmon, Tommy rough, cuttlefish and crabs can be found on the wreck.
Edithburg Jetty
6m
This small town of 300 people was once a major port. The old wharf was built in 1873 and is 170 m long and 12 m wide. Three hours from Adelaide, this is one of the best jetty dives in State and a good sheltered alternative site in bad weather. It is also a good night dive with seahorses, Port Jackson sharks, crabs, mackerel, scallops, blue ringed octopus, sponges, ascidians, tube worms, bryozoans, soft corals, cuttlefish, squid, anglerfish, drummer, globefish, cowfish, pipefish, goblinfish, leafy sea dragons, nudibranchs, sea stars, spider crabs, shrimp and molluscs. For post dive relaxation head along the Troubridge Hill Tourist Drive which offers some excellent views and points of interest.
Edithburg Sponge Garden
6m
These shallow sponge beds are 4 miles out from Edithburg Jetty, half way between Edithburg and Troubridge Is and slightly to the north. There is a rip at times, over the site. There are also plenty of small offshore reefs in the area.
Wreck of the "Clan Ranald"
20-25m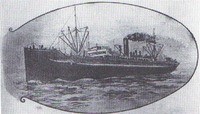 The "Clan Ranald" was a steel 3596 ship built to a unique experimental 'turret ship' design. A flaw in the ship's design caused the ship to turn over when overloaded, causing her to sink after her departure from Port Adelaide in 1909, with the loss of 40 lives. The "Clan Ranald" is the only turret ship to have been lost in Australian waters.
The wreck was found in 1962 by the S.A. Museum Underwater Research Group. In 1983 the wreck was made part of the Troubridge Hill Aquatic Reserve. The wreck now lies upside down, a km out from Troubridge Hill, half an hour boat ride from Edithburg. Lots of fish inhabit the wreck including large boarfish, snapper, cod, as well as huge crayfish that cannot be taken as it is a marine reserve. The anchor of the Clan Ranald sits on the cliffs above the wreck, marking its location to visitors. The anchor is on display on the cliffs above the wreck many relics in Edithburg Museum. Many of the gravesites can be visited at the Edithburgh cemetery.
Troubridge Pt Drop-Off
5-15M
Often a second dive after the Clan Ranald, this site is a huge reef system, that covers a couple of kilometres of shoreline. It has excellent fishlife along 8 metre high walls and crevices about 500m from the cliffs. There are gorgonia and shells, silver drummer, moonlighters, coralfish, trevally, old wife, herring cale, blue devils, magpie perch, grouper, cuttlefish. It is more exposed than Edithburgh, it can be affected by high swells, poor visibility and a powerful surge.
Marion Reef
This reef is part of Troubridge Shoal and lies South of Troubridge Is. The reefs surrounding Troubridge Island, part of the Shoals, are home to six of the region's earliest wrecked sailing vessels: Dart (1838), Parsee (1838), Sultana (1849), Marion (1851), Charles Carter (1854) and Iron King (1873).The more substantial remains consist of the wrecks of the "Marion" and "Iron King". The "Marion" was a 919 tons wooden sailing ship on a voyage from Plymouth to Australia carrying passengers. She struck the reef in slight fog and calm seas in 1851.  Despite the confusion all the passengers were landed safely at various beaches around the coastline. The ship's anchor was raised in the 1970s and is now on display in Edithburgh.
The "Iron King" was a 196.7 foot long iron sailing ship of 871 tons built in 1867. In the final hours of her voyage from London to Adelaide with thirty-two passengers and a general cargo, she was wrecked on Troubridge Shoal in 1873. All were saved. After being stripped of all fittings the hull was abandoned.  The area is very exposed, current affected and rarely dived by all but the most ardent wreckies. Troubridge Shoals are also home to diverse marine life and the reef is a worthwhile dive.
Pt Giles Jetty
13M,
This jetty was built in 1975 and contains a variety of fish and sponges. It has more fish than the Edithburgh Jetty and is popular with anglers. Commonly seen are boarfish, trevally, perch, morwong, bullseyes, yellowtail, sea horses and leafy sea dragons.
Penguin Pt, Marion Bay
6M
The western end of the bay has a rocky bottom with coral filled caverns, shallow  blocks and plenty of small marine life including lots of gorgonia.
Seawolves Cove, Marion Bay
10 -12 Metres
This spot can only be dived in the good weather with low swells. The fish life is very diverse. Some blue grouper can be hand fed. The area is home to Blue Devils, Bullseyes, Nannagui, and Sweep. Soft coral, Gorgonian fans and sponges are common  around the many caves and swim-throughs.
Cape Spencer
10 m
The main dive area is under the lighthouse where there are vertical drop offs, undercuts, holes and caves. Some of the caves cut right through the point. There are even blowholes of 8-10 metres in length that are big enough to swim through in very calm weather.
Althorpe Is
25M
This dive is apparently not as good as Haystack Island, but it has more seals and large blue groper. The south side cliffs drops to rocky bottom with lots of fish and many caves and gutters. The area is very weather exposed.
Seal Cove, Althorpes Island
8-15M
The island also contains a fairly narrow cove that is home to a huge seal population. This is a
great dive to finish of a cylinder. The seals here are used to divers, and are playful. There are more than 150 seals. There are also two of the biggest, friendliest groupers in the area, that live in this cove. Will quite often let divers pat them.
CD's Bommie
12-35M
Some distance from Althorpes Island a big bommie is found and is popular with local charter vessels. It starts at 32metres, and approaches within 12metres of the surface. The bommie has very diverse fish life in huge quantities, Blue Grouper, Blue Devils, Bullseyes, Snapper, Boarfish. The rock walls also contain plenty of animals to photograph including Gorgonian Fans, sponges, and soft corals.
Wreck of the "Willyame"
1-5M
This wreck is visible 500m from the shore with the steering quadrant enticingly exposed at low water. The rest of her is pretty intact and well worth a look for the wreck enthusiast. She almost looks like an easy shore dive, but it's a long swim in full gear and you have to be alert for strong currents. The wreck is mostly done as a boat dive just to finish off a tank. The "Willyame" was built in the U.K. in 1897 and is a large steel steamer of 325.5ft in length and 2705 tons displacement. She was considered one of the finest colliers in Australia in her day. In 1907, she was sailing along and basically lost. The skipper thought he was close to Kangaroo Is rather than Yorke Peninsula and accidentally ran her on to the limestone reef.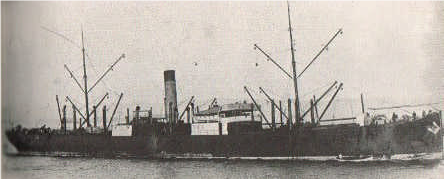 Rhino Head
10-15m
This limestone reefs around the head offer a variety of diving on low caves and undercuts filled with gorgonia, sponge and a variety of other marine life.
Hole In The Wall/ The Gap,  Marion Bay
10-15M
The "Hole in the Wall" is a cave set back into the limestone reef. The Hole in the Wall consists of a big cave 40 metres wide that goes back about 70 metres under the reef. The cave has a sandy bottom, and the walls are covered in sponges, gorgonia's and other soft corals. A torch is needed and there are a couple of tight squeezes that shouldn't be attempted by newer divers. "The Gap" lies about 100 metres away and they can be dived on one tank.  Blue Grouper, Blue Devils, Wobbegongs, and other fish life are common in the area. The area is is reached by boat from Marion Bay or Pondalowie Bay.
The Gap Marion Bay
10-15M
The Gap is a popular tourist landmark in Innes National Park.  There are a number of interesting caves on this boulder reef, including one over 50 m long and a torch is needed. The Gap can be a very exciting dive, but only in low swells. Its easy to get disoriented in the Gap, as the tunnels lead in almost a complete circle. The walls are home to blue grouper, blue devils, sweep, morwong, boarfish, bullseyes, wobbegongs and other fish.
Haystack Is
15m
This island offers excellent above water scenery consisting of towering cliffs , with the shallow ledges being home to numerous seals. Underwater there are plenty of crevices and ledges visited by seals, large blue grouper, Blue Devils, and plenty of other fish species. The area is very exposed and the currents can be strong..
Haystack Reef
18-22M
A reef wall runs parallel to the island about 500 metres offshore. It is about a kilometre long and can be up to 10 metres high. There are a variety of rock formations including caves along the wall. Rays and seals are encountered along with big schools of a variety of fish. The sponge and soft coral life is very colourful and prolific. The area is affected by strong currents at times.
Chinaman's Hat, Stenhouse Bay
12-15M
Chinaman's Hat Island lies about 3 kilometres from Stenhouse Bay township. It is quite a long walk from the car park to the beach and then a taxing snorkel out to the visible reef circling the island. There are plenty of swim throughs and caves with plenty of smaller fish. The best time to dive it is during a northerly wind during low swells.
Stenhouse Bay Jetty
9 metres
The pylons are home to colourful marine life and there is a low reef underneath the jetty towards the end. This jetty dive is slightly novel with the remains of the steel barque "Hougomont" lying between the sea end of the breakwater and the jetty. The four-masted barque Hougomont was built in 1897 in Scotland and was 292.4 feet (89.1 m) long and  2378 gross tons. In April 1932 she was west-south-west of Kangaroo in ballast and bound for Port Lincoln to load wheat. A gale sprang up and wrecked her rigging. She limped into Port Adelaide a write off. After stripping the vessel of its fittings, the barque was towed to Stenhouse Bay and sunk with explosives to provide a breakwater for vessels loading gypsum at the wharf. Only the decks and rails were initially above the water, but she quickly fell apart. Today the bow and stern sections still stand upright among a jumble of plates.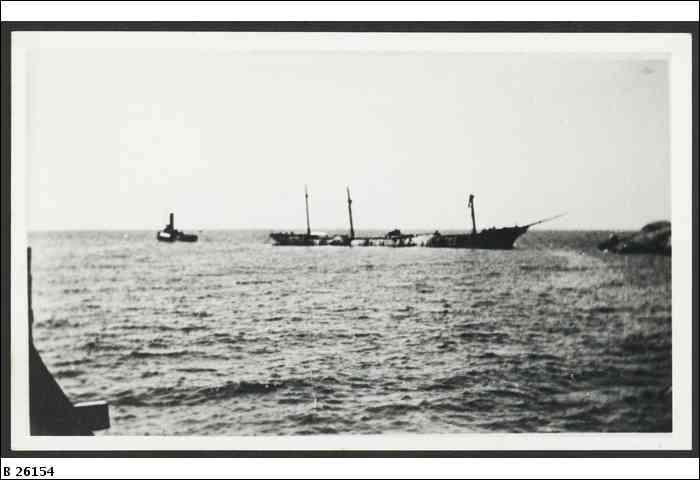 Port Victoria jetty
4-6M
This old jetty was once important grain port for sailing ships. Being only 2 hrs from Adelaide she is often picked as an easy training dive or night dive. She is popular when the weather has blown out other sites further south. The sandy bottom is home to plenty of small marine life including numerous blue-ringed octopus. Entry is pretty easy from many spots on the jetty, which is also popular with fishermen.
Wardang Island
2-8 m
This generally shallow island, about 11 Kms from the boat ramp at Port Victoria, is mainly for those who like their wrecks with several historic vessels being lost on the island. The main wrecks are the "Songvaar", "Moorara","Australian", "MacIntyre", "Monarch", and "Investigator". All the wrecks have good fish life, but only two have very substantial remains. You can also explore rocky reefs and visit a sea lion colony at White Rock, at the northern end. Nearby Goose Island is an aquatic reserve. A permit is needed to walk on the island which is Aboriginal land.
The Songvaar
6m-10M
WGS84 – 34.27.766    137.23.145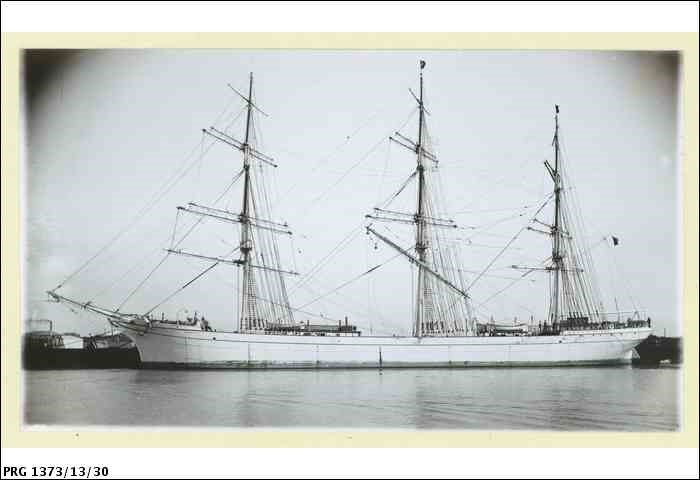 This 2134 ton iron ship was built in Stockton in the U.K. as the 'Barcore', then sold in 1909 to Norway and renamed 'Songvaar'. In 1912 she was taking shelter at Port Victoria. She was turned around by the current and sat on her own anchor on a falling tide while the crew where enjoying themselves in Port Victoria. She sank on northern end of Island in only 10 metres of water, with the offending anchor still visible and embedded in her hull. Visibility at the site is dependent on the current. She is visited by plenty of snapper, cuttlefish and other marine life that now call the ship their home.
The Wreck of the "Australian"
8m
This 352 ton steamship sank in 1912, after it ran aground on the south eastern corner of Wardang Island. There is limited growth on the wreck due to surge in the surrounding area making the wreck extremely visible. The wreck has plenty of marine life, including sweep, silver drummer and leatherjackets.
Wrecks of the "Notre Dame D'Arvour" and the "Aagot"
These two wrecks have few visible remains, but some interesting items can be seen in snorkelling depths and are exposed at low water on the western side close to the rocks.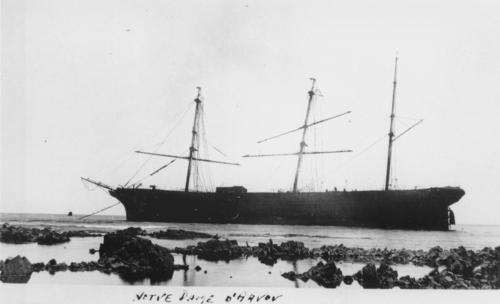 Wreck of the "Moorara"
3-4m
34 30'49″    138 03'43″
This 33.8m long motor vessel was built in 1909 as a Murray River barge. It was later converted into a small coastal freighter and used to bring supplies to the Aboriginal settlement on Wardang Island. The "Moorara" sank in 1975 on the sandy bottom near Wardang Island. It is now the most complete Murray River barge wreck in the State. The wreck is regularly patrolled by Snapper, Whiting, Snook, Garfish, dusky morwong, razorfish, silver drummer, blue crabs, cuttlefish, old wives and Tommy Ruffs (Australian Herring).
Tipara Reef
8-9 metres
The seas north of Wardang Island are generally shallow and uninviting for divers. Bad weather often leads to very poor visibility. A good dive can be found on a reef 14 kilometres out to sea from Moonta called Tipara Reef. The reef lies just one metre below the surface and at low tide a few patches of rock are exposed. In 1877, this dangerous reef was marked by a lighthouse, but that has since been dismantled although there are some remains that are now only a cormorant roost.  The reef on the seaward side is a pretty rocky weedy-covered bottom of uniform depth  that terminates in a low wall along a north-south orientation. Trevally, Old Wife, Sweep, Eagle Rays, Blue Devil and Mullet are abundant on the ocean side on the reef. Boats can launch from Port Victoria.
Wreck of the "San Miguel"
2-5M
In 1865, the iron 535 ton barque "San Miguel" was heading to Wallaroo to load ore. The captain mistakenly believed that the lightship that once marked the centre of the reef was marking the southern side of the foul ground. He cut too close to the lightship and ran onto Tipara Reef. A storm broke her up after a 7 day storm, before she could be refloated. The cargo of 959 bags of copper, stores, bricks, hay and mining materials was lost. Now the wreck is a time capsule for this interesting mining era. Cabin fittings and bottles are strewn around the wreck, which lies 400 metres SW of the remains of the old light on the reef edge. She is also home to lots of marine life.
Pt Hughes Jetty
7m
This long modern jetty is a maze of marine life covered pylons that provides a good dive, day or night. She has a lot of colourful life to photograph and admire and is noted for sponges, unusual soft corals and ascidians. The Port Hughes jetty has entry steps for divers and is often very sheltered.
Wallaroo Jetty
This modern loading terminal is a key shipping centre for wheat. This town is the largest centre on the peninsula with lots of good services nearby. The jetty is a bad weather alternative with lots of life including, nudibranchs, gorgonia and globe fish. The most colourful life is on the wharf tyres.
Pt Turton
This small fishing port offers a good boat ramp and a long jetty for diving in bad weather. At times there are lots of fish around small rocky outcrops under the jetty.

Wedge Is, Shark Cove,
25 metres
This island is the largest in the Gambier Group. The island is low in the north and 202 metres high in the south. It has spectacular 150 metre high cliffs on the NE side. Shark Cove is a 100 metre long indentation in these cliffs. Underwater a narrow ledge 6 m wide surrounds 2/3rds of the cove with long undercuts and vertical walls. There is seagrass on the bottom and kelp patches on boulders near the cliffs. The area is often visited by seals, but fish life is relatively poor. There are still plenty of Old Wife, Blue Devils, Leafy Seadragons and Blue Groper. The rocks have colourful growths including yellow zoanthids, soft corals, gorgonia and sponges. On the Northern part of the cove there is a small cavern on the cliff face visible above water. Below this extends into a wide tunnel penetrating the North Point and opening out into the sea. Just to the right of the cave at 3 metres there is an air pocket just large enough to get your head into. Divers should presume this is full of stale air and not remove their regulators. The island is accessible from Pondalowie Bay, but the location is exposed and remote.
Wedge Is, West Bay
10-25 metres
In places the bay offers sheer walls and deep ledge. On the South Side of West Bay there are moderately large boulders covered in low weed. The crevices are home to sponges, nudibranchs, small gorgonia, zoanthids, soft corals, Horseshoe Leatherjackets, Blue Groper, Blue Devils, Leafy sea dragons, stingrays, and some Spotted Catsharks. Spectacular diving, but because of the distance, you need to pick your day, and have a big boat to do it.