South West Victoria
After the hustle of Melbourne and its well-trodden surrounds, the quiet and relatively undeveloped coast of South West Victoria is a welcome break.
It is often quite a challenging area to dive, thanks to the unpredictable swell and shallow foreshore depths. It also doesn't break any clear visibility records. So why bother? There are still compelling reasons to try it out.  It's stormy still coast offers plenty of reef diving opportunities, with fabulous onshore attractions for the poor weather days. The coast has an untamed country feel, with locals that are friendly and helpful.
Despite the generally high energy, exposed nature of the coast, snorkellers and divers can find plenty of interesting quiet coves along the coast to poke around in, even in moderately poor weather. In many spots, a fringe of exposed limestone reef creates a barrier against the waves and leaves a narrow and shallow area of inshore reef that is relatively protected. Sometimes this is very stirred up after heavy weather with moderate to poor visibility. It boasts luxurious seaweed gardens and often poor fish life. There is still plenty of interest, with most locals being mainly obsessed with catching crays and abalone, still relatively common on this productive and rarely dived coastline.
The coast also has arguably the nation's most compelling coastal scenery. The Twelve Apostles Marine Protected Area is world class. It offers a good mix of spectacular if well-trodden tourist icons, as well as sleepy coves and adventure walks and dives.
Deeper reef diving still exists, especially on the Port Campbell wrecks and at the Portland capes, but it requires excellent weather and access to a sound boat and a trusted buddy or two. Services for tourist divers are thin on the ground. Bring a big group with you and then you can be sure of access to a charter boat when you need it.
Divers and snorkellers can expect a mean surface water temperature that varies seasonally between 14 °C and 18 °C. The coastline faces south towards the wild storms and south-westerly swells of the Southern Ocean. The West Wind Drift causes an easterly current but it isn't noticeable onshore. Dives are not usually current affected. 5-7mm wetsuits are common and easy to use if you are only cray hunting in the shallow.
The marine life to be seen is similar to the rest of Victoria. The Otway bioregion includes the eastern end of the Surf Coast, Great Ocean Road and all of south western Victoria. However, the South West coast is a particularly open and high energy section that faces directly into the prevailing south westerly swells. Variety in the marine life between sites is mainly influenced by the site depth and shelter provided by the geology of the site.
The subtidal reefs of the region are predominantly limestone, cut with sandy gutters and covered with thick brown algae. Subtidal rocky reefs along the coast can extend up to three kilometres offshore and have a variety of forms, providing a range of habitats. Some reefs consist of rock platforms with shallow fissures, gutters or small rounded boulders. Others have steeply sloping ridges with narrow crevasses or wide sand-filled gutters. Shallow reefs are covered with a diverse range of red, brown and green algae, and deeper reefs with kelp, red algae and encrusting coralline algae. If you fancy seaweed gardens, this is the place to go and the algae is often more colourful and diverse than the fish life.
Subtidal reefs are habitat for a many invertebrates, including sponges, bryozoans, gorgonians, hydroids and a variety of molluscs. The marine life is similar to the more sheltered coast east of Cape Otway, but showing more influence from the heavy swells. Currents flowing westwards from South Australia and the Great Australian Bight also bring in different species.
To the east of Point Ronald, near Cape Otway, the shoreline is dominated by dune-backed sandy beaches and bays between small promontories. The area mostly has a sandy sea floor, although there are several subtidal reefs.
The geology of the coast further west of Point Ronald starts to explode with items of interest. The area near the Twelve Apostles is dominated by the 60 metre high limestone cliffs of the Port Campbell Coast. Over time, softer limestone has progressively eroded, creating rugged rock stacks, caves, arches, tunnels and blowholes. The headlands are constantly being undermined and reshaped by the swell. This section of coast boasts some of the world's most dramatic and popular coastal landforms. A view of the Twelve Apostles is well worth the trip. Better still do it from a boat, just before diving on some of Australia's most interesting historic shipwrecks.
As the Great Ocean Road ends, the coastline changes again, this time its shallow limestone reef and sandy beaches backed by dairy cows and cheese factories. Warrnambool is a large urban centre and good base for explorations, with dive shop services and also a good range of sites including shore dives on sheltered low rocky reef.
Portland lies at the South Australian end of the coast and is very close to the Bonnie Upwelling. This swirl of plankton-rich colder water runs up from the Southern Ocean depths from December to May. It can sometimes spoil site visibility, but it also brings a phenomenal amount of wildlife into the area, with the chance of a unique wildlife encounter. Offshore waters are renowned for Blue Whale sightings, school fish, seabird encounters and enormous pods of dolphins. An offshore charter is as likely to be memorable for the above-water wildlife as any diving.
If the weather is very poor, just skip over the border and dive the freshwater springs at Mount Gambier, or if you are well-prepared and trained, some of the world's best sinkhole diving.
There are some diving services on this part of the coast, but like every area in Australia dive services have been contracting. Turning up on your own isn't the best way to sample the area. Air fills are available but charters are geared for larger groups, and limited to one or two boat charter operators. Tank fills can be obtained at the major coastal centres like Portland, Port Fairy and Warrnambool. There are few good access points for private boats away from major towns, with most ramps often being glorified beach launches. There are formed boat access points at Bay of Islands –Boat Bay (perhaps the steepest and most spectacular boat ramp in the world), Warrnambool, Port Fairy (from the Moyne River), and Portland. Charters specifically advertising for divers are available at Port Campbell for group bookings.
Wreck of the "Fiji"
3-7m
GPS (WGS84)38 45.75 143 13.50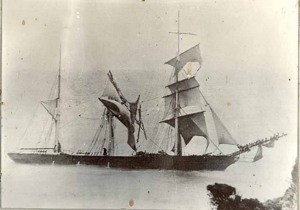 This site is in a very exposed position and can usually only be dived during moderate northerlies and low swells. She is 20 miles from a safe harbour at Port Campbell if the weather changes.
The "Fiji" was a 70M long three masted iron barque built in Belfast vessel The "Fiji" left Hamburg in 1891 bound for Melbourne with a general cargo including 260 cases of dynamite and 400 German built pianos. In the early hours of Sunday, 6th September, the "Fiji" was under full sail when the crashing of breakers was heard. Despite steering away, strong winds were propelling the "Fiji" toward a rocky reef near Moonlight Head. Huge sea crashed over the vessel, washing away many of the crew and smashing the lifeboats. Rocket gear was brought to the cliffs above the wreck site but the bosun's chair had been left behind so the local photographer could fit his equipment into the cart. Eleven of the 26 crew drowned along with one rescuer. Organised bands of looters soon arrived. A custom's officer trying to prevent cargo from being stolen was assaulted and thrown over a steep cliff. The wreck rapidly disintegrated.
The wreck lies 50 to 70 meters from Wreck Beach at Moonlight Head in a sandy gully among sandstone boulders. The wreckage is spread over a distance of 70 meters. The bow points towards the shore and is flanked on one side by a large boulder, which is visible from the surface. Remains include the ship's bow, two anchors, chains, two winches, hawse pipes, flooring, bilge frames, hull plating and rudder plating. The ship's cargo lies in two main mounds. One mound near midships is dominated by pig iron and wire coil. The other mound in the bow includes bricks and wire coils.
per DEH
Offshore Moonlight Reefs
30-40M
Up to one kilometre offshore at Moonlight Head, it is reported that there are small basalt reefs surrounded by sand. They were home to dense algal communities dominated by Ecklonia radiata with an understorey of small red and brown algae. The reefs were dominated by sponges along with some ascidians, bryozoans, brittle stars and sea whips. Blue throated wrasse Notolabrus tetricus dominate the generally poor fish life.
Twelve Apostles Marine National Park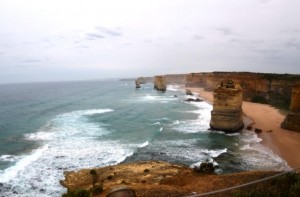 The pillars of the Twelve Apostles are one of Australia's most popular tourist attractions and are some of the most spectacular coastal formations in the world. The coastline adjacent to these natural monuments has been protected in a 7500ha and 17km long marine park.
The offshore area is rarely visited by divers as it is very exposed. There is very little viable shore access and it is quite a distance from safe anchorages. Only charter boats can be launched from Port Campbell jetty using a crane mounted on the jetty. A "ramp" exists at the Bay of Islands (Boat Bay), but it's the steepest and most scenic boat ramp in the world hemmed in by shallow reefs. It is more tourist attraction than viable launching point, although experienced locals do use it occasionally.
It is possible to snorkel or dive from the shore in the shallows at places like Loch Ard Gorge or Boat Bay. This can only be attempted in good weather. The subtidal reefs and soft sediments are the remnants of an ancient eroding coastline. Underwater the shoreline is a mixture of sand and generally shallow limestone rocky reef close to the shore. The low limestone reefs get a pounding from the swell. Extremely diverse red, brown and green algae cover exists at 5-10 m depth on heavy calcarenite (limestone) reef with sharp steeply sloping ridges and narrow crevasses. The more sheltered bays and crevices along the foreshore area boast small kelp forests and colourful sponge gardens. Fish life tends to be poor inshore.
Offshore there are deep locations with spectacular arches, canyons, fissures and gutters, small rounded boulders and steeply sloping ridges. On deeper (20 m) lime stone reefs there are wide sand-filled gutters, with the reef dominated by a moderately dense Ecklonia radiata (strapweed) cover with a red algae understorey. Over 30m the bottom is dominated by red algae.
There are usually not too many smaller animals to see on the lower profile reefs, both inshore or offshore from, only occasional solitary sea squirts or sponges, due to the big seas in the area. Only the sheltered and deeper cracks and crevices host bryozoans and many species of sponge.
Wreck of the "Loch Ard"
10-25m
GPS- 38 39.06 143 4.30 (WGS84)38.651000/143.071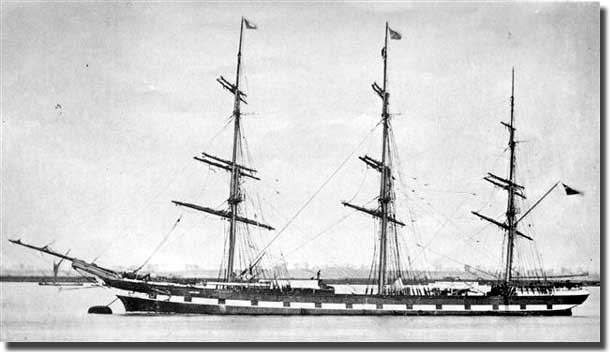 This 80m long square rigged iron sailing ship was built in 1873.The "Loch Ard" was on her fourth voyage to Australia, bound for Melbourne loaded with passengers and cargo, when she went aground in fog off Mutton Bird Island. Of the 54 crew and passengers on board, only two survived.
The bow can be identified at 10 meters, lying on its port side. The bowsprit is jammed under a rock. A large section of the hull lies concreted to a collection of railway iron. At 15 meters, rolls of lead and zinc, copper plating, and numerous small artefacts can be seen. There are plenty of reef fish and rock lobsters to see. The scenery on the way out and back is worth the cost of the boat on its own.
Diving on the "Loch Ard" requires calm conditions and a very low swell. The best time to dive the wreck is March, April and May. A permit is required, so contact the charter operators for details. One operator will take groups of six from Port Campbell by appointment. The Warrnambool Dive club also occasionally visits the area.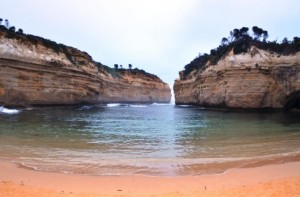 Thunder Cave
20m
There are an unknown number of sea caves in the area. Most are so shallow they are often dry and are even used by nesting little penguins. The idea would be to pick a day of absolutely perfect weather and look for spots that have enough depth in them to allow safe access by divers.
Diving in restricted blowhole type sea caves is generally not a clever idea as a huge jet of water pushed through a small passage is usually a fatal combination for any diver caught there. This dangerous dive has been attempted by a few but only on flat absolutely mirror calm days of no swell, which are very rare on this coast.
Even the sound waves from a modest swell breaking in the caves will prevent diving. A series of sea caves have been explored around Loch Ard Gorge and include Thunder Cave, which extends into the cliff face for around 100 m. The collapsed roof makes it into an archway as much as a cave. The cave has a popular tourist lookout above. In the back of the cave it ends in a blowhole that is part of a local tourist attraction. The tourist blowhole is only one of a system of tunnels. One to the north east opens out into a cavern that is 50m long and 40m wide and 20m high. There is also an air pocket cavern with a small beach. A fascinating feature, but only on the few days each year of exceptional weather.
The Arches
19 to 25m
The small Arches Marine Sanctuary protects a popular dive reef often visited on the way back from the "Loch Ard" wreck site. The 45ha reserves covers limestone reef that has been sculpted by the heavy swell into canyons, caves, arches and walls. The reef is adorned with many types of seaweed with Ecklonia radiata dominating. Due to the shaded nature of the caves created by the underwater arches, animals more often found in the deeper waters of Bass Strait can be seen including gorgonians, sponges, bryozoans and hydroids. The upper side of these structures are covered in the thick, brown kelp with an understory of delicate red algae. These habitats support schools of reef fish, seals and a range of invertebrates such as lobster, abalone and sea urchins.
Pt Campbell reefs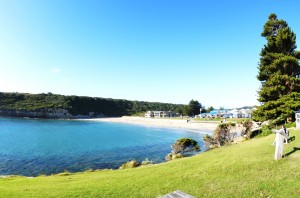 Hundreds of hidden reefs are located off this section of coastline. Depths vary from 15-25 m, and the terrain consists of gutters, caves, ledges and pinnacles. Pretty sponge gardens and fields of kelp cover the bottom. Divers usually see Port Jackson sharks, pike, sweep, morwong, boarfish, rock lobsters, snapper, leatherjackets, perch, ling cod and an interesting variety of invertebrate life.
Port Campbell jetty
2-12M
The inlet at Port Campbell offers easy reef access and shelter from the swell. It doesn't hurt that there is a nice hotel overlooking the bay for a post-dive beer or wine. Entry can be made off the pier ladder, or from the beach. It isn't deep here and would also suit a family snorkel. The seaweed is very interesting and diverse, but fish are sparse. Out further in the bay are the overgrown remains of old moorings made from engine blocks and gearboxes. The western shoreline offers some slightly deeper reefs and it also deepens closer to the entrance, where there is also more swell. In deeper areas there are the usual Bass Strait fish including wrasse, herring cale, sweep and schools of Bastard Trumpeter. Fish life isn't very diverse and you should expect 3m visibility on average.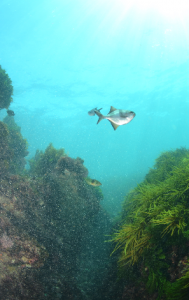 Wreck of the "Napier"
The small steamship "Napier" was engaged to salvage the wreck of the "Loch Ard", but came to grief while entering Port Campbell inlet. Swell forced the vessel onto rocks on western wall of bay opposite the jetty. She was considered salvageable but was torn apart by another gale. Look along the shore for an overgrown boiler. Not much remains of her but the boiler and a winch. A plaque describing the wreck can be seen near the pier at the rocket shed.
Wreck of the "Schomberg"
3-9m
(WGS84)-38 37.00 142 53.18
This three masted wooden ship was built in Aberdeen for James Baine's Black Ball Line as a fast and luxurious immigrant ship. In 1855, the "Schomberg" was on its maiden voyage from to Australia. Only a day's sailing from Port Phillip Bay, the "Schomberg" was sailing close to the coast in light winds when the winds failed and she drifted onto an uncharted sandspit at Peterborough. Captain "Bully" Forbes, was accused of neglect of duty which couldn't be proved although he was playing cards with two female passengers when the "Schomberg" ran aground. By the time he came up on deck and gave orders it was too late.
The remains of the "Schomberg" now lie southeast of Schomberg rock off Peterborough. The wreck runs north south along a reef, with its bow to the north. The site is badly broken up and heavily concreted with only railway iron usually noticeable in the thick kelp. Plenty of reef fish now inhabit the wreck.
Southerly and south-easterly winds expose the wreck to dangerous swells. It is safer after a period of northerly weather. Launches can be made at the Port Campbell Beach Ramp, or by 4WD at the very steep Bay of Islands boat ramp near Peterborough. A permit is required to dive the site.
Peterborough – Wild Dog Cove
This small town is surrounded by shallow reefs and bays that are reasonably sheltered and accessible, making it one of the better onshore diving spots on the Victorian West Coast. The weed-covered reefs have crevices that shelter colourful invertebrate life, as well as being home to plenty of reef fish like leatherjackets, wrasse, morwong, wobbegongs, Port Jackson sharks, and blue devilfish.
There are good shore dives and snorkels at Peterborough on the relatively protected shallows along the cliffs behind the golf course in Wild Dog Cove. Wild Dog Cove is a 500 m wide bay on the western side of Peterborough. It is a south facing bay, backed by 10 m high red limestone cliffs, with a shallow bay floor dominated protected by offshore limestone reefs. The bay has four small beaches on the eastern side of the bay and one longer beach receiving low to often calm waves, particularly at low tide. Access to each is by steps or a climb down the bluffs from the Great Ocean Road. Great for family picnics and snorkelling among the weed gardens in calm weather.

The Wreck of the "Falls of Halladale"
14m
(WGS84) 38 36.50 142 51.50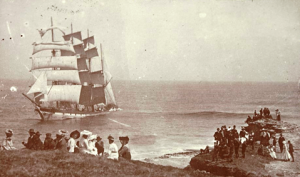 The Falls of Halladale 80M long four masted iron barque built in Glasgow. On the 4th August 1908, the falls of Halladale left New York with the general cargo including 500 sewing machines, plumbing iron, 6,500 gallons of oil, 14,400 gallons of gasoline, glassware and slate tiles.
The Falls of Halladale neared the southern Victorian coastline during a mist. As the fog lifted, the crew found themselves with full sails set and only a few hundred meters from the shore-heading straight for the rocks. An eyewitness said, "the ship seemed to leap from the water" as it hit the rocks. The crew and Captain had all made it safely to shore. The Falls of Halladale sat wedged firmly between two reefs for two months with her canvas set before breaking up.
The remains of the Falls of Halladale lie approximately 300 meters off Wreck Point, at Curdies point near Peterborough. The bow face towards the north and the wreckage extends out to sea for approximately 95-100meters. The Port side of the vessel is upright with five to six meters of hull at the bow and three meters to the stern. The starboard side is flattened. The scattered beams and plates provide a perfect home for many reef fish. Some slate and coiled wire cargo can be seen along with large iron anchors, bollards, deck supports and iron knees.
A 4WD is needed for the steep ramp at the Bay of Islands, otherwise, launch at Port Campbell. The site breaks in all but the calmest conditions and must be dived during periods of low swell and northerly winds.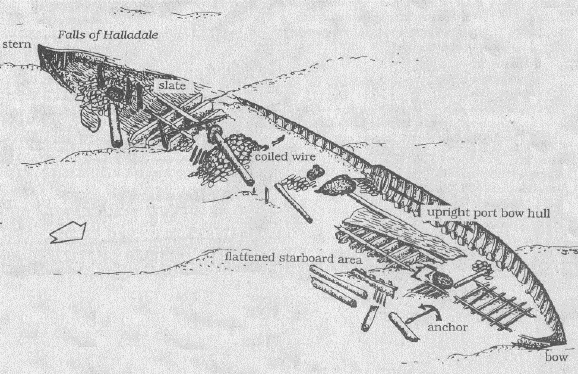 per DEH
Crofts Bay
Crofts Bay lies 4 km west of Peterborough. There are car parks off the road in the centre and at the western end of the bay. The western car park has steps down the bluff to the beach. The beach faces south and is protected by extensive reefs extending up to 1 km offshore. These reduce the waves at the beach. There are a few rocks along the beach and reefs that are exposed at low tide. Worth a snorkel.
Boat Bay
2-4M
This site within shelter of offshore reefs is very protected, but also very shallow. It boasts very lush vegetation and poor fish life.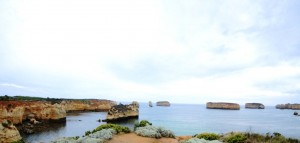 Warrnambool
Wreck of the "Edinburgh Castle"
5m
(WGS84) -38 24.15 142 29.58
In 1888, the three masted iron barque "Edinburgh Castle" was to deliver a cargo of 4,900 barrels of concrete for construction of the Warrnambool breakwater. When "Edinburgh Castle" was less than two kilometres from its destination a squall blew-up, driving her too close to shore. Anchors were dropped, but all attempts to turn around failed. "Edinburgh Castle" drifted sideways onto the beach where she broke up.
The Edinburgh Castle was wrecked in 1888 near the mouth of the Hopkins River in Lady Bay. The remains of the ship were scattered in the surf and the site is now buried, but occasionally becomes exposed after rough weather. Perhaps worth a snorkel after a spell of stormy weather.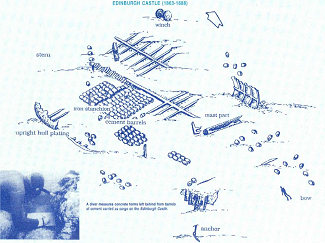 per DEH
The Banks
10-30m
GPS: S 38 25.648 E 142 29.440
The Banks are located directly off the Hopkins River and another off Stingray Bay, have several large drop-offs. A flat sea is needed to dive in these areas. They fall in two or three steps of 10 metres each.
The Breakwater
3-9M
This easy dive along the concrete breakwater offers lots of small invertebrate life as well as pipefish, sea stars, boxfish, sweep, wrasse, gobies and blennies.
Breakwater Rock
5m
These reefs are located at the southeast of the Merri sanctuary near Breakwater Rock along the 5 m depth contour. The reef here is continuous and slightly undulating with plenty of fish and small invertebrates.
Wreck of the "La Bella"
13-15 metres
GPS: S 38 24.220 E 142 29.14
The Norwegian-built barquentine "La Bella"was approaching Warrnambool with a cargo of timber from Kaipara, New Zealand. On November 1905, in heavy seas and mist she ran aground on what is now known as La Bella Reef, just off the Warrnambool breakwater. By sunrise only seven of the 12 crew still clung to the wreck. A local fisherman, William Ferrier rescued two of the crew, while the volunteer lifeboat crew rescued a further three before "La Bella" broke in half and sank. Divers did not find the wreck site until 1982. The wreck now home to an abundance of marine life. The wreck is in relatively good condition but does not contain a lot of artefacts
Helen's Rock
24M
This pinnacle rises almost breaks the surface, and is always surrounded by pelagic fish like kingfish, yellowtail and trevally. It is one of the better dives in the area.
Stingray Bay, Merri Marine Sanctuary
5-12 metres
GPS: S 38 24.165 E 142 28.406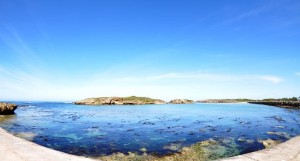 Merri Marine Sanctuary, located at the mouth of the Merri River in Warrnambool, covers 25ha of coast from the Breakwater to Thunder Point. This sheltered bay at the river mouth offers a shore dive in most weathers that is good for photography. The site offers kelp forests, swim throughs and a variety of fish and invertebrates. Fish include sea sweep, zebra fish, wrasse, marble cod, herring cale, Port Jackson shark, morwong, leatherjackets, perch and rays. It is particularly good for snorkelling. The visibility can be poor at times.
The dive site is near a popular family swimming beach. You can enter the dive site by going down the steps onto the swimming beach.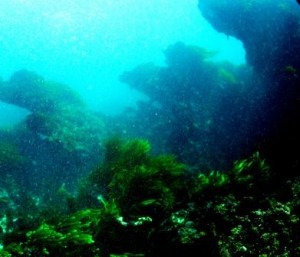 Pickering Point, Merri Marine Sanctuary
5m – 20m
On the Point just east of Thunder Point, Pickering Point is readily accessible, the bottom slopes gently from 5 metres in close to 20 metres at about 200 metres off shore. There are always plenty of reef fish and invertebrates
Pickering Point is particularly diverse and colourful and is accessible during low tides. Little Penguins roost and breed on the islands within the Sanctuary and hunt in and beyond the sanctuary for food to feed themselves and their chicks.
Middle Island, Merri Marine Sanctuary
5-15M
This large island at the mouth of Stingray Bay offers good diving on ledges and gutters often accessible from the shore. Between this island and the island to the north west, Merri Island, is a deep canyon packed with sea life. Such a diverse range of marine life can be found in the area because of the varying sandy and rocky habitats and cool, nutrient rich, oxygen charged waters. The site includes kelp forests and plenty of marine life. Overhangs and crevices provide excellent hiding spots for marine animals including Giant Cuttlefish, Draughtboard Sharks, Parrotfish, schools of Zebra Fish and Southern Rock Lobsters.
The reefs off Middle Island are usually reached by boat from the nearby breakwater. A great dive site, but can get very surgy and dangerous during heavy seas.
Thunder Point, Merri Marine Sanctuary
5-20m
GPS: S 38 23.974 E 142 27.798
Thunder Point offers an exposed and rugged seafloor. The gently sloping bottom depth goes from 5 metres at the shore to 20 metres about 150 metres off shore. The site can only be dived in very calm conditions.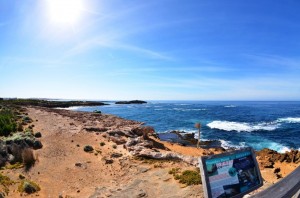 Eagle Rock
GPS: S 38 23.477 E 142 26.944
Eagle Rock is about 400 metres west of Thunder Point and has the most rugged terrain in the area. This area is rich in marine life. Very exposed
Port Fairy
Located 28 km west of Warrnambool, Port Fairy is a small holiday town with numerous shore and boat diving sites on rocky reefs. It has a good boat ramp in the protected waters of the Moyne River that gives access to the sea on a suitable day. It is shallower that surrounding areas and isn't as popular as Warrnambool or Portland
Pea Soup/South Beach
5M
This site is located south of the Port Fairy caravan park, just to the west of the "passage". Pea Soup is a rocky lagoon extremely popular with young families. This shallow bay is sheltered from the swell by a reef system a hundred meters from the shore. It's an easy dive for beginners and sheltered when other sites are blown out. To the east is south beach, similar, if ever so slightly deeper. Great for a family snorkel in suitable weather.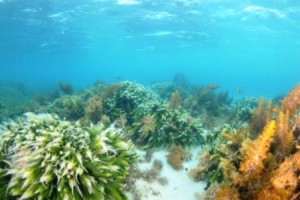 Griffiths Island
2-5M
This island is located on the edge of the Port Fairy township and is home to thousands of Shearwater birds and the historic Griffiths Island lighthouse. Moyne Shire Council and local conservation groups continue to improve public access across the island to minimise the trampling of indigenous vegetation and Shearwater nests. The island is easily accessed on foot via a causeway. Please stick to the tracks when walking on the island to avoid stepping on burrows. Diving from a boat can be had on low shallow reef around the island in good weather. It is a bit too far to lug a tank for a shore dive unless you are particularly fit, or bring a trolley to take advantage of the high quality walking tracks.
The Basin, Killarney
2-5M
The Killarney Beach turnoff provided access to some shallow sheltered beaches protected by offshore barrier reefs. The Basin involves taking a left turn near the beach and driving as far as you can go. The safe entry points provide dive and snorkel sites over lush seaweed beds. It is worth a look in poor weather.
Lady Julia Percy (Deen Maar) Island
A diver with a boat can organise a trip out to the remote Lady Julia Percy Island, which is home to over 5000 Australian fur seals as well as fairy penguins, birds of prey and has the largest Australian rookeries of fairy prions and diving petrels. There are many good dive sites around the island, but the island is rarely dived. It should be avoided during the summer seal pupping season as that can marginally raise the shark attack risk.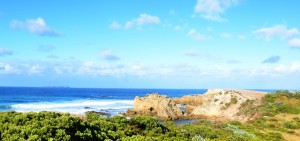 Portland
Portland is a deep-water port, 375 km from Melbourne, and has hundreds of possible dive sites. Many excellent shore and boat dives on reefs and wrecks are accessible off Portland. Portland also has a few relatively sheltered sites that can be dived in windy weather, something of a bonus on the usually very exposed Western Victorian coast. In the summer, unique upwellings offshore also attract lots of larger marine life. So encounters with dolphins and whales are not uncommon. The area can suffer from swells and poor visibility and is best dived after a period of northerly wind. Also check that they aren't dredging the harbour, something that also dirties the inshore harbour sites even in good weather.
Minerva Reef
3-5 metres
38° 17.11 S 141° 40.36 E
Another limestone reef where fossilised sharks teeth have previously been found. A good beginner's dive and easy shore dive.
Nargra Reef
13M
GPS: S38 18.230 E 141 39.150
This limestone reef has been eroded by the swell into a series of gutters and overhangs. Nudibranchs and gorgonian corals adorn the ledges along with a variety of fish species. The area is also noted for the fossilised Giant White Pointer Shark Characharadon Megalodon teeth that are occasionally found here.
Wreck of the "Saxon" and Saxon Reef
9-13M
GPS: S 38 18.892 E 141 37.422
This old fishing boat was sunk here to form an artificial dive reef. The "Saxon" is located in a sheltered bay. It is still relatively intact. The wreck has attracted sweep, weedfish, Leafy seadragons, wobbegongs, ling, cod, bullseyes, perch, morwong, boarfish and wrasse. The surrounding reef has interesting swim-throughs and overhangs.
Lighthouse Reef / Wreck of the "New Zealander"
5M
Right next to the breakwater lies a very sheltered beach that is popular for training dives, but is a nice poke around in its own right. Entry from either the foreshore car park at Nun's Beach and involves a stiff walk in full gear. This shore diving site offers a big sheltered reef that has quite a variety of marine life from the usual temperate species to more uncommon leafy seadragons, catsharks and even warty prowfish. White sand on the bottom makes it a clear and photogenic dive. The site has been marred by the harbour authority dumping dredge spoil on the nearby shoreline to make an artificial reef. Despite the loss of much of the habitat, it is still worthwhile.
There is also a prospect of seeing the 30 metre long old coal ship "New Zealander". She was allegedly set alight by crewmembers on December 16th 1853, after sailing to Portland from Liverpool. She was run aground after catching fire so that it would not endanger other vessels. The burning ship was towed to the Northern Bluff before it sank just below the Portland Lighthouse. The wreck is now largely buried but can be an interesting dive if storms have shifted the sands an exposed the wreck. Brass bolted timbers and ballast rock are noticeable artefacts on the site.
Nun's Bay
12M
The rocky reef off Nun's Beach offers an easier shore dive on scattered sections of reef in relatively sheltered waters. This area provides a good range of temperate marine fish including sweep, perch, morwong and leatherjackets. Smaller invertebrates can be seen in the cracks in the rocks. Leafy and weedy sea dragons have been found here from time to time. Mostly the dive is pretty shallow until you get well out into the bay.
Portland Lee Breakwater
3-14M
So you are trapped in Portland in poor weather and/or no boat. The easiest and most convenient shore dive is the breakwater. There are several harbour moles, but the dive site is the southern-most side of the southern-most breakwater near the tourist information centre. The area is swarming with anglers and there is a pretty obvious etiquette to driving and parking on the breakwater. Follow the local lead.
Any site where you can park within 5M of the entry point is great, but be careful as the rock wall is still steep and slippery. The rocky wall is covered a nice variety of seaweeds with plenty of temperate fish and small marine life. The weed is often sprinkled with sediment from port operations and an easterly swell stirs it up. The visibility is often from 2-5 metres depending on the day.
Fish species include senator wrasse, blue throated wrasse, scalyfin, goatfish, small crays, moonlighters, conger eels, the occasional seal and stingrays. There are also seagrass beds nearby that offer slightly different species, including the prospect of seeing a seadragon. Other odd sightings include rainbowfish.
The breakwater is also a good night diving site and is a great dive for beginners. At night penguins can often be seen on the breakwater. Beware of fishing line as it's a popular fishing spot.
Portland Bay Reef
10-15 M
This reef is 5 metres high and roughly circular in shape. Sea Dragons and crayfish can be seen as well as a variety of fish. The site is just outside the harbour entrance and can be affected by shipping movements.
Crumpet Beach
3-8M
There are rocks off either side of the beach. A road runs down the bluff to the beach where there is a car park and beach boat launching area. Shallow reef runs well offshore. Sheltered from westerly weather. There is a variety of smaller growth and fish life.
Wreck of the "Emily S"
18-24M
E141 40.324 S38 24.164
The "Emily S" was a 30M long fishing boat sunk north of the Lawrence Rocks in 1991, to form an artificial reef. The ship is still largely intact about 350 metres off the rock on the sheltered side. Divers can safely enter the wheelhouse and other parts of the wreck, which are covered in jewel anemones and sponges. There are also plenty of fish on the wreck.
Lawrence Rocks
5-45M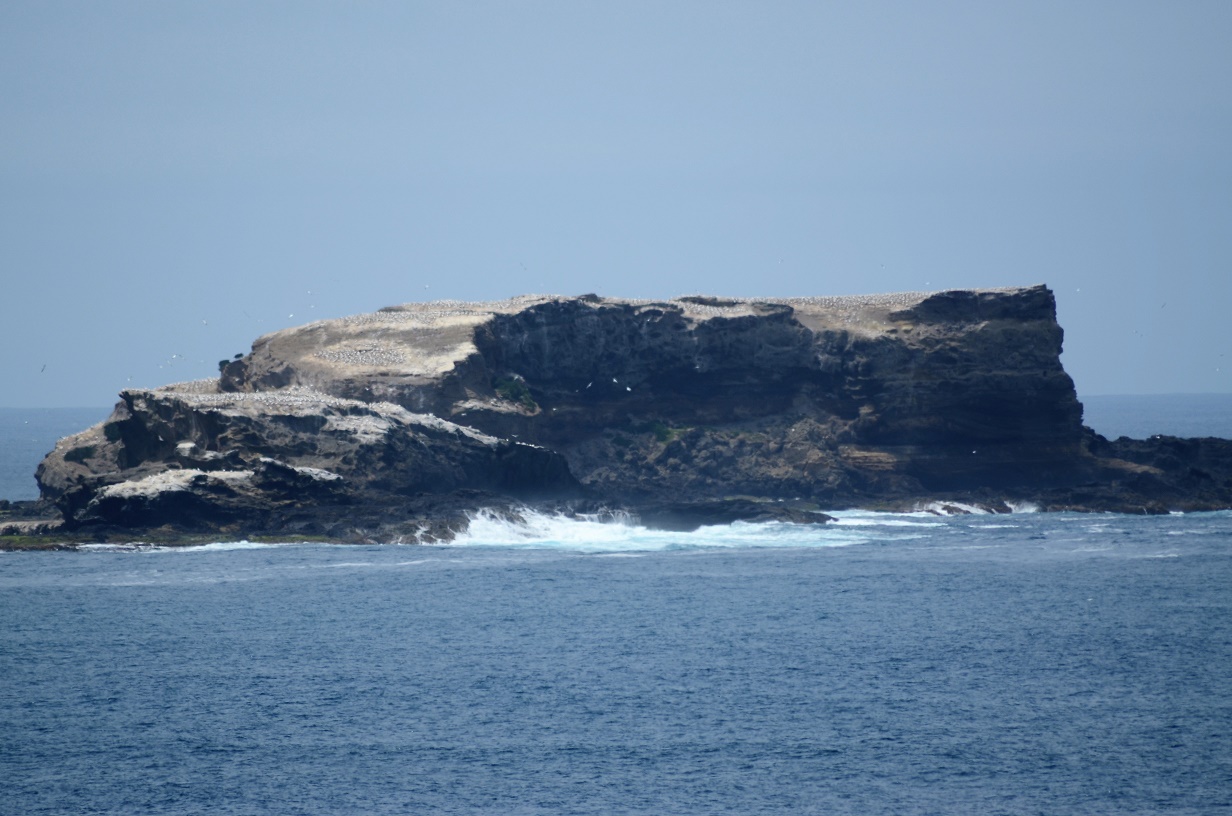 These rocks offer some great diving. In the more sheltered areas, a kelp forest lies in 5-12 m of water. The northern side rises from about 24 metres but the thin ledge around the island can drop into depths of as much as 45 m on each side, with 70M depths being found on the exposed side. These deeper reef sections are noted for colourful sponge gardens, big schools of pelagic fish and delicate invertebrate animals. A gully also cuts through the centre of the rocks, but can only be entered in very calm weather.
The area will take several dives to cover and local divers have several favourite spots. There are four large caves at 14 metres, one of which has a slot in the roof leading to a small chamber above known as The Cockpit. It can be entered by divers in suitable weather (GPS E 141 40.260 S 38 24.280). Another area is called "The Harbour" and is a series of gutters, ledges and swimthroughs in 7-18m that boasts prolific fish life. The south – west side has a cave shaped like an amphitheatre with a depth of 30 metres. A Gannet colony also occupies the rock and seals frequent the area.
Southwest Bay – Shark Alley
21M
This site consists of a large gutter usually filled with wobbegong and Port Jackson sharks. Schools of yellowtail, pike, whiting, mullet, morwong and perch also hover over the site. The gutter walls are covered in gorgonians, sponges, ascidians, bryozoans and zoanthids, sea stars, basket stars, nudibranchs and sea spiders.
The locals consider all the capes a "bit sharky" as a consequence of the nearby seals and intermittent sightings. The truth is that we face this risk everywhere, so take some basic precautions and just enjoy it.
The Quarry, Cape Grant
15M
This site offers weed-covered reef with big ledges and plenty of marine life right next to the alumina smelter. Road access to the quarry area has now been blocked off and it will have to be done as a boat dive.
Cape Nelson
6-36M
This area has over thirty individual dive sites. All have different and special features with good plant and animal life. The terrain is varied with swim-throughs, sandy areas and kelp forests. The remains of two unidentified wrecks under the lighthouse are currently being researched.
Diving in this area is a boat dive due to the sheer cliffs. On an exceptionally good day the visibility can be up to 30 metres with pure white sand on the edge of the kelp beds makes it a magnificent dive. The locals reckon the area is 'sharky', so be cautious rather than nervous.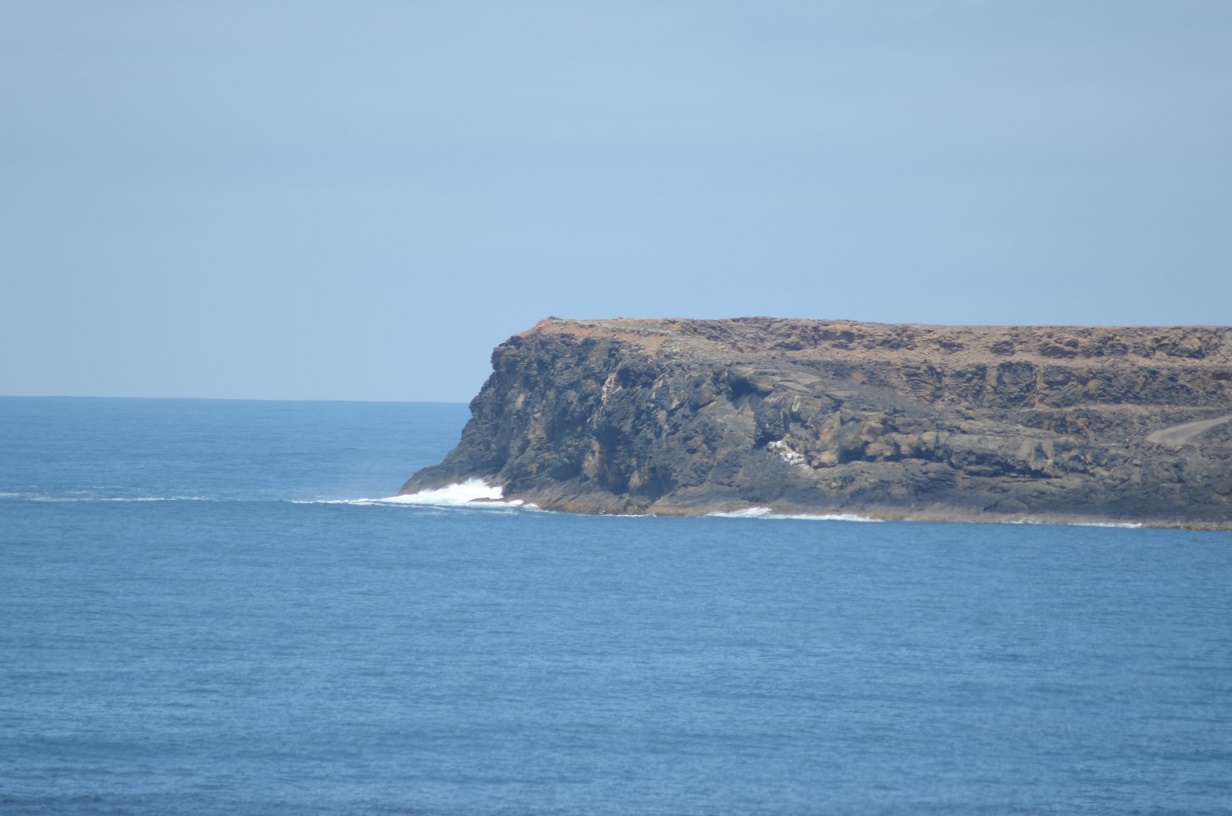 Yellow Rock, Cape Nelson
5-10M
This shore dive offers an easier entry from a beach to a reef section offering ledges and swim-throughs. The site has a good variety of temperate marine life. It is very exposed to southerly swell and is ordinarily a surf beach. A car park on the cliffs is well signposted and a short walk leads to a series of stairs. Walk in over the sea terrace when the swell is low and swim away from the surf zone. The reef is swell-scoured in close and improves as the water depth increases. Conserve your air for the trip back. The walk back up the cliffs to the car is very strenuous.
Capper's Camp
5-14M
This is a local 'secret spot' just short of the tip of Cape Nelson. It is accessed via a dirt track and a long and steep walk to the shoreline. It is mostly used by teenagers who jump off the cliffs into a foreshore limestone gutter to show how reckless youth can be, but you don't have to risk death. Wait instead for calm weather and, while you are waiting, go on a fitness program. The dive probably won't kill you but the climb might. Snorkelling or using a boat is probably easier. The site offers great seaweed, catsharks, shrimp, cuttlefish, octopus, nudibranchs, banded morwong, sea sweep, magpie perch, leatherjackets and wrasse.
Flat Rock, Cape Nelson
5 – 20M
This boat dive is very worthwhile with swim-throughs and ledges in the shallow areas and rock walls further out. The fish life is especially prolific. As a shore dive, be prepared for a very stiff climb back up the cliffs to the car park.
Devils Kitchen, Cape Nelson
3 – 15M
The towering limestone cliffs above water are worth the visit alone, but the fringing limestone reef also offers ledges, swim-throughs and a lot of fish life.
Snakes & Ladders, Cape Nelson
5 – 24M
This kelp-covered reef offers ledges and swim throughs with good marine life.
Horsehoe Reef/ Wreck of the S.S. "Barwon", Cape Bridgewater
2-5M
38°22'36.51″S 141°24'31.15″E
In good weather this shallow reef offers a pleasant snorkel or scuba dive with a luxuriant weed garden and lots of small marine life. It is now the base for the Cape Bridgewater seal tours so watch out for boats and tow a dive flag. A small boat can be launched from the beach or Portland. It is also a great snorkel dive, easily reached by a 15 Minute walk from the adjacent car park along the seal colony track.
The dive also includes the prospect of finding pieces of the 170ft long iron steamship S.S. "Barwon". She sank near here in 1871 after striking Wadmore's Rock off Cape Bridgewater during foggy weather. The passengers took to the boats while the crew attempted to run the vessel ashore. The ship foundered 200 metres off the beach. For a long time the remains of the vessel could be seen from the cliffs overlooking the bay as a dark patch, the only visible dark patch appears at these quoted coordinates, although she seems to be buried under sand.
Bridgewater Bay seal colony
12M-20M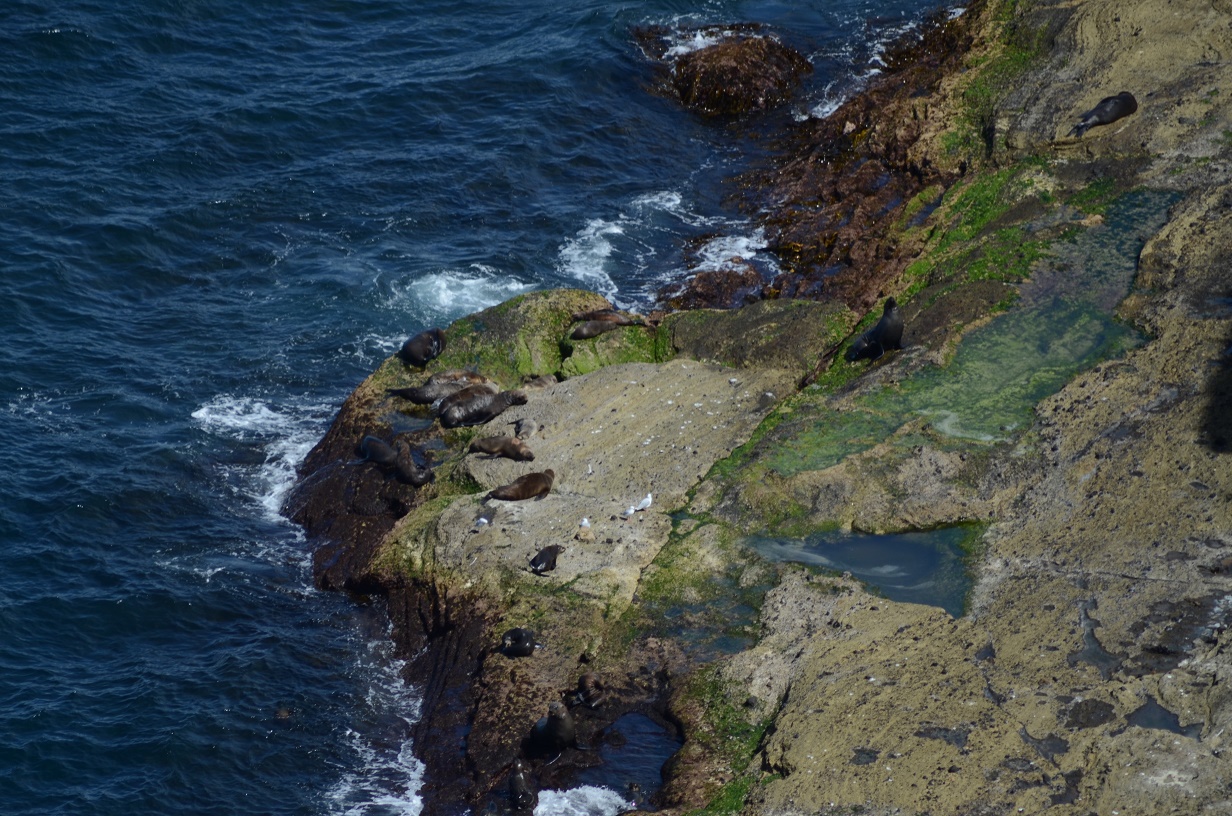 At the tip of the Cape there is a colony of Australian and NZ fur seals that have become a local tourist attraction. Seals are curious and will visit divers in the area. Expect to be charged by any territorial males near the colony itself, but this is usually just for bluff. The females will approach closely and are very curious.
This area is also home to kelp forests, swim throughs, undercuts and sandy areas, and makes a great dive. Catsharks, stingarees, flounder, leatherjackets and other reef fish are also common. As with all seal colony dives, you should be aware that having seals nearby also increases the risk of shark attack, especially during the October to January breeding season. Some precautions are worthwhile, such as not remaining on the surface for lengthy periods. Boats can be launched from the beach near the Life Saving Club. Watch out for the tour boat that regularly motors around the colony.