Southern Fleurieu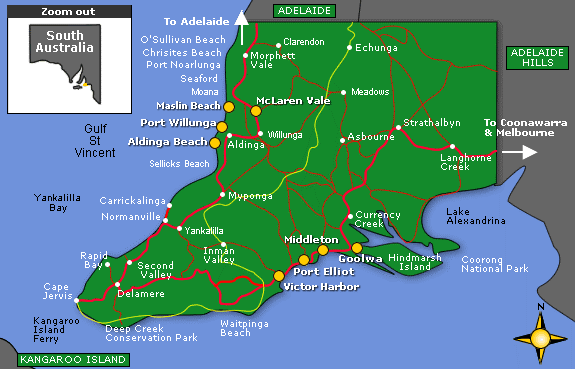 Aldinga Drop-off
5 m – 20 m
This is one of Adelaide's more spectacular dives. Aldinga Reef lies less than a kilometre from Aldinga Beach, but its far enough from the city to be in a class of its own as far as Adelaide metro diving is concerned. The reef is an aquatic reserve as it is a hotspot of biodiversity. It's a long flat and extensive limestone reef system surrounded by modestly deep water. The reef is silty in some deeper areas, but the visibility is often good as is the marine life. The 'drop-off' is a flat ledge in 5m that drops off sharply into 20m. Although close to the shore it takes about an hour to reach it from O'Sullivan's Beach boat ramp where many dive charters are based. Around the boulders or under the ledges there is a colourful array of sponges, ascidians, gorgonians, soft corals, bryozoans, sea stars, zoanthids and nudibranchs. The boulder slope is home cuttlefish, blue devilfish, morwong, boarfish, blue gropers, old wives, wobbegongs, octopi, perch, stingrays and scorpionfish. The upwelling casued by the topography of the drop-off tends to attract school fish with, kingfish, pike and sweep cruising along the edge of the drop-off. The Aldinga Reef system has a reputation for also attracting sharks when the snapper are running. Aldinga Reef not often dived, partly for this reason, but it is a very worthwhile dive, doubly so because the reserve status and low diving pressure has left the marine life largely free of human interference.
Snapper Point, Aldinga Reef
6m
This is the inshore end of the long Aldinga Reef and lies straight off the Aldinga Shopping Centre. To do it as a shore dive you will need to walk from the roadside down a low cliff on a rough track. It is an easy dive in good weather and has some interesting marine life.
Aldinga Pinnacles
5m to 18m
The Pinnacles are part of the Aldinga Reef reserve and are found closer inshore than the drop-off. Ten rock pinnacles come up from 20M into about 5 metres of water. The rocks can be seen from the surface on a clear day. The pinnacles are home to a staggering amount of fish as the area is not fished. These fish include blue devils, bullseyes, boarfish, old wives, and many others. It also has a huge amount of soft corals, sponges, nudibranchs, and other small marine invertebrates. A photographer's paradise. The area is considered a snapper breeding ground and can occasionally attract big sharks when the snapper are running.
Wreck of the "Star of Greece"
2-3M
This wreck is pretty easy to find. Wait for low water and a series of wooden structures emerge. Much of the wreck is buried in sand, but in the summer this will clear a little and it makes a worthwhile snorkel or quick curiosity dive. Marine life isn't very abundant, but at times there is a visible jumble of broken plate.
The 70 m-long iron ship was lost in 1888 with heavy loss life when she was blown ashore in a gale. The wreck lies 500m north of Port Willunga car park kiosk, 40km south Adelaide. The wreck is sometimes covered by sand and summer is the best time to take a peek. A mass headstone for the crew of 17 can be found at the Aldinga cemetery.
Second Valley Reef
5-10M
This area is 92 kms south Adelaide and easy diving can be had in good weather from a few small local reefs. On the southern side of the jetty are three small bays. There are some small caves to the south of the jetty, out from some old boat winches. Two small caves are easily found at the base of the cliff on the southern point of the second bay and around a little further are some easy swim-through's. It's a relaxing poke about, with some small marine life, but not a lot of fish life.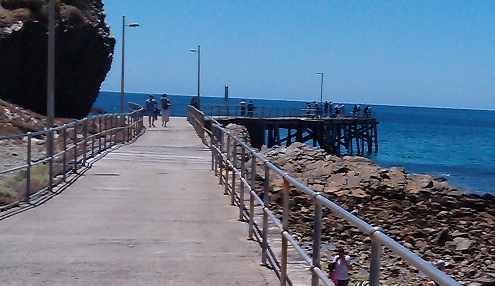 Lassiter's Reef Second Valley
2-8 Metres
There is another small reef 200M NE of the jetty, or north from the centre of the beach for approximately 300 metres. It's a fairly strenuous effort as a shore dive unless you are fit and it can be tricky to find. Line up the Telephone pole, with the LH corner of the toilet block as you head out. It is a 50 metre diameter dome shaped reef that comes up to less than 2 metres depth. The western side of the reef is a 3 metre wall, with a lot of cracks full of colourful marine life, including blue devils and eels. The weed beds in the vicinity should also be checked for Leafy Seadragons. Schools of whiting, drummer and tommy ruff occasionally visit the reef. This area is not safe in a big swell.
Myponga Beach
5-8M
This shore dive is very similar to Second Valley. The diving area is on the point on the left side of Myponga beach. There are lots of crevices and ledges on a 4-5 metre vertical wall. The wall is home to lots of fish with drummer, talma, old wive, goat fish and leatherjackets often seen. This explains why the area is criss-crossed with lots of fishing tackle, abandoned by local rock fishermen. The area is not safe in a big swell and is often surgy. The deeper areas can also be subject to a current during periods of high tidal movement.
Lady Bay Reef
2-5M
Lady Bay is a settlement a few shacks 2 km south of Normanville, although the area is under increasing development pressure and may not be secluded for long.  From the boat ramp up the coast about 1km you can snorkel or scuba on low shallow reefs almost anywhere. The low reef is pock-marked with little pot holes that are home to small marine life.  The main attraction is the large variety of stingrays, big and small on the adjacent seagrass beds, as many as 30 rays in a dive. Obviously stirred up and surgy in a big sea.
HMAS "Hobart"
30 metres
WGS84- 35° 28′ 09″ S 138° 09′ 05″ E.
This is an exciting dive on a big naval vessel, scuttled at the end of 2002. She was left largely intact, but was cleared of obstructions and opened up to make her suitable for divers. She is only a 10 minute boat ride from Wirinna Cove Marina. Accessible it may be, but it isn't a beginner's dive. She is exposed to some nasty currents and must be dived on the slack and/or on neap tides. The currents can bring in water of variable visibility.
There marine growth has started to take off and the hull has some colourful growths. The wreck has attracted lots of flathead, bullseyes and snapper. The main deck is at about 15metres with some superstructure in 5-7 metres.
The "Hobart" was a 4,720 tonne, 133.2 metre, Charles F. Adams class guided missile destroyer built in Boston in 1965. HMAS "Hobart" completed three tours of duty off Vietnam. In 1968, two sailors lost their lives when the vessel was mistakenly bombed by a US aircraft.
Rapid Bay Jetty
6-10M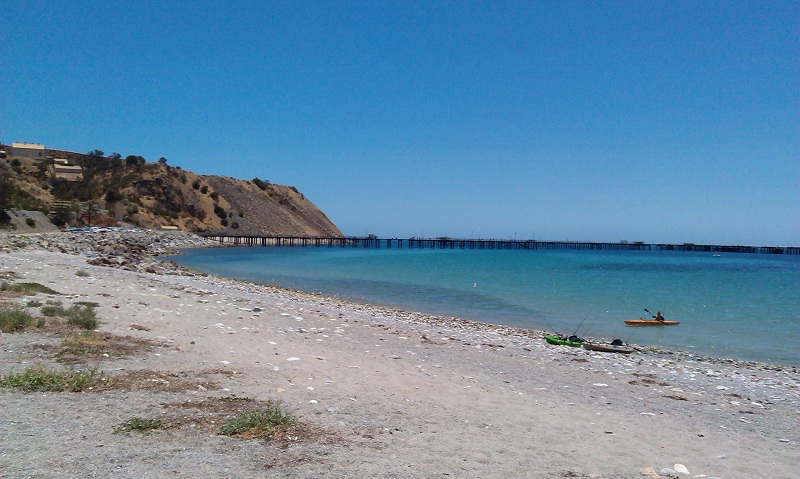 At 470m long with a 200m T-section, this jetty is a big hike in a hot day. The best diving can be found at the "T" where there is a ladder. The jetty bisects a fairly low rocky reef system  that heads out to sea There is an underwater sea wall near the jetty in 6-8M. The pylons and reef are patrolled by old wive, snook, silver drummer, pike, yellowtail, bullseyes, leatherjackets, boarfish, morwong, perch, scorpionfish, cowfish, sweep, wrasse, zebrafish, Mullet, moonlighters, goatfish and southern coralfish. There are also colourful marine invertebrates like sponges, corals, cuttlefish, squid, octopi, nudibranchs, sea stars and shells. Extensive seagrass beds can be found along the northern and eastern side of the T-section with leafy and weedy seadragons for the observant diver. It's an excellent novice and night dive. Novice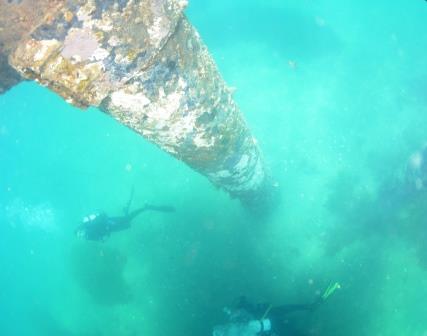 Wreck of the A.V. "Ulonga"
39m
This fairly recently discovered wreck is one for experienced divers. She is in an area of high currents and must be dived during slack water or neap tides. The wreck is covered in anchors and fishing lines, and excessive amounts of silt.
She was lost in a storm in 1976, and wasn't found again until 2001. The "Ulonga" was originally a sailing ketch, then converted to a motor vessel to do short coastal runs. The wreck is only 20mins from the Wirrinna Boat Ramp
Fisheries Beach, Cape Jervis
5-18M
Just before Cape Jervis there is a sign on the left leading to Fisheries Beach. Fishery Beach is a popular fishing beach and was home to a whaling station in the 1840′s/1850′s. In 1862 it became a shipping port for the export of ore from the nearby Talisker silver and lead mine.  At the bay they built a steam engine, boiler and crusher, some ruins remain. Just to the right of the beach, there is a line of exposed rocks going out 50 metres into the water. Three to four hundred metres offshore there is a low reef running parallel to the shore. The reef has a little life, but the trip out is just as interesting with numerous discarded anchors, cart wheels, chain and other artefacts spread across the bottom. The vessels using the beach would drop anchor at high at high tide and beach themselves as the tide receded. Horses and carts could then unload the boats. Offshore areas can be current affected at times.
Cape Jervis Barge
6M
East of the boat ramp, towards Fishery Beach, there is some low reefy bottom. Eight hundred metres to the south of the jetty, and 100M offshore, there is the wreck of an old iron barge used in the rescue of the stranded steamer "Sorata". Not a big dive, but an interesting diversion.
Victor Harbour/ Encounter Bay
Sites North of Cape Jervis are protected in Easterlies and to a lesser extent Southerlies. Exposed to Westerlies, especially South Westerlies are very bad for bringing up cold and surgy conditions. Victor Harbour and the Southern shoreline is sheltered in Northerly weather only.
Olivers Reefs
8-12 m
A variety of small reefs are found around Port Elliot varying from 10-20 m. Many can be accessed from the rocks. At Oliver's Reef, thick kelp covers much of the bottom. Leafy sea dragons are occasionally spotted. Small marine life can be found in the crevices, stars and nudibranchs. Near caves and crevices are bullseyes, leatherjackets, wrasse and morwong.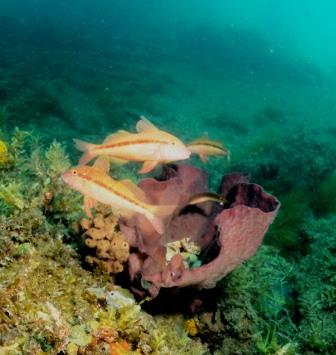 Whale Bone Caves
5 – 10 metres
Along the esplanade there is a that got its name from whalers who once dumped the bones of whales there, none of which are now visible. The top of the reef is only in about 2-3 metres of water, identified by a big white marker, a fair distance offshore.  The reef consists of a big complex of limestone caves and undercuts. Thick kelp covers the bottom. Out to sea there is a small dropoff.  Sea dragons, blue devil fish, and seals can be seen at times. Fish life is good and includes juvenile groper, drummer, perch, harlequin fish and scalyfins. The reef can't be dived when the swell is high.
Wright Island
5 to 6 metres
This large area of low rocky reef has been mostly considered a fishing spot, but it has some shelter from the wind and good marine life. As with much of the limestone reef in South Australia it is a maze of eroded undercuts and holes hidden in the weed. These provide shelter for the more delicate marine life.
The Bluff
5 – 18 metres
This is the most popular shore dive at Victor Harbour, having good marine life within easy reach of the shore. Entry is either off the beach about 75 metres from the small jetty, or on calm days you can enter from the rocks behind the jetty. The best time to dive The Bluff is after north wind as that improves visibility and blows out the persistent southerly swell. In adverse weather it gets quickly stirred up with poor visibility. The shallows near the jetty have plenty of interesting animals, but  the better diving is on the deeper boulders around the Bluff. The big granite boulders are stacked one on top of the other, with big holes and ledges sheltering a variety of sponge, soft corals, cuttlefish, seahorses, nudibranchs, sea dragons, sea stars and seals. The fish life is particularly good with morwong, blue devilfish, boxfish, globefish, sweep and many other species. The area is exposed to a strong current during periods of high tidal movement.
Blacks Reef
8-14M
Black Reef is a wide expanse of reef, more than 500 metres square, between the Bluff boat ramp and Wright Island. There are a series of bommies surrounding the main reef. Sea dragons are regularly seen as well as leatherjackets, small rays, blue devils and many others.
Granite Island
15 m
This is a major tourist attraction and lies 500 metres off Victor Harbour. Used as a whaling lookout in the 1830′s it became a major port in the 1860′s. This led to the construction of a jetty, breakwater and causeway in the 1870′s. Since the 1890′s it has been a major tourist attraction and a horse drawn tramway brings tourists over the causeway. The port declined in commercial importance after 1914. The shallow jetty is occasionally used for an easy dive in bad weather, but does suffer from poor visibility. On the southern side there are granite boulders that shelter blue devilfish, boarfish, perch, and sweep.
Seal Rocks
25 m
This dive requires good boating weather. Huge granite boulders shelter sponges, gorgonians, zoanthids, bryozoans and ascidians. There are also plenty of fish, morwong, Port Jackson sharks, yellowtail and kingfish.
West Is
20-25M
This island is located 1.5 km SW of the Bluff. It is 10 hectares in area and consists of rounded and jointed granite. It is strewn with granite boulders in the north and surrounded by cliffs up to 40 metres high elsewhere. In 1883 a granite quarry was established on the northern side and operated until the 1960′s. The island has a small New Zealand fur seal colony, a little penguin colony and flocks of crested terns and silver gulls. The area then came to the attention of marine biologists who built a jetty on the northern side to aid with research work. It was proclaimed an aquatic reserve in 1983, and no diving is allowed between Restless Pt and Penguin Rk (the whole NW side). The leeward side of the island, known as Abalone Cove provides a habitat for abalone and various fish species. The cove is the basis of a long running study into abalone growth and reproduction, so entry is banned. Underwater, the south and east side have huge granite boulders and unusual fish life, gorgonia, sponges, starfish and ascidians. The waters tend to be generally colder than the gulf. The area is rarely visited by local divers.