Metro Adelaide
Outer harbour breakwater and wharf
10M
This dive is well protected even in blustery weather so it's the dive you do when nowhere else is available. There is still plenty to see with a variety of soft corals and sponges. The visibility is variable and sometimes poor. Divers should stay well away from the shipping channel.
The Norma
13 m
AGD 66 – 34° 49 40 138° 25 00
The Norma was a 2122 ton, iron, four masted barque. While at anchor in 1907 she was hit by the vessel "Ardencraig" and holed. She sank 5km off Semaphore Beach in the main shipping channel of Outer Harbour. The day after the sinking the "Jessie Darling" struck the submerged wreckage and also sank, although the "Jessie Darling" was later refloated. The "Norma" was obviously too close to the shipping channel and was dynamited. As a consequence, much of the hull is a widely dispersed, broken up mass of iron plates and other fittings. The bow area is still recognisable and is visited by magpie perch, wobbegong, tommy ruffs, whiting, bullseyes, old wife, boarfish, snapper, yellowtail, morwong and goatfish. The area can be affected by poor visibility sometimes and is subject to strong tidal currents and is for advanced divers.
Wreck of the "John Robb"
18m
WGS84 – 34 49 380   138 20 266
This wreck sank in 1910 during a storm and is in the outer shipping channel to Outer Harbour. She lies 12.5km out from Semaphore and is pointing east-west. The vessel is completely broken up with only the bow section recognisable above the sand. Marine life around the wreck varies but is often very thick for such a small site. Visibility is fair to poor depending on the amount of recent finning action and the weather. It is subject to tidal currents which can be strong at times. Colourful sponges grow on the wreck and old wife, bullseyes, spider crabs, nudibranchs and cowfish can be seen. Lots of juvenile fish appear in Spring.
Glenelg Blocks
5M
These huge cement blocks are spaced over a 200M long line, only 500M from shore between the jetty and Patawalonga ramp. It lies just out from Holdfast Shores marina. The blocks were part of the old jetty at Glenelg. They are exposed at low water and marked with navigational aids at either end. They make an interesting night dive or second dive. It could be done from the shore but its an extremely taxing swim. After strong winds visibility can be poor. There are some big swim through on the southern pillars.
'Claris' Artificial reef
28m
The Claris reef is made from the 12m long boat "Claris" and a wheel­house from another boat. It lies 4km west of the Dredge. Good weather is needed to dive it. The fish life is very good and there is a reasonable amount of growth. The reef is popular with fishermen, so watch out for discarded line and lures. The structure is patrolled by gurnard, perch, bullseyes, magpie perch, moonlighters and wobbegong.
Glenelg Jetty
2m-4m
This is one of those very easy, but often intriguing shallow dives when you are never quite sure what you might see in the way of smaller marine life on the piles and bottom rubbish. It's a good day dive and also an excellent night dive. Then you are likely to see shells, nudibranchs, cuttlefish, octopi, blennies, cowfish, leatherjackets, wrasse and various species of sea stars.  Heavy seas will stir up the area.
Glenelg tyre reef
18 metres
GDA 94 138°26′ 40.81″E34°58′ 54.63″S
Interest in artificial reefs started in South Australia with the visit of an American scientist in 1970 who advocated their establishment in order to improve fish stocks. The first one was sunk 4km off Henley Beach in 10 metres. This failed as it was dispersed by storms. The second attempt was made off Glenelg, 5 km offshore in 1973/74. 25000 tyres were used there and on another reef in 8 metres, 300 metres SE of the first. This has attracted some marine life and is an interesting dive to experience at least once.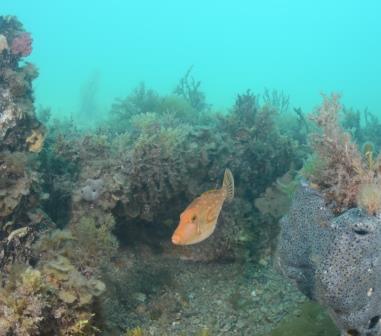 Wreck of the Barge "South Australian"
14-20 m
GDA 94 34°58′ 43.11″S 138°26′ 26.41″E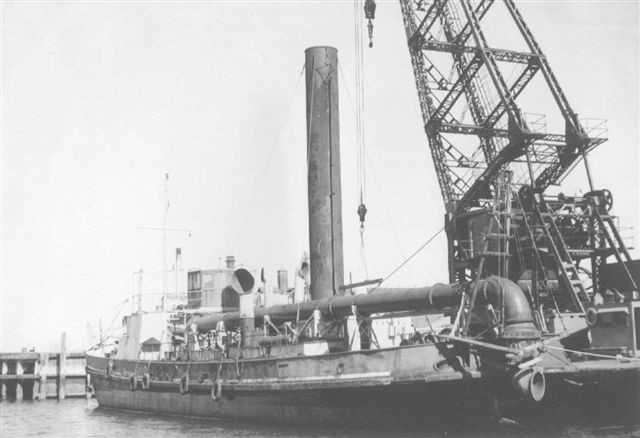 The "South Australian" was a self-propelled suction cutter dredge built in Holland in 1911. She was 133 feet long. The dredge was used to clear sand from the Port River. She was scuttled in 1985 as an artificial reef, about 180M north of the Glenelg tyre reef. The Dredge is now the most popular boat diving site off Adelaide. She is fairly intact with intact holds, engine room and wheelhouse. The darker places are usually full of bullseyes and the hull is covered in soft corals, sponges, anemones, ascidians and bryozoans. Old wives, blue devilfish, morwong, perch, leatherjackets, stingrays, wobbegongs and cuttlefish patrol the wreck. Experienced divers may wish to penetrate the main hold and cabins but there is quite a bit of silt.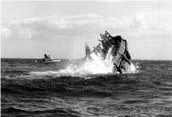 Glenelg Sand Hopper Barge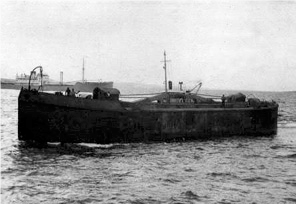 18M
GDA 94   34°58′ 43.83″S 138°26′ 27.85″E
This 30m long hopper barge was used in tandem with the Glenelg dredge. She was built in Sydney in 1911 by Pool and Steel for the Marine Board of South Australia. The steel barge measured 140 feet (42.7m) in length, 26 feet (7.9m) width, 13.5 feet (4.1m) breadth and had a capacity of 450 cubic yards. The hopper would be pumped full of sand dredged from the Port River and would then sail off to dump it further out to sea. The barge was sunk in 1984 as an artificial reef, 80 m south of the Glenelg dredge. Divers can follow a trail of star droppers from dredge in times of low current. It is very silted up and penetration is not recommended. It isn't as blessed with fish as the dredge but there is still plenty to see.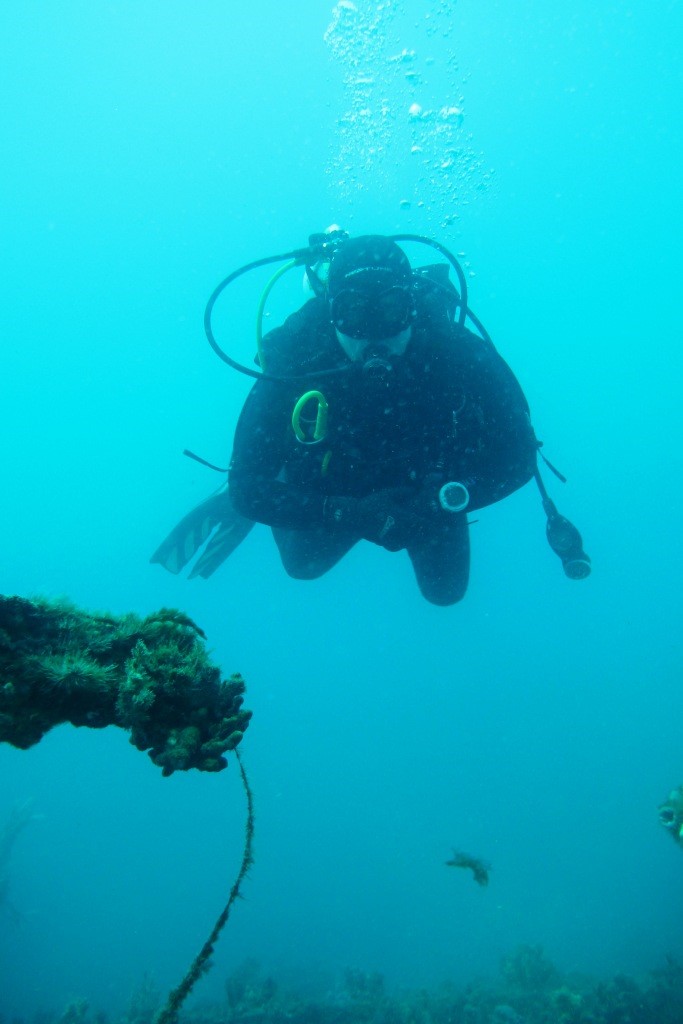 Seacliff Reef
13M
Seacliff Reef is a curved reef sys­tem 20km from Adelaide and about 4km out from the shore. The reef is marked by a tower. There are many gutters and ledges that are home to blue devils, boarfish, cuttlefish, nudibranchs, leatherjackets, bullseyes, wrasse, blue gropers and leafy sea dragons. The visibility is often good andf the reef life very colourful. This dive is considered one of the best in Adelaide
Horseshoe Reef
6 metres
Horseshoe Reef is 200 metres off shore at Christies Beach, 20 km south of Adelaide. The reef is home to some interesting marine life including nudibranchs, old wife and Port Jackson sharks. There is a variety of sponges and soft corals for the photographer. It is suitable for supervised novice divers. The boundaries of the Noarlunga Marine Reserve were extended in 1993 to include this limestone reef.
Port Noarlunga Reef
6-20M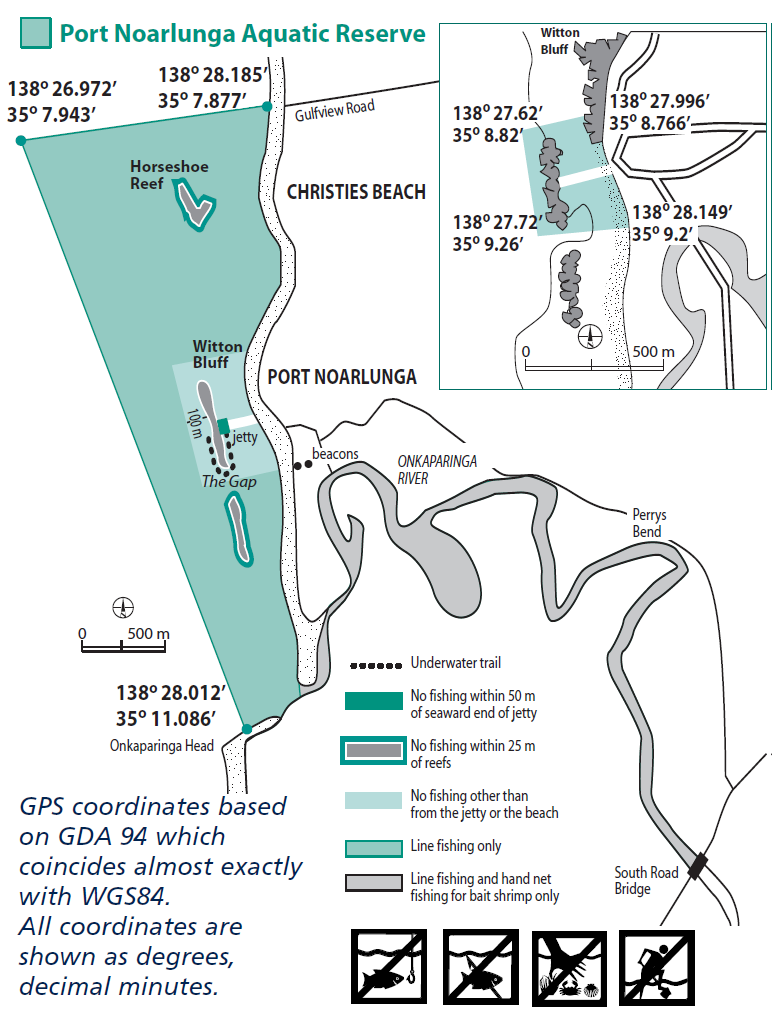 The Port Noarlunga Reef and Onkaparinga Estuary Aquatic Reserve was established in 1971 to protect the reef life and adjacent river estuary. It was the first aquatic reserve in S.A. The area gets an estimated 170 000 visitors each year, including 6000 SCUBA divers. It's a common diver training site in Adelaide and is also popular with anglers, although there is a `non-fishing' area on North Reef within 100m of reef. The reef runs parallel to the coast and is 300 metres offshore. It can be reached by a wooden jetty. The jetty itself is also a good dive both day and night. The reef provides a breakwater against the swell and is fairly safe for beginners in about 9M of water. The outer reef tends to be deeper and more exposed, with more interesting marine life. Much of the reef is fairly shallow, except for the gap in the reef where it can reach 20M in depth
There is a self guided diving trail which was established in 1994, which is marked with a series of 12 glass plaques pointing out features of the local marine ecosystem. The trail starts next to the seaward end of the jetty and travels south along the inside of the reef through the gap and then north on the outside of the reef. Care should be taken as there can be a strong current at times when the tide difference is over one metre.
Commonly seen species include drummer, old wife, moonlighters, wrasse, zebrafish, blue devilfish and a wide variety of invertebrate growths, especially on jetty piles and sheltered rock faces.
Noarlunga tyre Reef
20 m
35°08′ 48.64″S 138°26′ 35.06″E
This set of tyre pyramids is spread out over a wide area 3 km off Noarlunga. There are lots of little fish to be seen and it also shelters boarfish, cowfish cuttlefish, octopi, blue devilfish, morwong, wobbegongs, bullseyes, perch. It tends to be a second dive after visiting other sites in the area. The pyramids look very similar so divers can get easily disoriented.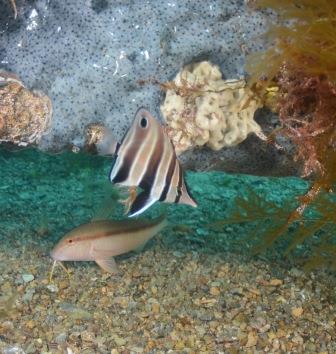 Wreck of the "H.A. Lumb"
20m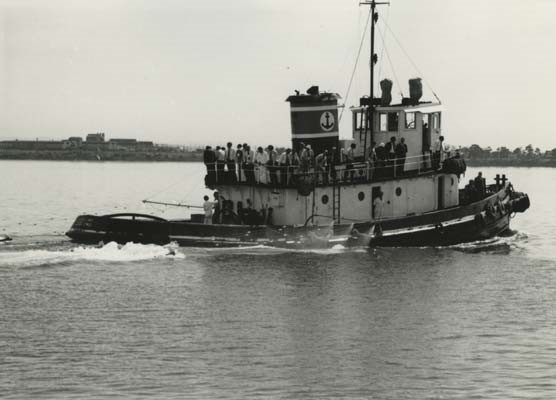 The 78.1 feet (23.8m) long steel tug "H.A. Lumb" was built in 1943 by the Decatur Iron and Steel Company in Alabama for the US Navy.  The "H.A. Lumb" later moved to Port Lincoln and was then converted into a trawler. In 1994 the H.A. Lumb was sunk by the Dive Industry Association as an artificial dive reef.
She lies 15m away from the "Sea Wolf" and near the Port Noarlunga tyre reef. All three can be done on the one dive. The hull of the Lumb is open but full of silt and is home to leatherjackets, morwongs and nudibranchs. She is often visited by schools of small fish.
Wreck of the Sea Wolf
17m
A derelict 32-metre steel Japanese fishing vessel was donated to the Seawolves Dive Club. In 2002 ,she was sunk off Witton Bluff as part of the Noarlunga Artificial Reef project. The Seawolf is located 15 metres astern and slightly starboard of the H.A. Lumb, with the bow inside the Noarlunga tyre reef. There is plenty of growth a few fish, but the visibility can be a variable due to the fine silty bottom in this location. The wreck has easy access points throughout.
Stanvac Barges
30 metres
WGS84   35.06.890   138.24.610
Three barges were sunk 5km West of Pt Stanvac in 1954. The largest is the 163ft long "Saurian", a coal lighter converted from a dredge. 100m NE of the largest barge, two smaller ones lie 33 metres apart . The dimensions of these two coal barges are identical 71ft x 49ft. The barges line up in a NE-SW orientation and are covered in old wife, pike, strongies, gurnard, flathead, grays, bullseyes, cuttlefish, blue devilfish, morwong, perch and catfish. On calm days small hammerhead sharks can be seen on the surface.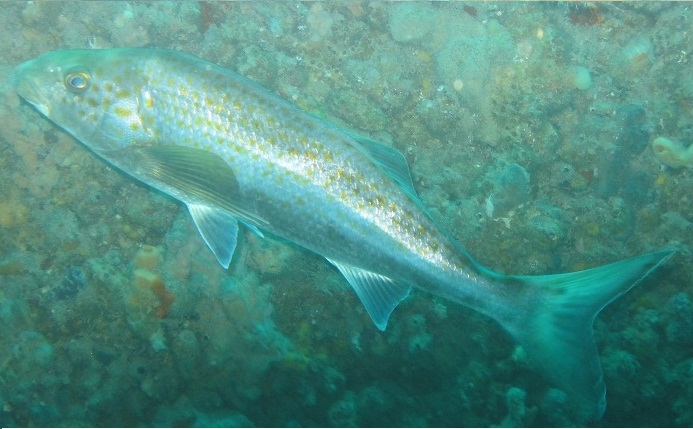 Stanvac Dump
10-14 Metres
WGS84 – S' 35′ 06.204 E' 138′ 28.158
This refuse site is where rubbish was once dumped from the now disused Port Stanvac oil refinery. There are trucks, pontoons, barges, cable, and other material forming quite a large artificial reef. The furthest marker marking the Refinery exclusion zone is right in the middle of the dump. The rubbish is the main attraction, but the area does have the odd blue devilfish , cowfish, perch, morwong, old wive and nudibranchs.