Port Hedland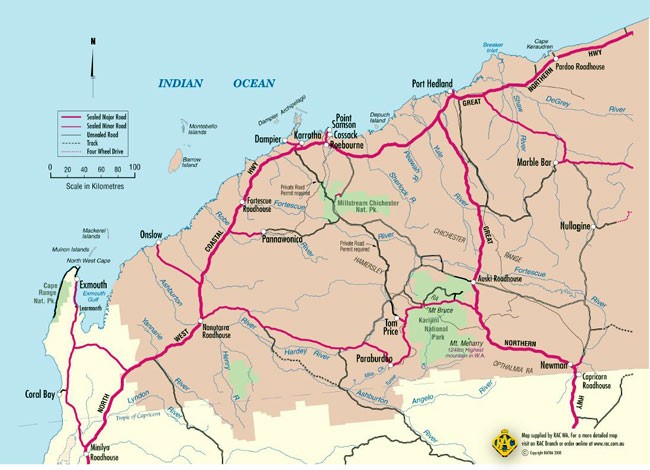 The tides are big with a silty bottom and depths that are still less than 20M well offshore. The inshore waters around Port Hedland can suffer from very poor visibility, so its worth getting out to an offshore island if you get the chance. The inshore areas are still entertaining during neap tides
North Reef
Port Hedland is an industrial city with big tides, big tidal flats and fairly poor inshore visibility. This harbour beacon is far enough offshore to offer some reasonable visibility and is a popular dive with local divers. The underwater structure of the beacon attracts an excellent array of local fish including some big pelagics. It is well offshore and only accessible in good weather.
The Barges
14M
This artificial reef was created when barges being used for the construction of an iron ore facility sank. They have attracted plenty of pelagic fish, but a period of good visibility is needed to enjoy it best, during neap tides.
24 Bouy,
This is one of the harbour's channel markers and is known for big schools of fish, especially trevally.
Minilya Bank
6-12 m
This shoals is one of a number that can be found off Port Hedland. It is current affected and a drift dive this coral-covered reef, you will large schools of fish and colourful invertebrates.
North Turtle Island
This spot is more than 150kms to the north east of Port Hedland but justifies the effort with excellent marine life and great visibility. The island is noted for spectacular pinnacles and drop-offs. A boat can be beach launched closer to the island at Poissonnier Point, but it is still a 46km run offshore requiring a good boat and perfect weather.
Little Turtle Is
6-14M
This island is much closer to Port Hedland and offers a nice dive on a shallower coral and sponge garden.  Gutters and caves are home to sweetlips, morwong, batfish, angelfish, wobbegongs, parrotfish and stingrays.
Cape Keraudren
This site is about 150kms north east of Port Hedland and is popular with locals. It offers a flat coral reef with good fish life. Visibility is moderate to poor depending on the weather.
Bedout Is
30 m
On a weekend of good weather an overnight trip will get you to Bedout. The island is 150 kms up the coast where there is excellent visibility and great fish life. Bedout Island offers great diving with pinnacles, drop-offs, gutters, caves and ledges. Turtles, pelagic fish, stingrays and reef sharks are commonly seen. The island has good coral growth too.
Wreck of the ship "Crown of England"
0-3M
In 1912 the iron ship went ashore in a cyclone at Depuch island while trying to load a cargo of  copper ore from a nearby mine. The vessel was built 1883 in the UK and was owned in Norway. When she went ashore the seas were so heavy that 8 of the crew drowned and she quickly fell apart. Today her bow is still intact and a lot of the wreck can be seen up on the island. The inshore visibility can be poor but she is worth a look, and maybe a snorkel if you are in the area.